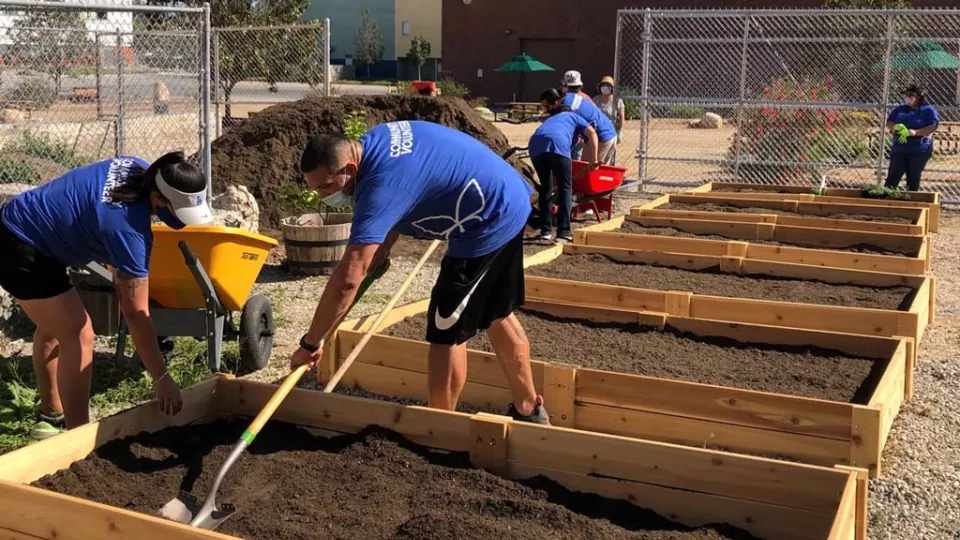 Serving the Community
Blooming Soon: 'The City's Garden' at Los Angeles City College
With seed funding from Children's Hospital Los Angeles, LACC's new garden aims to reduce food insecurity, increase access to fresh produce and provide educational opportunities for students and the community.
The mission of Children's Hospital Los Angeles—to create hope and build healthier futures—includes a commitment to support our community, especially underserved populations. From health improvement services to education and research, Children's Hospital collaborates with civic and community organizations, educators, researchers, child advocates and policymakers to make a positive impact on the lives of children and families across the L.A. region.
For more than a decade, the hospital has partnered with Los Angeles City College (LACC) on workforce development, recruitment opportunities and more. When students from LACC's Re/Generation Garden Club presented the idea of opening a community garden on the LACC campus, Children's Hospital Los Angeles leaders and its Office of Community Affairs worked with the LACC Foundation to partner in support of the initiative.
"Children's Hospital Los Angeles has been a committed partner of LACC and the LACC Foundation," says Martha Pelayo, LACC Foundation Director of Corporate and Foundation Relations. "Our shared commitment to support the communities we serve has been the catalyst to strengthening our partnership. We are excited to continue to work with CHLA and together help educate our students on health and nutrition."
"The City's Garden at LACC is a wonderful opportunity that students in the Re/Generation Garden Club and LACC faculty have brought to fruition," says Ellen Zaman, Executive Director of External Affairs at Children's Hospital Los Angeles. "We are proud to partner with LACC as it brings this remarkable resource to the campus and the community."
A gift to the community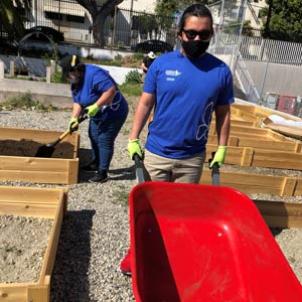 Community gardens are the source of countless benefits. They are a gift to the community, organically helping to reduce food insecurity, protect the environment and encourage better nutrition, while fostering overall health and well-being. The City's Garden at LACC will benefit the Los Angeles community in all these ways and more.
"The City's Garden adds to our overall commitment to provide healthy food to students and the community," says Dr. Mary Gallagher, President, Los Angeles City College. "Our garden will build stronger, safer communities by connecting citizens to each other and their local food systems." 
"Our new garden expands opportunities for experiential learning, provides increased access to affordable nutritious food for our students and our community, and fights climate change," adds Sean Phommasaysy, Professor of Biology at LACC, who oversees the project. "Eventually we envision the garden having an outdoor kitchen for live cooking demonstrations, and diverse plants from around the world to celebrate the city's cultural diversity."
For years to come, the garden will cultivate a collaboration between Children's Hospital Los Angeles, LACC and the L.A. Unified School District. Local school children and families will be invited to the garden to learn about gardening, landscaping, nutrition and cooking. Produce grown in the garden will be donated to local schools and food banks, and to support programs and food services at Children's Hospital Los Angeles. The hospital's patients, families and team members will be welcomed to visit and volunteer in The City's Garden as well.
Engaging the enterprise to make an impact
The Office of Community Affairs at Children's Hospital Los Angeles plays an essential role in the community and the institution by engaging all team members to get involved in making a difference.
"CHLA is more than a hospital," says Rolando Gomez, MBA, Administrator of Government and Community Affairs at Children's Hospital Los Angeles. "Our focus on community impact is a recognition that, as an institution, Children's Hospital wants to be more inclusive of everybody who wants to do something or change something in the community."
Gomez is among the hundreds of CHLA volunteers, including Ashley Bennett, MD—a physician in the Division of General Pediatrics and a community garden advocate—who have rallied around the idea of sponsoring The City's Garden at LACC. 
 "In some ways, the COVID-19 pandemic highlighted the work that needs to be done in the community," Gomez says. "I think it is in CHLA's spirit to change things, do something else for the better. That's why we work here. There's a lot to do and a lot to change."
Welcoming the community—soon
On March 31, employee volunteers from CHLA's Community Impact Champions Network joined LACC students and project leaders for the garden's first seeding event. Together they filled 12 planters with soil and planted seedlings for various vegetables and herbs. In the coming months, the garden will include 38 planters growing culturally diverse fruits and vegetables and occupy approximately 5,000 square feet on the LACC campus.
Like so many things in the past year, an official opening of The City's Garden has been delayed by COVID-19. But with the first planters seeded and growing the first harvest, leaders and volunteers from LACC and Children's Hospital Los Angeles appropriately chose April 22, 2021—Earth Day—as the date for a soft opening of the garden.
"It's a day of celebration and community pride," says Gomez. "It may take a while before The City's Garden is in full bloom, but it's starting now. We're starting to see things grow."
Click here to learn more about CHLA's commitment to community impact.