Faculty Spotlight: Aaron Nagiel, MD, PhD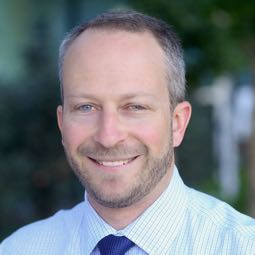 Aaron Nagiel, MD, PhD
In the operating room, Dr. Aaron Nagiel performs FDA-approved gene therapy procedures that can save or restore a child's vision. But in the lab, he's looking beyond those groundbreaking treatments to find the next level of sight-saving discoveries.
"There are over 200, maybe 300 genes that can cause these blinding genetic eye diseases," he says. "Is it really going to be feasible to develop a gene therapy for every one of these? It seems much more palatable to develop a treatment that could be broadly applicable, not just to genetic eye diseases, but also to more common conditions like macular degeneration."
Dr. Nagiel is investigating retinal development—studying exactly how photoreceptors (the light-sensing cells in the retina) connect with bipolar cells, the next downstream cells in the system. His team was recently the first to publish a detailed map of how these connections form in the human retina; the researchers are now examining how diseases cause this circuitry to malfunction.
"In many genetic disorders that cause blindness, there's evidence that these connections become faulty and are re-routed even before the photoreceptor cells die," he notes. "As we dig deeper, there may be an opportunity to halt that process."
Dr. Nagiel first came to CHLA in 2010 for a one-month rotation while a medical student at Cornell University, training under Thomas Lee, MD. He then joined The Vision Center as faculty in 2017. "I've always been enamored with the field of pediatric retina," he says. "But what I like most is the day-to-day work. I love helping children see."
After hours, Dr. Nagiel enjoys playing tennis and confesses to being "a fanatic" about riding his Peloton. But the most important thing to him is his family. "I spend as much time as possible with my wife and three daughters," he says. "Weekends and evenings, I try to dedicate to them."