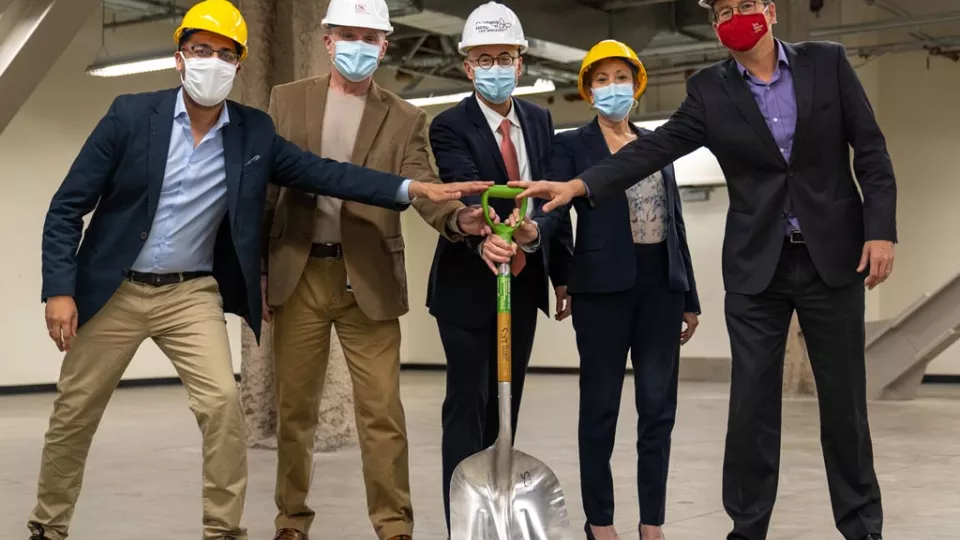 Research and Breakthroughs
New cGMP Facility to Benefit Patient Care and Research
A state-of-the-art cell therapeutics facility will support the translation of novel cell therapy and tissue engineering approaches into clinical testing for a wide range of human diseases.
Children's Hospital Los Angeles has partnered with Keck School of Medicine of USC, Keck Medicine of USC and USC Norris Comprehensive Cancer Center in developing a facility that will help revolutionize the study, development, manufacturing and testing of cell-based treatments for a wide range of diseases and disorders.
A groundbreaking ceremony recently took place for the development of a 3,000-square-foot facility in the Norris Research Tower at the USC Health Sciences campus. The site, designed to be a cGMP (Current Good Manufacturing Practice) facility in accordance with the U.S. Food and Drug Administration guidelines, will produce cellular therapy products and pharmaceuticals under precise, highly controlled conditions so they remain safe and effective. Scheduled for completion in 2022, the cGMP facility will be able to produce multiple products at once and will focus primarily on creating cell therapeutics, which are living cells tailored to treat patients based on their individual conditions and medical needs.
"The promise of new methods to treat devastating diseases with cellular, genetic and tissue-engineered therapies is already here," says Alan Wayne, MD, Director of the Cancer and Blood Disease Institute at CHLA, Associate Director for Pediatric Oncology at the USC Norris Comprehensive Cancer Center, and Professor of Pediatrics and Medicine at the Keck School of Medicine of USC. "Thanks to cancer therapy using CAR T-cells at Children's Hospital Los Angeles, many young children with leukemia who had run out of treatment options are now back in school. Gene therapy has made it possible for a child with retinal degeneration treated in The Vision Center at CHLA to ride a bike at dusk and see clouds for the first time. Our new manufacturing facility will allow us to offer these kinds of life-changing treatments to even more children and for an even wider range of previously incurable diseases."
The facility is the culmination of three years of planning and development between a multidisciplinary group of stakeholders who shared a vision for CHLA and USC to be leading centers for cell therapy treatment and research. Key collaborators who joined Dr. Wayne at the groundbreaking event include Mohamed Abou-el-Enein, MBChB, PhD, Director of the new cGMP facility, Tom Buchanan, MD, Professor of Medicine and Vice Dean for Research at the Keck School of Medicine of USC, Nikos Carli, Associate Administrator of Strategy and Cancer Service at Keck Medicine, and Caryn Lerman, PhD, Director of the Norris Comprehensive Cancer Center.