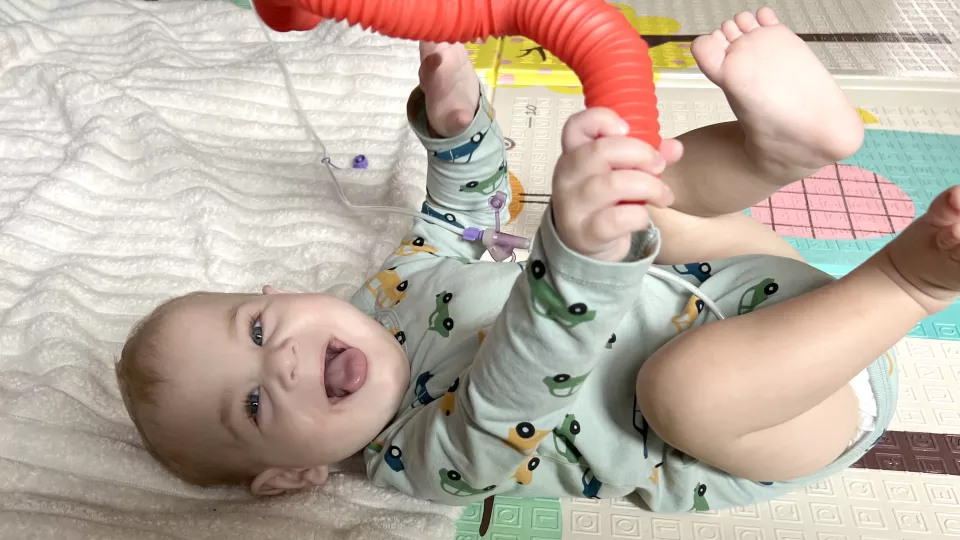 Our Patients
Sawyer the Warrior
Afflicted with severe myocarditis as an infant, Sawyer beat the odds and got a second chance at life with a new heart.
The squeals from the back seat of the family's SUV are a delight to Robby and Caylin's ears. Their two sons—Hunter, 5, and Sawyer, 15 months—can't seem to get enough of each other.
"They are thick as thieves," Robby says, laughing. "Hunter just looks at Sawyer and he cracks up! He is literally the happiest baby."
The playfulness between their two sons is something the couple couldn't imagine a year ago. During Caylin's pregnancy, Hunter would ask if he could talk to his baby-brother-to-be through her belly. He could not wait to meet him in person. The couple received news during one of Caylin's prenatal exams that Sawyer only had one kidney and that he would likely be a premature birth. At 34 weeks, Caylin delivered Sawyer and explained to Hunter that his new brother had to stay in the hospital for a few weeks before he could come home.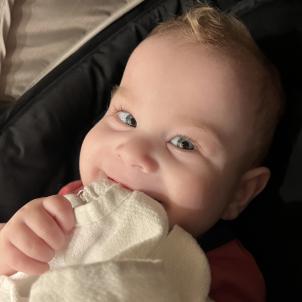 But that plan changed when days after his birth, Sawyer exhibited cold symptoms that rapidly escalated with high fevers. On his sixth day of life, Sawyer went into cardiac arrest.
"He was taken to the local children's hospital and his heart rate was in the mid- 300s," Caylin says. "They told us if his heart rate didn't come down, he wouldn't survive for more than three days. His coloring was gray, he was swollen and he was in a medically-induced coma. Everybody believed he was not going to make it. A chaplain counseled us on end of life."
A cardiac MRI revealed that Robby and Caylin's newborn son had myocarditis, which is rare in infants and something physicians at their hometown hospital had not experienced. Sawyer's doctors reached out to the Heart Institute at Children's Hospital Los Angeles to see if they could help.
"I've seen three newborns with this in the last 15 years of my career," says Paul F. Kantor, MBBCh, MSc, FRCPC, Chief, Division of Cardiology and Co-Director of the Heart Institute at CHLA. "Thankfully Sawyer's condition was recognized early and he was transferred to us."
Sawyer was on a ventilator and received inotropic support (heart medications that help the heart function and survive).
"When he was admitted, the damage to Sawyer's tiny heart was severe," says Jondavid Menteer, MD, Medical Director of the Heart Transplant Program, at CHLA. "We knew he would need a heart transplant, but there just aren't that many donors. When you put someone that young on the transplant list, it can be a really long wait."
Seven months, to be exact. The waiting, says Robby, was exasperating because they did not know if Sawyer's heart would hold out until a donor was found, and exhausting because of the travel back and forth from their Orange County home to CHLA. Caylin and Robby established a schedule so that they could split their time with each of their sons.
"I was 50 percent of a person 100 percent of the time," Caylin says. "I couldn't be with both kids, so I chose to spend more time each week with Hunter because he was the one that was missing out and he was the one that would remember it. But then there were days when I was home with Hunter, I was so scared Sawyer's days were numbered and I just missed one."
Sawyer earned the nickname 'Sawyer the Warrior' because he somehow managed to preserve enough heart muscle to survive long enough to get a transplant. On Hunter's fifth birthday, a donor match was found for Sawyer. The family gathered quickly at their home and for an impromptu party with cake and presents before Robby and Caylin rushed back to CHLA to be with Sawyer.
On March 3, the day of Sawyer's heart transplant operation, "we had such a mix of emotions," Caylin explains. "I had trouble wrapping my head around the fact that a family was saying goodbye to their child before they gave us their child's heart. That family endured a tragedy, so we honor them and their little angel every day because of this gift of life they gave Sawyer."
Just five weeks post-transplant, Sawyer went home and slept in his own crib for the first time. In the months since, Sawyer has adjusted beautifully to family life— and his prognosis is good.
"I expect him to learn to walk, play on the playground, and even do sports," Dr. Menteer says. "I am very optimistic he will live a fruitful life."
"Sawyer is the happiest little human in the world. He is a great sleeper, he loves watching 'Moana,' having us read books to him and going to the zoo," Caylin says of her miracle baby. "And he loves his big brother!"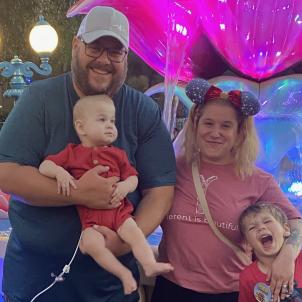 The feeling is mutual.
"Hunter is very protective of Sawyer and he has become my little helper," Caylin says, explaining that Sawyer still receives nutrition via a feeding tube and has monthly cardiology checkups at CHLA. "Hunter helps prepare Sawyer's formula in the morning and he brings diapers to me when Sawyer needs to be changed. Their relationship is incredible."
"Last year, every single holiday was spent in the hospital," says Caylin, noting that this year the family will all be together for the first time. "CHLA gave Sawyer a chance and saved his life. We are eternally grateful."
The wonderful outcome fills Dr. Kantor's heart with emotion.
"Seeing Sawyer now with his family, interacting with his big brother and so, so happy—it makes my life feel worthwhile," Dr. Kantor says, noting that no one person at CHLA can take credit for Sawyer's outcome. "It was a team effort that allowed this child a chance at life when by all accounts it looked like he had no chance. To deliver something like this for a family? Man, how worthwhile is that? There's nothing better."