Jake's Fighting Spirit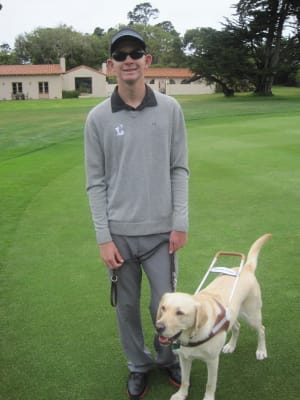 Jake Olson lives by a simple mantra: "Nothing is impossible." Those three words are especially fitting for the 18-year-old who graduated high school with a 4.3 GPA, plays college football, aspires to join the PGA Tour, has written a book—and is blind.
At just 8 months old, Jake lost his left eye after he was diagnosed with retinoblastoma, the most common childhood eye cancer. He battled the disease throughout childhood, as it went in and out of remission nine more times. Finally, at the age of 12, and with the cancer progressing yet again, the decision was made to remove his right eye.
"After his surgery, we were told he might be angry or bitter and that he should take a week off from school," recalls Jake's mom, Cindy. "But he got up the next morning and said, 'I'm going to school. I want to go.'"
Not giving up
Jake has approached everything he does with that same fighting spirit. A football player since he was a young boy, he was determined to make his way back onto the field as his high school's long snapper. The position doesn't involve seeing the ball or the opponents, but does require speed and accuracy. Jake practiced and perfected the technique during his sophomore year.
"At first I wasn't sure it could happen," he says, "but then something clicked inside me and I said, 'You know what? I'm going to go for it.'" He earned a spot on the varsity squad the following year.
"The experience was awesome. I loved the comradery, getting fired up before a game and just being out there on Friday nights knowing I was contributing to the team," says Jake.
Fulfilling another dream
These days, Jake finds himself under even brighter lights. Now a freshman at the University of Southern California, he has joined the school's football team as a walk-on, putting in long hours at practice to compete for a starting spot in the future.
In mid-September, he joined his teammates on the sidelines for his first game, wearing jersey No. 61. Nearly six years earlier, he was standing on the same field watching the Trojans play. At the time, he was preparing for surgery to remove his second eye, and what he most wanted to see one last time was a USC football game.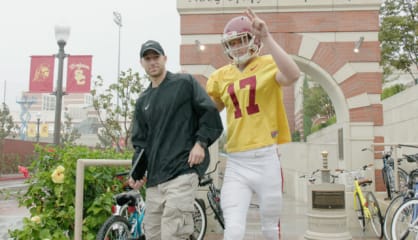 Jake's list of accomplishments since then has been impressive. He's currently studying at USC's Marshall School of Business, has co-authored a book, "Open Your Eyes: 10 Uncommon Lessons to Discover a Happier Life," and regularly travels around the country as a motivational speaker. His message: "We all face some type of adversity, but forget the roadblocks and limits. Go out there, set goals, have a positive attitude and don't let anything stop you."
One of Jake's future goals is to make history in another sport he loves. An avid golfer, he regularly practices at a local course with his dad, Brian, who helps line up the ball, describes the terrain, and then steps back to let Jake do the rest. His game has improved significantly in the past few years—he recently shot an 81 on 18 holes—and he's focused on becoming the first blind athlete on the PGA tour.
A second home
Asked where he draws his own inspiration from, Jake is quick to credit his faith, as well as his parents, twin sister Emma, grandparents and friends. Looking back, Jake says that his strong support system also included the doctors, nurses and staff at Children's Hospital Los Angeles, a place that "really became home" for him.
"I didn't feel like I was going to a hospital when I was there," he recalls. "Everyone from the doctors to the office staff were my friends, and they would explain everything to me and made sure I knew what was going on.
"The whole experience, as tough as it was, was comforting," Jake adds, "because I knew I was in the best hands."