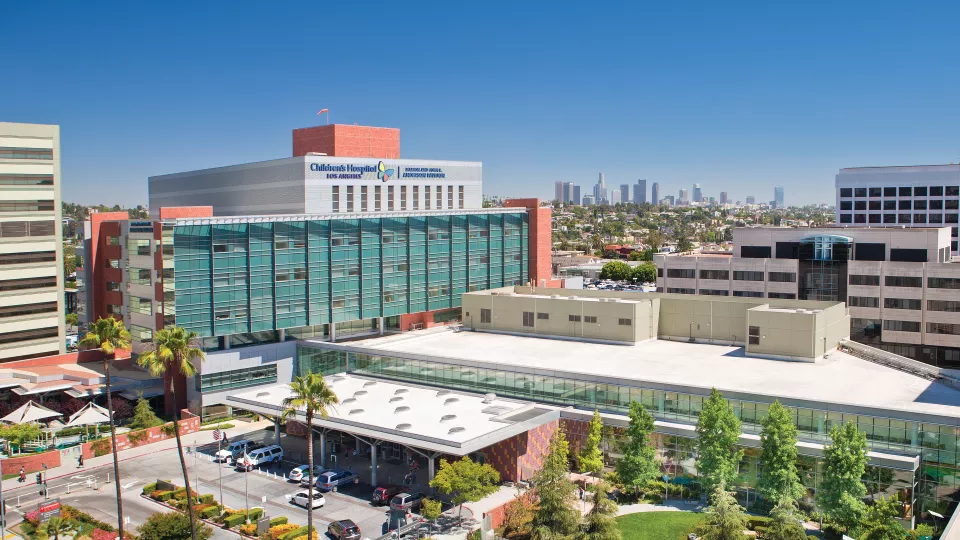 Hospital News
Getting in the Groove for the Holidays with ABC's "Dancing with the Stars"
Five dancers from ABC's "Dancing with the Stars" (DWTS), Valentin Chmerkovskiy, Karina Smirnoff, Tristan MacManus, Sasha Farber and Tony Dovolani stopped by Children's Hospital Los Angeles for an exciting afternoon of dance movement therapy with patients in our Center for Cancer and Blood Diseases. The hospital's dance movement therapy, which is supported by The Andrea Rizzo Foundation, encourages our patients to get active and to express themselves through dance and movement.
Dance/Movement Therapist, Dr. Lori Baudino, led patients and DWTS dancers in creating fun and therapeutic games through dance and emotive language. One of the interactive games they played included dividing up the patients and dancers in two teams, where each team had the chance to choreograph a short dance routine. After each team created a one-of-a-kind routine, it was shared with the rest of the group. After the fun and games, Dr. Baudino asked how they felt and the kids gave energetic responses like "great," "excited," "happy," and "calm."
By popular demand, Karina Smirnoff and Tony Dovolani showed off their professional dance skills for the patients and families and did bed-side visits with Sasha, Tristan and Val. The dancers also displayed "Dancing with the Stars" costumes, took pictures and autographed T-shirts.
Many thanks to Valentin, Karina, Tristan and Tony from ABC's "Dancing with the Stars" for visiting and helping our patients get in the groove this holiday season!
Eli and Valentin's secret handshake