Introducing the Hollywood Coalition for Healthy Youth
High school students connect with reproductive justice work
Last update, SYPP Center at the Division of Adolescent and Young Adult Medicine (DAYAM) at Children's Hospital Los Angeles announced our new Hollywood-based community mobilization initiative that is working toward incorporating a reproductive justice approach to traditional teen pregnancy prevention work. Over the past year, the SYPP Center, in collaboration with Youth Policy Institute (YPI), has worked to bring together community stakeholders to address sexual and reproductive health access among youth. Recently, the initiative decided on a new name – the Hollywood Coalition for Healthy Youth (Hollywood CHY).
The name is inspired by California's Healthy Youth Act (AB-329) signed by Governor Brown in October to ensure age-appropriate, comprehensive sexual health education in schools. The name also acknowledges one of the main goals of the initiative – to support positive and healthy youth development. One of the projects of the initiative is a youth-driven social marketing campaign. SYPP Center and YPI are working with local high school students to develop messages around sexual and reproductive health for their peers, community, and/or health care providers.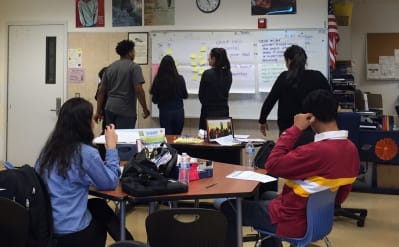 High school students are part of the Hollywood Coalition for Healthy Youth to lead the creation of a campaign and advise on other projects.
The DAYAM at Children's Hospital Los Angeles is committed to addressing youth-related issues through collaborative, community-based approaches and also by creating opportunities for youth as collaborators to have a greater influence on our programs and services.
Arlene Schneir, associate director of the DAYAM and member of Hollywood CHY, says, "We're happy to be working with YPI and Hollywood CHY to support young people as community leaders. These youth are our talented partners and a vital part of the coalition."
The Hollywood CHY project is supported through a cooperative agreement with the Office of Adolescent Health and under a subcontract with Advocates for Youth. Hollywood CHY partners include Youth Policy Institute, ACLU of Southern California, APEX Academy, California Family Health Council, California Latinas for Reproductive Justice, Planned Parenthood Los Angeles, and The Williams Institute.