Volunteer with the Dog Therapy Program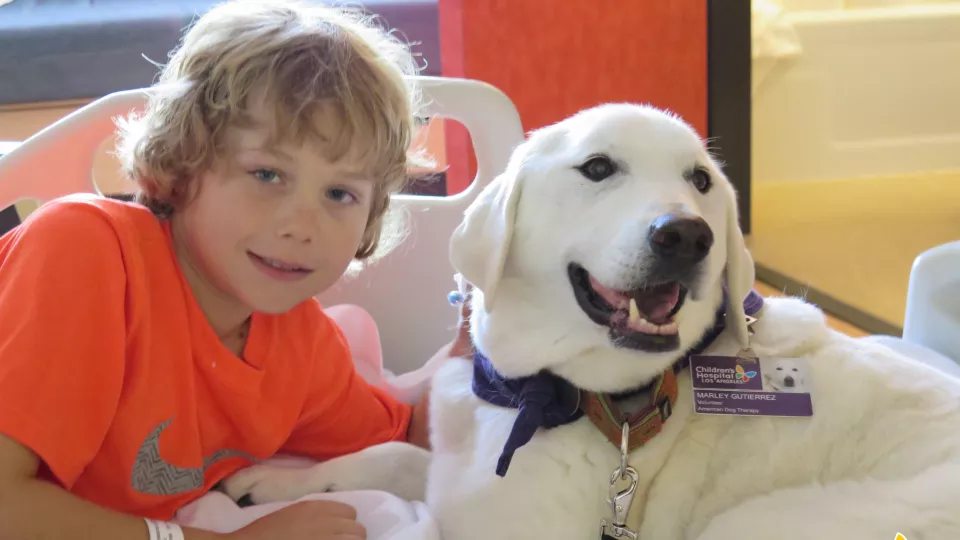 It takes a special combination of dog, person, and commitment to qualify as a CHLA therapy dog team.
Dog owners who volunteer for this type of service are generous and compassionate people who enjoy sharing their special dogs with others, and have the time to visit regularly.  Therapy dogs are well-trained and temperamentally suited to encourage, comfort, relieve and help heal our vulnerable young patients. We ask a lot of our volunteers—both human and canine—under intense and distracting conditions, so not every great dog would thrive in our environment.
Requirements for Therapy Dog Teams
In general, a great therapy dog is friendly, obedient, calm, gentle, patient, confident and affectionate. The dog can have no history of showing aggression to a person or animal. Since our patient population is exclusively children and teens, our therapy dogs must be comfortable and happy in the company of young people.
Rock-solid obedience skills are only the first step in evaluating a dog's potential for therapy dog work. Your dog must walk nicely on a loose leash and reliably understand the following commands in distracting situations:
But the requirements go much further, and come down largely to the animal's core temperament and your effectiveness as a handler. 
All of our therapy dog teams must be registered with Pet Partners, an international non-profit organization. Pet Partners uses standardized criteria to evaluate therapy animals and their handlers all over the country, and there are more than 10,000 registered teams in their system.  
Registration begins with a class, taken either online or in person, to educate you on the skills and techniques that make for an effective handler/dog team. You will review all the exercises that you and your dog must master to become a therapy dog team. These are skills and scenarios meant to gauge your readiness to volunteer.
There are no specific breed restrictions. Dogs must be at least one year of age, and must have lived with the owner/handler for at least six months in order to be eligible for a Pet Partners evaluation.
The evaluation takes about 40 minutes. Children's Hospital Los Angeles hosts evaluations every couple of months. To schedule an evaluation, call us at 323-361-7853.
Is Our Dog Program a Good Fit for You?
The standards mapped above are designed to ensure the safety of our patients and the enduring viability of our program. We need our dog and handler volunteers to be prepared for a broad spectrum of situations, including those that involve loud noises, sudden movements, tight spaces, slippery floors, strange smells, inadvertent physical roughness, clumsy or emotional interactions, and exposure to a steady stream of strangers and stimuli.
Getting started involves more time and effort than you might think, but we can promise that volunteering with your dog will be more rewarding than you can imagine. 
We want to be as transparent as possible about our expectations, so that volunteers know if and when they are ready to join this effort.  To start, all dogs are required to get annual vet exams, submit proof of rabies and other vaccines, be on monthly flea protection, and be freshly bathed for every visit.  Handlers must attend a hospital orientation, pass a multi-step health and background screening, and participate in about 6 training visits.   While volunteers have tremendous flexibility in scheduling once they are visiting solo (with options from 8AM to 9PM every day of the week) the initial period of clearances and training takes some extra time and coordination.   Because of the effort involved, we ask volunteers to commit to an average of two visits a month, or 24 visits in a year.  How those visits are spaced out is entirely up to you.  
All handlers must pass a background and drug screening, an annual health clearance, attend an orientation, start with supervised visits, and commit to visiting at least twice a month.  
While therapy dogs provide an invaluable service during their visits to hospital patients, family and staff, the laws and protections granted to service animals do not apply to therapy dogs.   Please do not confuse volunteering with our program with gaining access to places or services to which your dog currently does not have any rights.  Therapy dogs do not have any special privileges outside the facilities they visit. 
If you are interested in volunteering with your dog, please complete our online application or give us a call at 323-361-7853 so we can discuss the details of your dog and situation. You are welcome to contact us at any point as you consider therapy dog work, regardless of whether you think your dog is ready right now.  We look forward to talking with you.