The Saban Research Institute 17th Annual Poster Session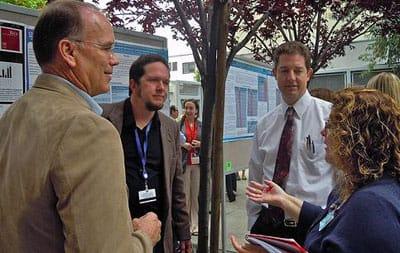 On June 4, 2012, the Children's Hospital Los Angeles community came together to engage with clinical and research trainees and learn about their scientific questions and findings at The Saban Research Institute (TSRI) 17th Annual Poster Session. Keynote speaker, Doris Tsoa, PhD, Assistant Professor, California Institute of Technology, gave a thought-provoking talk on the neurological mechanisms required for face recognition.
"I'm pleased to see more people getting involved, but it's not just the numbers. The quality and diversity of the work has also increased," says the director of TSRI. "The work we see represents tremendous commitment of time, personal engagement with mentors and evidence of real impact improving the health and well-being of children."
Best Poster Award Competition
This year's Best Poster Award consisted of 12 finalists, out of which four winners were selected by a review panel of 10 faculty members. Posters were ranked based on the following criteria: significance, innovation, approach, clarity and oral presentation.

Parul Bhatia
Mentor: Alice Kuo, MD, PhD
Poster Title: Early Identification of Young Children With Hearing Loss in Federally Funded Qualified Health Centers

David Ibrahim
Mentor: David Skaggs, MD
Poster Title: Ten Percent of Patients With Adolescent Idiopathic Scoliosis Have an Abnormal Number of Thoracic or Lumbar Vertebrae: A Red Flag for Wrong Site Surgery

Denise Al Alam
Mentor: Saverio Bellusci, PhD
Poster Title: Fgf10 Defines Pulmonary Lipofibroblasts in Late Embryonic Stages

Nirmala Mavila
Kasper Wang, MD
Poster Title: Fibroblast Growth Factor-Mediated Activation of Beta-Catenin-CBP Pathway Regulates Proliferation of Hepatic Progenitor Cells