The Saban Research Institute 2015 Annual Symposium
The Saban Research Institute at Children's Hospital Los Angeles 
Metabolism, Immunity, Infection and Inflammation
Where: The Saban Research Institute of Children's Hospital Los Angeles, 4661 Sunset Blvd. Los Angeles, CA 90027
When: Jan. 15, 2015 from 9 a.m. - 5 p.m.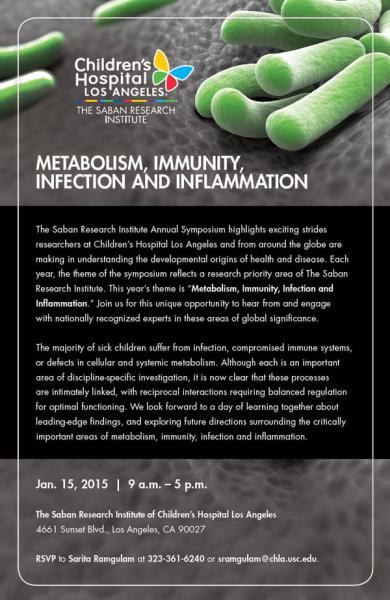 RSVP: Sarita Ramgulamat sramgulam@chla.usc.edu or 323-361-6240
The Saban Research Institute Annual Symposium highlights exciting strides researchers at Children's Hospital Los Angeles and from around the globe are making in understanding the developmental origins of health and disease. Each year, the theme of the event reflects a research priority area of The Saban Research Institute. This year's theme is "Metabolism, Immunity, Infection and Inflammation." Join us for this unique opportunity to hear from and engage with nationally recognized experts in these areas of global significance.
The majority of sick children suffer from infection, comprised immune systems, or defects in cellular and systemic metabolism. Although each is an important area of discipline-specific investigation, it is now clear that these processes are intimately linked, with reciprocal interactions requiring balanced regulation for optimal functioning. We look forward to a day of learning together about leading-edge findings, and exploring future directions surrounding the critically important areas of metabolism, immunity, infection and inflammation.
The Saban Research Institute
Children's Hospital Los Angeles is home to The Saban Research Institute, one of the largest and most productive pediatric research facilities in the United States, with an international team of more than 130 researchers and physicians who collaborate to combat cancer, brain disorders, obesity and diabetes, among other devastating pediatric health conditions. The Saban Research Institute is one of the few freestanding research centers in the U.S. where scientific inquiry is combined with clinical care and is devoted exclusively to children. 
Keynote Speakers
The Gut-Microbiome-Brain Connection in Neurodevelopment Disorders
Sarkis Mazmanian, PhD
California Institute of Technology
Dynamics of the Human Gut Microbiome
Rob Knight, PhD
University of Colorado Boulder
Microbiota-Immune System Interactions in the Intestine
Lora Hooper, PhD
University of Texas Southwestern
Democratization of Clinical-Grade T Cell Engineering to Treat Cancer and Pathogens 
Laurence J.N. Cooper, MD, PhD
The University of Texas MD Anderson Cancer Center