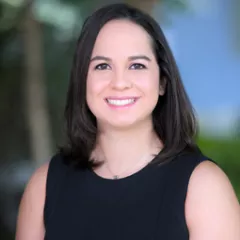 Rebecca Martinez, MD
Attending Physician, Fetal and Neonatal Institute
Attending Physician, Alan Purwin Emergency Transport Program
Assistant Professor of Clinical Pediatrics, USC Keck School of Medicine
Dr. Rebecca Martinez is an Assistant Professor of Clinical Pediatrics at the Keck School of Medicine of USC, and Attending Neonatologist at the Fetal and Neonatal Institute at Children's Hospital Los Angeles.
A fellow of the American Academy of Pediatrics, Dr. Martinez holds memberships with the California Perinatal Quality Care Collaborative and the American Academy of Pediatrics Sections on Neonatal-Perinatal Medicine, Transport Medicine, and the Council on Quality Improvement and Patient Safety.
Dr. Martinez earned her medical degree from the McGovern School of Medicine in Houston, TX and completed her pediatric internship and residency at St. Louis Children's Hospital. She completed a fellowship in neonatal and perinatal medicine at St. Louis Children's Hospital before joining the faculty of the USC division of Neonatal Medicine in 2020.
Dr. Martinez is passionate about clinical work in neonatal-perinatal medicine, quality and process improvement measures and outcomes, residency mentorship and education, pediatric emergency transport medicine, and global health medicine. She is currently a practicing Attending Neonatologist in the Neonatal Infant and Critical Care Unit, as well as a Physician for the Alan Purwin Emergency Transport Program. She is involved in many projects to improve patient care and outcomes and regularly travels to Hospital Santo Hermano Pedro in Catacamas, Honduras to treat children suffering from asthma and other pulmonary conditions.
Clinical Interests
Quality Improvement, Resident Education, Global Health
Education
Medical School
The University of Texas Health Science Center at Houston Medical School
Internship
Saint Louis Children's Hospital at Washington University Medical Center, Pediatrics
Residency
Saint Louis Children's Hospital at Washington University Medical Center, Pediatrics
Fellowship
Saint Louis Children's Hospital at Washington University Medical Center, Neonatal-Perinatal Medicine
Accomplishments
Certification
Pediatrics: American Board of Pediatrics, Neonatal-Perinatal Medicine: American Board of Pediatrics
Memberships
American Academy of Pediatrics, California Perinatal Quality Care Collaborative, California Association of Neonatologists