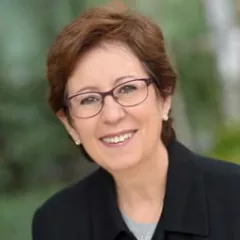 Jaclyn Biegel, PhD, FACMG
Chief of Genomic Medicine, Center for Personalized Medicine (CPM)
Director, Center for Personalized Medicine
Professor of Pathology (Clinical Scholar), Keck School of Medicine of USC
Jaclyn A Biegel, PhD, FACMG is the Division Chief of Genomic Medicine and the Director of the Center for Personalized Medicine in the Department of Pathology and Lab Medicine at Children's Hospital Los Angeles. She is Professor of Clinical Pathology (Clinical Scholar) at the Keck School of Medicine at the University of Southern California. Dr. Biegel received her PhD in Human Genetics at the University of Pittsburgh, completed a fellowship at Duke University School of Medicine, and rose through the ranks to Professor of Pediatrics at the Perelman School of Medicine at the University of Pennsylvania. Dr. Biegel is an internationally renowned leader in pediatric cancer genetics. She founded the Clinical Cancer Cytogenetics Laboratory at The Children's Hospital of Philadelphia, where she focused on the development of state of the art testing for children with hematologic and solid tumors. She is an internationally recognized leader in the field of pediatric brain tumor research, known for her work identifying germline and acquired alterations of the SMARCB1/INI1 gene in the development of central nervous system (CNS) rhabdoid tumors, and the KIAA1549-BRAF fusion in pediatric low-grade gliomas of the CNS. Dr. Biegel's approach has truly been a bench to bedside strategy, beginning with the identification of key targets and methods in the research laboratory, and successively developing and validating protocols in the CAP/CLIA environment for clinical implementation.
Contact Information
Phone: 323-361-8674
Email: jbiegel@chla.usc.edu
Education
Graduate School
University of Pittsburgh (PhD – Human Genetics)
Fellowship
Duke University Medical Center, Departments of Medicine and Pathology
University of Pittsburgh (Hematology-Oncology)
Accomplishments
Certification
Diplomate of the American Board of Medical Genetics (ABMG): Clinical Cytogeneticist
Memberships
American Association for the Advancement of Science
American Society of Human Genetics
Founding Fellow, American College of Medical Genetics
Children's Oncology Group
Society of Neuro-oncology
American Cytogenetics Conference
Cancer Cytogenomic Microarray Consortium
Medical Awards
Sigma Xi
Public Health Service Traineeship
Environmental Mutagen Society Student Travel Award
Provost Development Fund Scholarship for Doctoral Candidates
Research Achievement Award, Department of Pediatrics, The Children's Hospital of Philadelphia
Pediatric Brain Tumor Foundation, Basic Laboratory Pediatric Brain Tumor Research Award of Excellence
14th Annual W.W. Sutow Award, M.D. Anderson Cancer Center
Publications
Publications
Sweet-Cordero EA, Biegel JA. The genomic landscape of pediatric cancers: Implications for diagnosis and treatment. Science. 2019 Mar 15;363(6432):1170-1175. PubMed PMID: 30872516  - Link to full Science article
Babushok DV, Perdigones N, Perin JC, Olson TS, Ye W, Roth JJ, Lind C, Cattier C, Li Y, Hartung H, Paessler ME, Frank DM, Xie HM, Cross S, Cockroft JD, Podsakoff GM, Monos D, Biegel JA, Mason PJ, Bessler M. Emergence of clonal hematopoiesis in the majority of patients with acquired aplastic anemia. Cancer Genet. 2015 Apr;208(4):115-28.
PubMed PMID: 25800665; PubMed Central PMCID: PMC4433860.
Folpe AL, Schoolmeester JK, McCluggage WG, Sullivan LM, Castagna K, Ahrens WA, Oliva E, Biegel JA, Nielsen GP. SMARCB1-deficient Vulvar Neoplasms: A Clinicopathologic, Immunohistochemical, and Molecular Genetic Study of 14 Cases. Am J Surg Pathol. 2015 Jun;39(6):836-49. PubMed PMID: 25651469.
Weingart MF, Roth JJ, Hutt-Cabezas M, Busse TM, Kaur H, Price A, Maynard R, Rubens J, Taylor I, Mao XG, Xu J, Kuwahara Y, Allen SJ, Erdreich-Epstein A, Weissman BE, Orr BA, Eberhart CG, Biegel JA, Raabe EH. Disrupting LIN28 in atypical teratoid rhabdoid tumors reveals the importance of the mitogen activated protein kinase pathway as a therapeutic target. Oncotarget. 2015 Feb 20;6(5):3165-77. PubMed PMID: 25638158; PubMed Central PMCID: PMC4413645.
Biegel JA, Busse TM, Weissman BE. SWI/SNF chromatin remodeling complexes and cancer. Am J Med Genet C Semin Med Genet. 2014 Sep;166C(3):350-66. PubMed PMID: 25169151.
Baughn LB, Biegel JA, South ST, Smolarek TA, Volkert S, Carroll AJ, Heerema NA, Rabin KR, Zweidler-McKay PA, Loh M, Hirsch B. Integration of cytogenomic data for furthering the characterization of pediatric B-cell acute lymphoblastic leukemia: a multi-institution, multi-platform microarray study. Cancer Genet. 2015 Jan-Feb;208(1-2):1-18. PubMed PMID: 25678190.
Research
Research Summary
Dr. Biegels' major areas of research are related to the identification of genes responsible for the development of pediatric solid tumors. Her main focus has been on pediatric rhabdoid tumors, and the role of SMARCB1 in disease risk.