Surgeon Takes Aim at a Lethal Childhood Brain Tumor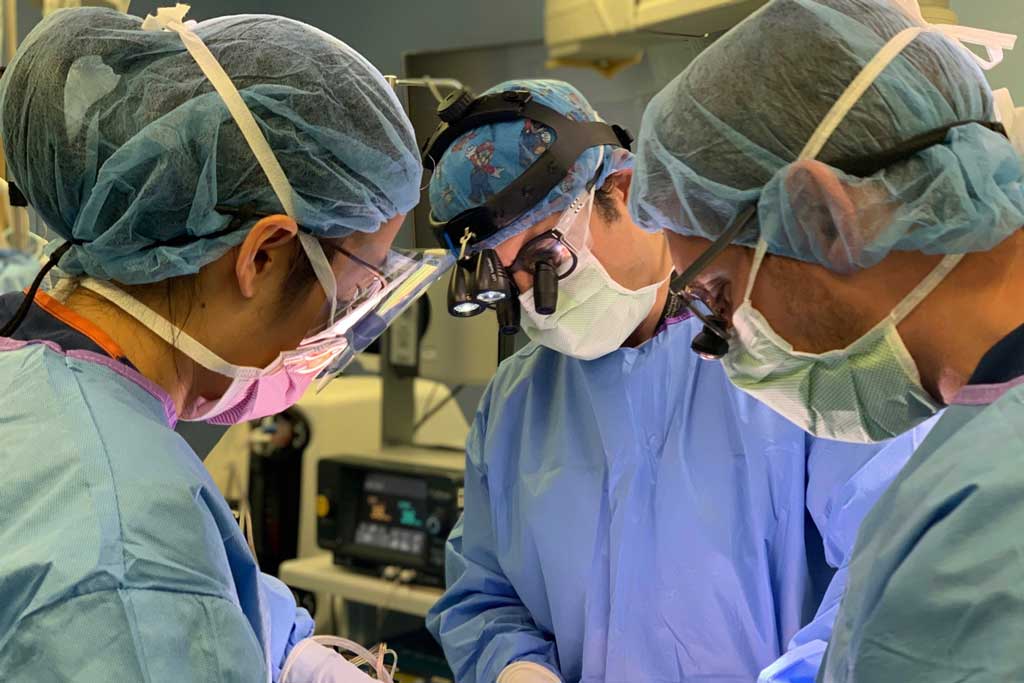 Peter Chiarelli, MD, DPhil, is combining chemistry, physics and nanoscience to find new therapies for diffuse intrinsic pontine gliomas.
By Katie Sweeney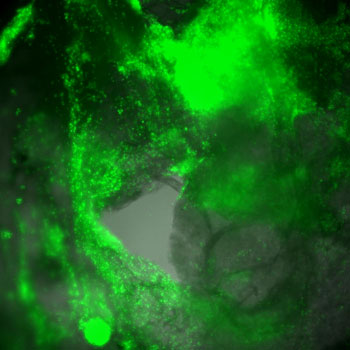 Confocal microscopy of DIPG cells growing in 3D on a decellularized brain tissue scaffold
In the operating room, pediatric neurosurgeon Peter Chiarelli, MD, DPhil, carefully removes cancerous tumors from children's brains and spines. But in the lab, much of his focus is on a type of brain tumor that's impossible to remove—and so far, impossible to cure.
That tumor, called diffuse intrinsic pontine glioma (DIPG), occurs in the middle of the brain stem, with cancerous cells speckled and interspersed among normal cells. Surgical removal is not possible, and hundreds of clinical trials testing chemotherapies against the tumor have failed.
DIPG typically strikes children between the ages of 5 and 9. The survival rate is 0%.
"It's a terrible diagnosis," says Dr. Chiarelli, an Attending Neurosurgeon at Children's Hospital Los Angeles. "There have been major advances in so many childhood cancers over the past 30 years. But not this one."
His goal is to transform that bleak landscape. To meet the challenge, he's combining his clinical knowledge with a research background that's steeped in not just neuroscience, but also nanoscience, physics, chemistry and spectroscopy.
It's not a solo effort. Within his lab at The Saban Research Institute of Children's Hospital Los Angeles, he has formed a partnership with scientist Meenakshi Upreti, PhD. His lab also benefits from collaboration with colleagues Rex Moats, PhD, and David Koos, PhD.
"We're developing benchtop strategies aimed at real clinical translation," Dr. Chiarelli says. "The goal is to progress toward clinical trials in children in the next five to seven years. We want to develop therapies that will have an impact on clinical care."
Novel nanoparticle therapies
One of the lab's strategies involves harnessing the potential of nanoparticles—ultra-small molecules that are 1,000 times smaller than the average human cell.
Nanoparticles have been used in medicine in recent years to deliver therapeutic molecules to the body. Dr. Chiarelli and Dr. Upreti are exploring a new use for them: increasing the specificity and effectiveness of radiation therapy, particularly for DIPG.
The team is developing nanoscaled systems that can interact with radiation to make it more potent. The idea: Use nanoparticles to target DIPG cells like molecular beacons—and then eliminate them with pinpoint accuracy, while leaving normal surrounding brain cells unharmed.
"The only therapy for DIPG that has any life-prolonging effect right now is radiation," Dr. Chiarelli notes. "But radiation is a very blunt instrument, and there are a lot of risks and side effects. Our goal is to make radiation therapy much safer and to deliver it much more effectively to the tumor."
In 2019, he received a prestigious grant from the Joint Pediatric Section of the American Association of Neurological Surgeons and Congress of Neurological Surgeons (AANS/CNS) to support these studies.
The work is a perfect fit for Dr. Chiarelli, who studied nanoscience and material science early in his career and earned his research doctorate in human brain physiology and MRI physics at Oxford University. He then attended Harvard University for his MD and trained at the University of Washington to become a pediatric neurosurgeon.
"One of my passions is to design smart systems using chemistry in new ways," he says. "The idea is to manipulate molecules and trick materials into doing big things for you."
Genomic tissue banking
Another major goal for the lab is to make Children's Hospital Los Angeles a national center of excellence for genomic banking of DIPG tissue.
"Tissue for DIPG historically has been very scarce compared with other brain cancers," Dr. Chiarelli says. "Right now, there are few centers that maintain tissue banks for DIPG. But this kind of bank is what we need to facilitate research and hasten progress on this cancer."
The team is not just collecting tissue, though. Researchers have been developing sophisticated models using a combination of cells that simulate the 3D microenvironment that real-life human tumors reside in.
"Real tumors develop in a certain conditions, and it's that environment that often protects tumor cells against the treatments themselves," Dr. Chiarelli says. "A poor response to treatment might not be a poor choice of drug at all, but instead a failure of the drug to attack the tumor cells in the protected area where they reside."
The team has already shown that culturing DIPG cells with other cells from the tumor microenvironment leads to a model that acts much more like a real tumor.
The goal now is to take those 3D tissue models and then use them in high throughput drug screening—a process that would test the efficacy of thousands of drug candidates against the tumor.
Can a liquid biopsy work?
Dr. Chiarelli is also collaborating with the Center for Personalized Medicine at Children's Hospital Los Angeles to develop a liquid biopsy not only for DIPG, but for other pediatric brain tumors as well.
Recently, scientists have recognized that brain tumors shed microscopic amounts of RNA and DNA that "float around" in cerebral spinal fluid. The team is investigating whether simply testing a sample of spinal fluid—which does not require surgery—is an effective way to diagnose a child's brain tumor.
A liquid biopsy would be an important advance for any pediatric brain tumor, but it would be particularly helpful in DIPG.
"Right now, for DIPG, we can biopsy the brainstem and obtain tissue," Dr. Chiarelli says. "But someday soon, we might completely avoid the risk of direct surgical biopsy through the liquid biopsy technique, simply by tapping the spinal fluid."
The multidisciplinary project involves Jaclyn Biegel, PhD, FACMG, Chief of Genomic Medicine, and Mark Krieger, MD, Senior Vice President and Surgeon-in-Chief. Oncology fellow Katrina O'Halloran is contributing to the research.
Dr. Chiarelli's liquid biopsy and tissue banking projects have received support from the Kort Family Foundation Brain and Spinal Cord Tumor Research Program.
"What I love about the research atmosphere at Children's Hospital Los Angeles is that everyone is extremely collaborative," Dr. Chiarelli says. "The facilities here are unparalleled, but it's the people and the environment that really foster a commitment to research."