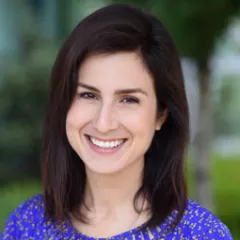 Alvina Rosales, PhD
Associate Director, Pain Rehabilitation Program
Lead Psychologist, Division of Pain Medicine
Dr. Rosales oversees psychological services within the division of Pain Medicine both inpatient and in the Pain Medicine Clinic. These services include psychological assessments, acute behavioral medicine interventions, and psychotherapy for pain management. She is the Associate Director of the Pain Rehabilitation Program, an inpatient functional rehabilitation program where she is responsible for directing clinical strategies development of innovative and evidenced-based practices.
Dr. Rosales' research interests are centered in investigating and addressing pediatric health disparities including the role of social determinants and adverse childhood experiences.  She uses a community-centered approach that recognizes the unique expertise of patients, families, and their communities, and promotes clinical and community collaborations in order to develop relevant and sustainable interventions.
Clinical Interests
Pediatric pain (acute and chronic), pediatric pain health disparities, behavioral medicine, adverse childhood experiences
Education
Graduate School
MA Psychology- California State University Los Angeles, CA
PhD Clinical Psychology- Georgia State University, Atlanta, GA, APA-Accredited
Internship
Brown University, Alpert School of Medicine, Psychology Training Consortium, Providence, RI, APA-Accredited, Specialty- Pediatric Psychology
Fellowship
Department of Anesthesiology & Perioperative Health, University of California Irvine School of Medicine, CHOC Children's Hospital of Orange County, Specialty- Pediatric Pain Research
Publications
Publications
Rosales, A., Fortier, M. A., Campos, B., Vivero, M., Martinez, A., Huerta, N., ... & Kain, Z. N. (2017). Community‐based participatory research: an innovative approach for improving perioperative care of underserved children. Pediatric Anesthesia, 27(2), 126-136.
Rosales, A., McQuaid, E. L., & Koinis-Mitchell, D. (2017). Family connectedness and pediatric asthma management: The roles of child age and race or ethnicity. Children's Health Care, 1-15.
Serrata, J. V., Macias, R. L., Rosales, A., Hernandez-Martinez, M., Rodriguez, R., & Perilla, J. L. (2017). Expanding evidence-based practice models for domestic violence initiatives: A community-centered approach. Psychology of Violence, 7(1), 158.
Stevenson, R. S., Rosales, A., Fortier, M. A., Campos, B., Golianu, B., Zuk, J., ... & Kain, Z. N. (2017). The role of ethnicity and acculturation in preoperative distress in parents of children undergoing surgery. Journal of immigrant and minority health, 19(3), 738-744.
Rosales, A., Fortier, M. A., Campos, B., & Kain, Z. N. (2016). Postoperative pain management in Latino families: parent beliefs about analgesics predict analgesic doses provided to children. Pediatric Anesthesia, 26(3), 307-314.
Olshansky, E., Zender, R., Kain, Z. N., Rosales, A., Guadarrama, J., & Fortier, M. A. (2015). Hispanic parents' experiences of the process of caring for a child undergoing routine surgery: A focus on pain and pain management. Journal for Specialists in Pediatric Nursing, 20(3), 165-177.
Serrata, J. V., Macias, R. L., Rosales, A., Rodriguez, R., & Perilla, J. L. (2015). A Study of Immigrant Latina Survivors of Domestic Violence: Becoming Líderes Comunitarias (Community Leaders). Gendered Journeys: Women, Migration and Feminist Psychology, 206.
Fedele, D. A., Rosales, A., Everhart, R. S., Koinis-Mitchell, D. Cannino, G., Fritz, G. K., McQuaid, E. L. (2014) The role of alternate caregivers in the management of pediatric asthma. Journal of Pediatric Psychology 39 (10)1-10.