Researchers Identify Abnormal Brain Cell Components in People with Autism
Los Angeles (Nov. 11, 2021) — Researchers at Children's Hospital Los Angeles have brought us closer to understanding the biology of autism spectrum disorder, a condition affecting a person's ability to communicate, learn and socialize. The findings are published in The Journal of Child Psychology and Psychiatry.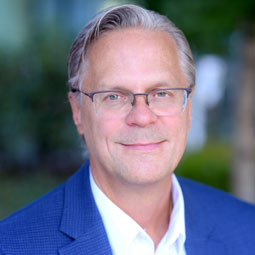 Bradley S. Peterson, MD
Researchers compared the brain images of 77 people with autism spectrum disorder with those of 88 people without a developmental disorder and found that people with autism have fewer brain cells and axons, the long cables that connect brain cells. In addition, brain images of people with autism appear to show less myelin, a fatty substance that coats the axons. In people with autism, the axons and myelin—known as the brain's white matter—appear more diffuse in the areas of the brain that control behavioral and emotional responses. The greater the abnormalities in these pathways, the more severe the symptoms of autism, the researchers reported.
"The long-range axons in the white matter of the brain that allow one brain region to communicate with another brain region seem to be a fundamental source of disturbance in autism," says lead study author and Principal Investigator Bradley S. Peterson, MD, Chief of the Division of Child Psychiatry at Children's Hospital Los Angeles. "By better understanding the molecules and the cell problems that lead to autism, our hope is eventually it will lead to new therapies for children with the disorder."
To obtain their detailed brain pictures, the researchers used three types of magnetic resonance imaging (MRI) techniques, which Dr. Peterson likened to creating three windows with different views into the brain. One technique, called diffusion tensor imaging, tracks the movement of water in the brain. Normally, water will diffuse equally in all directions in the brain, but in regions with less white matter and myelin, the water will diffuse more quickly. Another method, spectroscopy, measures concentrations of brain chemicals. One of these chemicals is N-acetylaspartate (NAA), which is made by neurons. The concentration of NAA can indicate the density of neurons in different parts of the brain. The third technique the researchers used is known as arterial spin labeling, which measures blood flow. The team discovered that in the brains of people with autism, regions with fewer neurons had increased diffusion within and between neurons, which in turn led to faster blood flow. They hypothesize that the body increases blood flow in these areas to compensate for the presence of fewer brain cells.
"Reduced numbers of neurons in the brains of people with autism may lead to increased blood flow that is mostly an attempt, we think, to try to right the ship," Dr. Peterson says. "The neurons that are there are working extra hard to try to do all the things that a person's brain needs to do."
Dr. Peterson is Chief of Psychiatry in the Department of Pediatrics at Children's Hospital Los Angeles and Vice Chair for Research in the Department of Psychiatry at the University of Southern California. Learn more about his lab's mission and areas of research.
Additional authors on the paper are:
Jiaqi Liu, BS, and Siddhant Sawardekar, MS, of Children's Hospital Los Angeles; Ravi Bansal, PhD, of Children's Hospital Los Angeles and the Keck School of Medicine of USC; Louis Dantec, MS, of École Polytechnique Universitaire de Marseille in France; Courtney Newman, BS, of Tennessee State University; and Suzanne Goh, MD, of Cortica Healthcare in San Diego.
The work was funded by National Institute of Mental Health grant R01 MH089582, Children's Hospital Los Angeles and the University of Southern California. The researchers utilized data that the New York State Psychiatric Institute and Columbia University made available to them.

About Children's Hospital Los Angeles
Founded in 1901, Children's Hospital Los Angeles is the highest-ranked children's hospital in California and fifth in the nation on the prestigious U.S. News & World Report Honor Roll of Best of Children's Hospitals. U.S. News ranks Children's Hospital Los Angeles in all 10 specialty categories. Clinical care at the hospital is led by physicians who are faculty members of the Keck School of Medicine of USC through an affiliation dating from 1932. The hospital also operates the largest pediatric residency training program at a freestanding children's hospital in the Western United States. The Saban Research Institute of Children's Hospital Los Angeles is home to all basic, translational, clinical and community research conducted at the hospital, allowing proven discoveries to quickly reach patients. Our mission: to create hope and build healthier futures. To learn more, follows up on Facebook, Instagram, LinkedIn, YouTube and Twitter, and visit out blog at CHLA.org/blog.