Children's Hospital Los Angeles Opens New Standalone Clinic in Santa Monica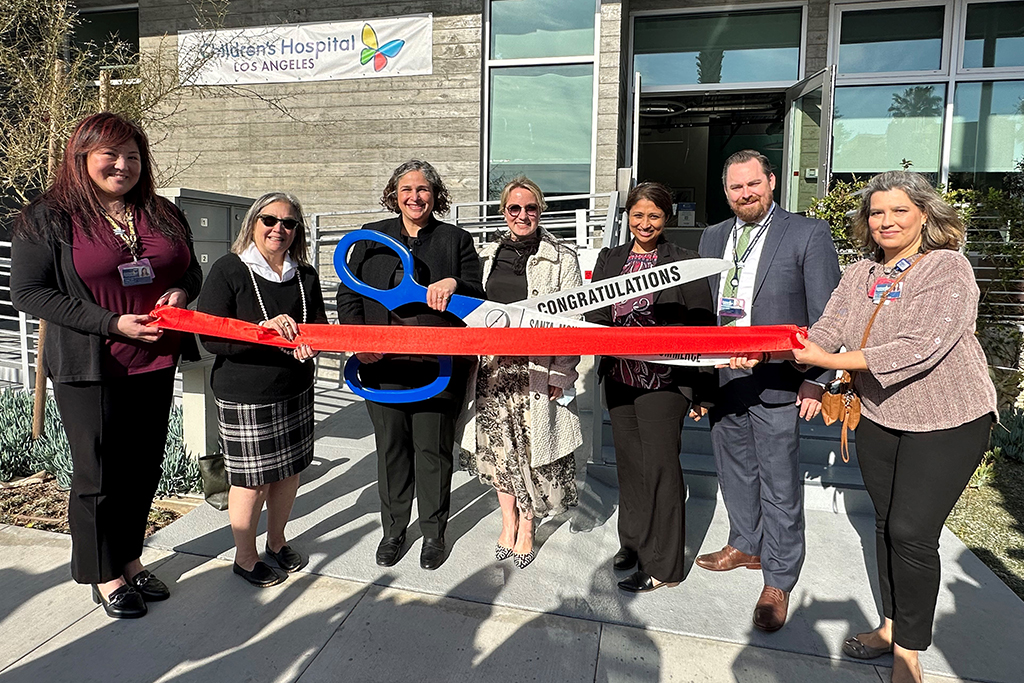 From left to right: Lynna Sim, Manager, CHLA Santa Monica Specialty Care Center; Gleam Davis, Mayor, City of Santa Monica; Lara Khouri, Executive Vice President and Chief Operating Officer, Children's Hospital Los Angeles; Lindsey Horvath, Los Angeles County Supervisor; Mona Patel, MD, Vice President of Ambulatory Care Delivery, Children's Hospital Los Angeles; Kevin Lewis, Director of Ambulatory Care Centers, Children's Hospital Los Angeles; Ana Castro, Office of Community Affairs, Children's Hospital Los Angeles

The new Santa Monica Specialty Care Center location, just two blocks from its former site, offers expanded services in a bigger space with free valet parking.

LOS ANGELES (March 13, 2023) – Children's Hospital Los Angeles (CHLA) has opened a new standalone clinic building for its Santa Monica Specialty Care Center at 1419 19th Street, just two blocks from its former location. This move provides much-needed space to add the following services: specialty care in Otolaryngology/Ear, Nose and Throat, on-site Laboratory services and a dedicated room for imaging procedures. In addition, the new space allows for increased capacity for care in existing services such as Allergy and Immunology, Gastroenterology, and Neurology.
"We are thrilled to unveil our new and expanded Santa Monica Specialty Care Center because we know it will allow us to better serve our patients and patient families in Santa Monica and on the Westside," says Lara Khouri, MBA, MPH, Executive Vice President and Chief Operating Officer at Children's Hospital Los Angeles. "This neighborhood clinic enables our patients to continue receiving world-class, family-centered care from California's premier pediatric hospital, with the benefits of additional specialty care and services."
The CHLA Santa Monica Specialty Care Center offers convenient access to a wide variety of pediatric specialists for initial evaluation and follow-up care in the following specialty areas:
Allergy and Immunology
Ear, Nose and Throat/Otolaryngology
Endocrinology, Diabetes and Metabolism
Gastroenterology
Neurology
Plastic and Maxillofacial Surgery
Urology
CHLA recently hosted a grand opening celebration with a ribbon cutting ceremony at the Santa Monica care center. The event was attended by CHLA team members and local dignitaries including Gleam Davis, Mayor, City of Santa Monica; Susan Hojer, Vice President of Membership and Development, Santa Monica Chamber of Commerce; and Lindsey Horvath, Los Angeles County Supervisor, who presented CHLA with a certificate commemorating the grand opening and recognizing CHLA's service to the community. Congressman Ted Lieu also issued a Certificate of Congressional Recognition, expressing appreciation for CHLA's "outstanding dedication to providing state of the art pediatric care for children in California."
The CHLA Santa Monica Specialty Care Center is located at 1419 19th Street Santa Monica, CA 90404 and is open five days a week – Monday through Friday from 8 a.m. to 5 p.m. For an appointment, call 310-820-8608. For referrals, call 888-631-2452.

About Children's Hospital Los Angeles
Children's Hospital Los Angeles is at the forefront of pediatric medicine, offering acclaimed care to children from across the world, the country and the greater Southern California region. Founded in 1901, Children's Hospital Los Angeles is the largest provider of care for children in Los Angeles County, the No. 1 pediatric hospital in California and the Pacific region, and is consistently ranked in the top 10 in the nation on U.S. News & World Report's Honor Roll of Best Children's Hospitals. Clinical expertise spans the pediatric care continuum for newborns to young adults, from everyday preventive medicine to the most medically complex cases. Inclusive, compassionate, child- and family-friendly clinical care is led by physicians who are faculty members of the Keck School of Medicine of USC. Physicians translate the new discoveries, treatments and cures proven through the work of scientists in The Saban Research Institute of Children's Hospital Los Angeles—among the top 10 children's hospitals for National Institutes of Health funding—to bring answers to families faster. The hospital also is home to one of the largest training programs for pediatricians in the United States. To learn more, follow us on Facebook, Instagram, LinkedIn, YouTube and Twitter, and visit our blog at CHLA.org/blog.