Children's Hospital Los Angeles Names Kelly M. Johnson, PhD, RN, NEA-BC, as Senior Vice President and Chief Nursing Officer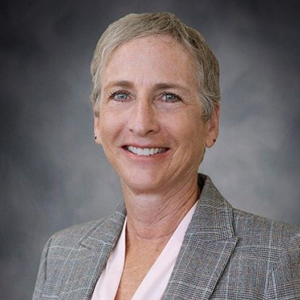 Kelly M. Johnson, PhD, RN, NEA-BC
Johnson brings 40 years of nursing and nurse leadership experience to CHLA

LOS ANGELES (April 12, 2023) – Following a comprehensive national search, Children's Hospital Los Angeles (CHLA) has named Kelly M. Johnson, PhD, RN, NEA-BC, as Senior Vice President and Chief Nursing Officer. Johnson comes to CHLA with more than 40 years of nursing and nurse leadership experience, including Chief Nursing Officer roles at Children's Hospital Colorado, Lucile Packard Children's Hospital Stanford, and University of California Benioff Children's Hospitals in Oakland and San Francisco.
"Kelly brings a wealth of practical nursing leadership, decades of expertise in quality and safety, and a deep passion for helping children and underserved communities, which aligns with Children's Hospital Los Angeles' commitment to equitable and inclusive care for the diverse populations we serve," says Children's Hospital Los Angeles President and CEO Paul S. Viviano. "I am thrilled to welcome Kelly to the team and would also like to extend my deep gratitude to our former Chief Nursing Officer and Chief Clinical Officer Nancy Lee for her nearly seven years of service and leadership. Nancy leaves a legacy of stronger and more effective care delivery, which allows our organization to meet the community's growing demand for CHLA's unique brand of compassionate, family-centered care. It's a legacy I'm confident Kelly will continue to foster and grow."
In her role as Chief Nursing Officer, Johnson will provide oversight, strategic direction, planning and leadership for the Patient Care Services disciplines of nursing (including inpatient, emergency, ambulatory and surgery); advanced practice professionals; family-centered care; rehabilitation services; patient and family experience; psychology; patient care services education and research; social work; and care coordination. She will drive development of initiatives to enhance and optimize patient care and nursing services; recruit, retain and optimize CHLA's world-class nursing and patient care workforce; and respond to the changing trends in health care, all in alignment with CHLA's mission, vision, values and strategic goals.
Most recently, Johnson served as Senior Vice President, CNO of Queens Medical Center and Chief Nurse Executive at Queens Health System in Honolulu, Hawai'i; launched her own health care leadership consulting and coaching group; and currently serves as the Director of Administration, Operations and Community Relationships for a statewide healthy child initiative that is a collaboration between the Nancy Atmospera-Walsh School of Nursing at University of Hawai'i Manoa and 173 schools overseen by the Hawai'i Department of Education. She has led five successful Magnet accreditations in her career, including two first-time designations and three redesignations.
Earlier in her career, Johnson worked as a nurse primarily in rehabilitation medicine, serving as a spinal cord injury clinical nurse specialist, a spinal cord injury nurse practitioner, trauma recovery unit rehabilitation nurse specialist and more. She attained her bachelor's degree in Nursing from the University of Northern Colorado, her master's in Family Health Care and Neuroscience from UC San Francisco, and her doctorate in Nursing from the University of Colorado Health Sciences Center.
Johnson's hiring follows the retirement of Nancy Lee, RN, MSN, Senior Vice President, Chief Clinical Officer and Chief Nursing Officer. In addition to leading CHLA's fourth Magnet redesignation, Lee worked closely with her clinical services leaders and physicians to evolve care delivery environments and practices to ensure CHLA remained on the leading edge of care and advocated for the importance of pairing improvements in patient and family experience with similar efforts in team member experience. She also fostered a spirit of innovation at CHLA, helping to recruit CHLA's first Chief Innovation Officer and supporting the launch of CHLA's Innovation Studio.
Johnson's first day will be on Monday, April 17.
About Children's Hospital Los Angeles
Children's Hospital Los Angeles is at the forefront of pediatric medicine, offering acclaimed care to children from across the world, the country and the greater Southern California region. Founded in 1901, Children's Hospital Los Angeles is the largest provider of care for children in Los Angeles County, the No. 1 pediatric hospital in California and the Pacific region, and is consistently ranked in the top 10 in the nation on U.S. News & World Report's Honor Roll of Best Children's Hospitals. Clinical expertise spans the pediatric care continuum for newborns to young adults, from everyday preventive medicine to the most medically complex cases. Inclusive, compassionate, child- and family-friendly clinical care is led by physicians who are faculty members of the Keck School of Medicine of USC. Physicians translate the new discoveries, treatments and cures proven through the work of scientists in The Saban Research Institute of Children's Hospital Los Angeles—among the top 10 children's hospitals for National Institutes of Health funding—to bring answers to families faster. The hospital also is home to one of the largest training programs for pediatricians in the United States. To learn more, follow us on Facebook, Instagram, LinkedIn, YouTube and Twitter, and visit our blog at CHLA.org/blog.