Children's Hospital Los Angeles Awarded $2.4 Million to Study Treatment of Respiratory Infections in Children with Tracheostomy
Christopher Russell, MD, MS, will lead a multicenter study designed to reduce antibiotic exposure in a vulnerable pediatric population.

Los Angeles (August 23, 2021) Each year, approximately 4,000 children undergo a tracheostomy—the surgical placement of a breathing tube—due to respiratory or neuromuscular disorders or chronic disease progression. Bacterial respiratory infections are the most common reason for hospitalization of these children at a cost of $300 million in U. S. hospital charges. In spite of its frequency, there is very limited evidence on how best to prevent, diagnose and treat bacterial respiratory infection in these children. Christopher Russell, MD, MS, a pediatric hospitalist at Children's Hospital Los Angeles, will lead the first multicenter prospective study of respiratory infection in children with tracheostomy.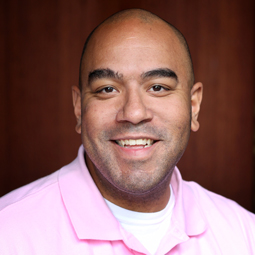 Christopher Russell, MD, MS
"We know that bacterial respiratory infection occurs frequently in kids who have tracheostomies," says Dr. Russell, Principal Investigator at The Saban Research Institute. "Some clinicians prospectively start patients on broad-spectrum antibiotics while others wait for culture results and treat the specific organism. This study will provide information about which option produces the best clinical outcomes while reducing unnecessary antibiotic use and cost of care."
The study will evaluate the outcomes of 1,500 children with tracheostomy, from newborn to 21 years of age, hospitalized at five participating children's hospitals. The study team will monitor the impact of factors like rapid viral testing, antibiotic initiation prior to the results of testing and the type of antibiotics used. The investigators are also interested in how test results and other clinical factors influence physicians' decisions about continuing antibiotic use.
The study team aims to provide clinical practice guidelines for the prevention, diagnosis and management of bacterial infections in pediatric patients with tracheostomy. "Our study will give us much needed evidence to proactively help these kids," says Dr. Russell, "while providing information to support a randomized controlled trial for therapeutic interventions."
Study co-investigators include Michael Neely, MD, Chief of Infectious Diseases at CHLA, Tamara Simon, MD, MSPH, Pediatric Hospitalist at CHLA and Wendy Mack, PhD, of the Department of Population and Public Health Sciences at the Keck School of Medicine of USC. In addition to Children's Hospital Los Angeles, participating sites include:
Seattle Children's Hospital
Cincinnati Children's Hospital Medical Center
Children's National Medical Center
Johns Hopkins All Children's Hospital
The current study was funded by the Agency for Healthcare Research and Quality, part of the Department of Health and Human Services. This study builds upon Dr. Russell's earlier work funded by the The Gerber Foundation.

About Children's Hospital Los Angeles
Founded in 1901, Children's Hospital Los Angeles is the highest-ranked children's hospital in California and fifth in the nation on the prestigious U.S. News & World Report Honor Roll of best children's hospitals. U.S. News ranks Children's Hospital Los Angeles in all 10 specialty categories. Clinical care at the hospital is led by physicians who are faculty members of the Keck School of Medicine of USC through an affiliation dating from 1932. The hospital also operates the largest pediatric residency training program at a freestanding children's hospital in the Western United States. The Saban Research Institute of Children's Hospital Los Angeles is home to all basic, translational, clinical and community research conducted at the hospital, allowing proven discoveries to quickly reach patients. Our mission: to create hope and build healthier futures. To learn more, follow us on Facebook, Instagram, LinkedIn, YouTube and Twitter, and visit our blog at CHLA.org/blog.