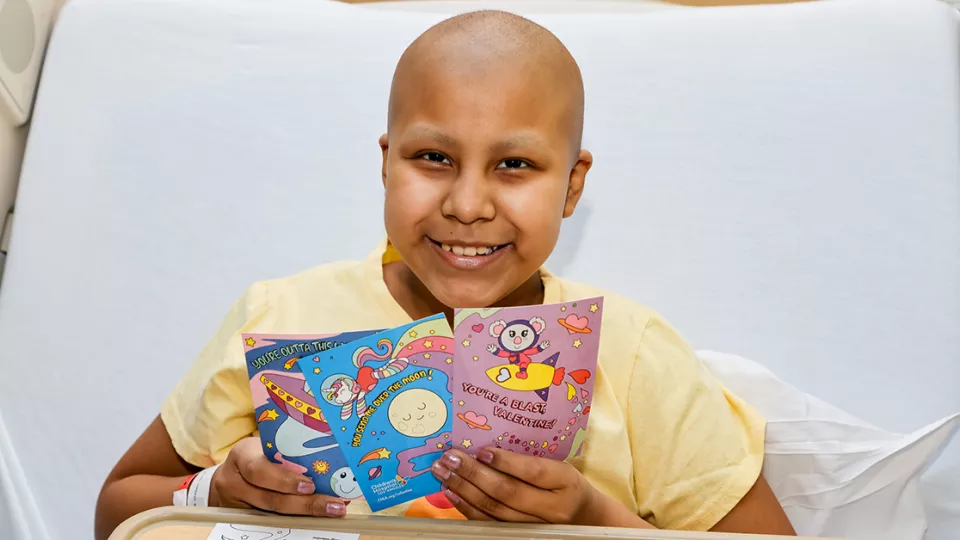 Children's Hospital Los Angeles Spreads the Love with Annual Valentine's Day Card Drive on CHLA.org
Well-wishers can help make Valentine's Day "out of this world" for CHLA's pediatric patients.
LOS ANGELES (February 1, 2023) – Children's Hospital Los Angeles (CHLA) is preparing to blast off into space this Valentine's Day for its annual card drive, which kicks off today on CHLA.org.
Those who want to spread some Valentine's Day cheer to CHLA's pediatric patients can go to chla.org/Valentine to create an outer space-themed coloring card. Supporters may choose from three animated galactic designs (a unicorn jumping over the moon, a koala riding a rocket ship and an alien orbiting Earth in a UFO) and write a friendly message.
"Exchanging Valentine's Day cards with friends and classmates is such a fun, formative tradition for a child, but unfortunately it's not always possible for children who are inpatient at the hospital," says Carol Hamamoto, Child Life and Expressive Arts & Therapies Manager at Children's Hospital Los Angeles. "This is why we look forward to the Valentine's Day card drive each and every year. These special Valentines contain kind and positive messages that lift our patients' spirits, and it's all the more meaningful because of the support from the community."
In past years, patients have received Valentine's Day cards not only from Los Angeles but from supporters across the country, as well as international well-wishers from Australia, Europe, Asia and South America.
About Children's Hospital Los Angeles
Children's Hospital Los Angeles is at the forefront of pediatric medicine, offering acclaimed care to children from across the world, the country and the greater Southern California region. Founded in 1901, Children's Hospital Los Angeles is the largest provider of care for children in Los Angeles County, the No. 1 pediatric hospital in California and the Pacific region, and is consistently ranked in the top 10 in the nation on U.S. News & World Report's Honor Roll of Best Children's Hospitals. Clinical expertise spans the pediatric care continuum for newborns to young adults, from everyday preventive medicine to the most medically complex cases. Inclusive, compassionate, child- and family-friendly clinical care is led by physicians who are faculty members of the Keck School of Medicine of USC. Physicians translate the new discoveries, treatments and cures proven through the work of scientists in The Saban Research Institute of Children's Hospital Los Angeles—among the top 10 children's hospitals for National Institutes of Health funding—to bring answers to families faster. The hospital also is home to one of the largest training programs for pediatricians in the United States. To learn more, follow us on Facebook, Instagram, LinkedIn, YouTube and Twitter, and visit our blog at CHLA.org/blog.