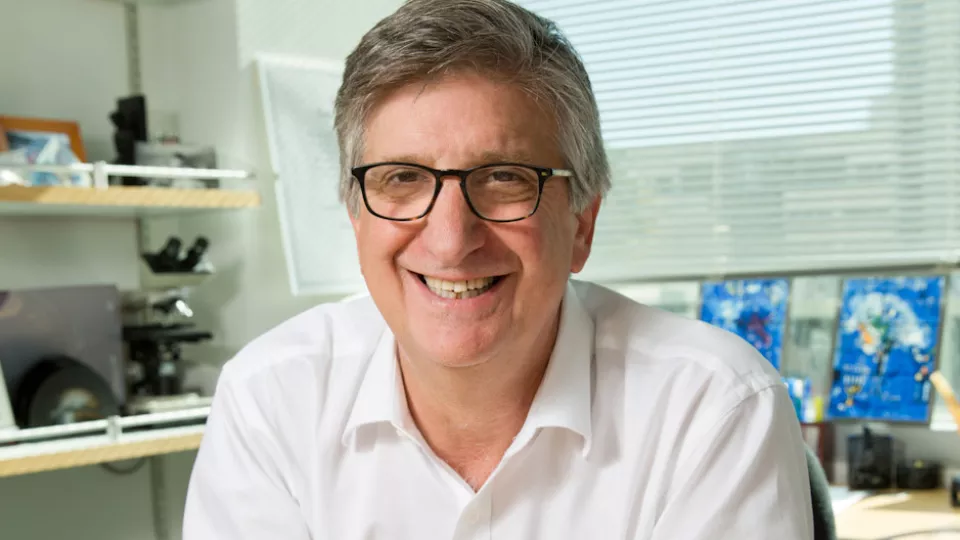 Children's Hospital Los Angeles Chief Scientific Officer Named to California Stem Cell Research Body Governing Board
LOS ANGELES (March 30, 2021) — Pat Levitt, PhD, Children's Hospital Los Angeles' (CHLA) Chief Scientific Officer and Director of The Saban Research Institute, has been appointed to the board that oversees the California Institute for Regenerative Medicine (CIRM). CIRM is the voter-created agency that funds stem cell research at institutions and organizations throughout the state.
"Dr. Levitt will bring a unique set of insights to this governance role, combined with a crucial voice that can advocate for children and pediatric researchers who are working tirelessly to address children's unmet medical needs," says Paul S. Viviano, CHLA President and Chief Executive Officer. "In addition to Dr. Levitt's keen insights born out of his research in neuroscience and child development, CIRM will undoubtedly benefit from the senior role he holds here at Children's Hospital Los Angeles, which gives him the broadest window into how research in the laboratory can be translated into effective treatments and therapies for children."
Appointed by State Controller Betty T. Yee to a six-year term, Dr. Levitt joins a board of 35 Californians—patients, advocates, researchers, educators and biotechnology industry professionals—committed to identifying and accelerating the most promising stem cell research and therapies. In 2019-2020, CIRM invested $2.7 billion in funding to support more than 1,000 stem cell-related discovery, translational and clinical programs.
"It is an honor and a significant responsibility to serve as a member of the governing board for CIRM," says Dr. Levitt. "Brain disorders will be an additional focus for CIRM following the approval of Proposition 14. I am looking forward to joining other governing board members to ensure that new treatments for chronic and life-threatening conditions can be moved from the laboratory to the clinic setting as rapidly as possible."
CIRM board members serve on 11 subcommittees and three working groups that provide recommendations regarding CIRM funding, ethical standards and research facilities.
A prolific pediatric researcher and scientist, Dr. Levitt oversees all research efforts at Children's Hospital Los Angeles and The Saban Research Institute of CHLA. He holds the Simms/Mann Chair in Developmental Neurogenetics at CHLA and is the WM Keck Professor of Neurogenetics at the Keck School of Medicine of USC—with a focus on the environmental and genetic factors that affect brain development and children with neurodevelopmental disorders. Dr. Levitt is an elected member of the National Academy of Medicine and a senior fellow at the Center on the Developing Child at Harvard University, where he has engaged in science policy work. Dr. Levitt earned his bachelor's degree in biological sciences from the University of Chicago, and his PhD in neuroscience from the University of California, San Diego. He completed a post-doctoral fellowship in neuroanatomy at the Yale University School of Medicine.
"I look forward to seeing the perspective Dr. Levitt's extensive study of the role of genetics in brain development adds to future board deliberations," said Controller Yee, the state's chief fiscal officer and chair of the Citizens Financial Accountability Oversight Committee that oversees CIRM finances.
CIRM was created in 2004 when voters approved Proposition 71 to accelerate stem cell treatments for patients with unmet medical needs. In November 2020, Californians approved Proposition 14—the Stem Cell Research Institute Bond Initiative—which authorized new funding for additional grants, strengthened oversight and expanded the governing board. Dr. Levitt was appointed to the CIRM position reserved for an executive officer of a California research institute, and his term runs until Feb. 21, 2027.
Controller Yee's other CIRM appointees include Elena Flowers, PhD, RN, associate professor of physiological nursing at the University of California, San Francisco; Ysabel Duron, president of the Latino Cancer Institute; Parkinson's disease patient advocate David R. Higgins, PhD; Dr. Linda Boxer, vice dean of the Stanford School of Medicine; and Dr. Anne-Marie Duliege, originally appointed by then-Controller John Chiang and reappointed by Controller Yee.
About Children's Hospital Los Angeles
Founded in 1901, Children's Hospital Los Angeles is the highest-ranked children's hospital in California and fifth in the nation on the prestigious U.S. News & World Report Honor Roll of Best Children's Hospitals. U.S. News ranks Children's Hospital Los Angeles in all 10 specialty categories. Clinical care at the hospital is led by physicians who are faculty members of the Keck School of Medicine of USC through an affiliation dating from 1932. The hospital also operates the largest pediatric residency training program at a freestanding children's hospital in the Western United States. The Saban Research Institute of Children's Hospital Los Angeles is home to all basic, translational, clinical and community research conducted at the hospital, allowing proven discoveries to quickly reach patients. Our mission: to create hope and build healthier futures. To learn more, follow us on Facebook, Instagram, LinkedIn, YouTube and Twitter, and visit our blog at CHLA.org/blog.