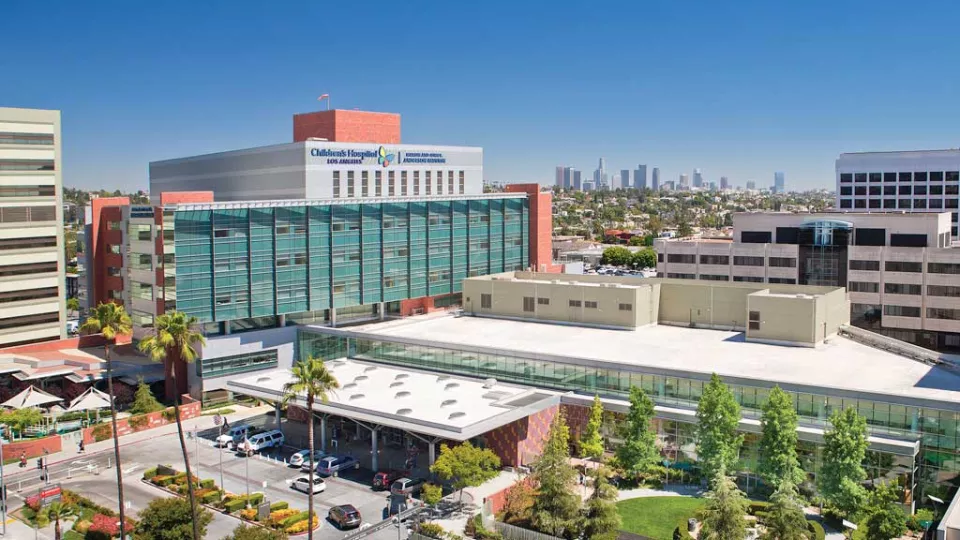 Children's Hospital Los Angeles and USC Announce the Creation of a $40 Million Collaboration for Pediatric Biomedical Research and Innovation
The Initiative Will Benefit Innovative Studies and Projects Focused on Improving Children's Health
Los Angeles (April 3, 2023) – Children's Hospital Los Angeles (CHLA) and USC announced the establishment of a $40-million biomedical research and innovation fund that will benefit child health care for generations to come. The USC Alfred E. Mann - CHLA Joint Research Fund has been created from the annual proceeds of a $40 million legacy gift from USC's endowment dedicated to this purpose as originated from the Alfred E. Mann Charities and Alfred E. Mann Foundation for Biomedical Engineering, named for the distinguished inventor and engineer who dedicated his life to bettering health outcomes.
The new collaboration was celebrated Monday evening at an event hosted by Children's Hospital Los Angeles and commemorated by CHLA President and CEO Paul S. Viviano, USC President Carol L. Folt and Alfred E. Mann Charities leadership.
The initiative will enhance pediatric research projects that will be jointly sponsored by USC faculty and The Saban Research Institute of CHLA and at the hospital's Innovation Studio, a technology incubator dedicated to immediately addressing and solving complex problems in pediatric health care.
"Children's Hospital Los Angeles is home to one of the most prolific pediatric research institutes in the country, and the pioneering Innovation Studio, which are both dedicated to finding novel ways to treat a wide spectrum of diseases impacting children," said CHLA President and CEO Viviano. "At CHLA, constant curiosity paired with world-class expertise helps our team members develop interventions, treatments and cures in smarter, more agile ways every day."
USC President Folt said the partnership will boost research opportunities across both institutions. "Today's announcement is a testament to the power of connection – between a visionary entrepreneur's generosity and two recognized leaders in biomedical research and innovation," said Folt.
Viviano recognized technology pioneer Alfred E. Mann's longstanding support of innovation and its priority on discoveries to solve "unmet and under met" medical conditions. "We are grateful to the Alfred E. Mann Charities for their tremendous commitment to supporting innovative research and collaboration," Viviano said. "Our team members look forward to working with USC to make scientific discoveries to improve the lives of children—and the adults they will become."
The Alfred E. Mann Charities support of CHLA includes a transformative $6 million gift to fund leading-edge research in the fight against childhood cancers and other diseases. This established the Alfred E. Mann Family Foundation Chair in Cancer Research—with Alan S. Wayne, MD, Director of the Cancer and Blood Disease Institute (CBDI), as the inaugural chair holder—as well as the Alfred E. Mann Family Foundation Zebrafish Facility, a 3,000-square-foot aquatic cancer research facility on CHLA's Sunset campus.
"Al was an outstanding inventor who devoted himself to creative solutions that would improve and extend the lives of millions of people," said Michael Dreyer, Anoosheh Bostani and Claude Mann of the Alfred E. Mann Charities and Alfred E. Mann Foundation for Biomedical Engineering. "Al would have been so touched to see that his gift is also helping USC and Children's Hospital Los Angeles work together to help even the youngest patients to live healthier, longer lives. It is a great way to honor Al's legacy across generations."  
CHLA and USC have been affiliated for more than 90 years. CHLA is a regional and national leader in providing clinically superior, specialized and complex pediatric care, caring for one out of three children annually in Los Angeles County alone. Inclusive, compassionate and family-centered clinical care is led by physicians who are faculty members of the Keck School of Medicine of USC. Physicians translate new discoveries, treatments and cures proven by scientists in The Saban Research Institute of CHLA—among the top 10 children's hospitals in the U.S. for National Institutes of Health (NIH) funding—to help bring answers to families faster.
During the 2022 fiscal year, CHLA treated more than 700,000 patients and received more than $154 million in total research funding. CHLA has more than 350 funded scientists and physician scientists with nearly 600 active clinical trials in progress. Nearly one-half of clinical trial participation is in cancer care, with the rest spanning across neuroscience, GI, endocrinology, cardiology and 14 additional specialties.
Children's Hospital Los Angeles, the Keck School, Keck Medicine and USC Norris Comprehensive Cancer Center researchers have partnered on innovative cell therapy programs to revolutionize the treatment of a variety of conditions.
Currently, the USC and CHLA Translational Cell Therapy Program consists of 40 principal investigators with more than $56 million in NIH funding for cell and gene therapy research. Four initiatives have advanced to clinical testing or late pre-clinical development stages; six more are advancing towards clinical development.
In January, USC and CHLA opened a new cGMP laboratory to advance early-stage research into lifesaving, commercially viable therapies at the USC Norris Comprehensive Cancer Center. The laboratory is designed to manufacture cell and gene therapies for clinical and research related initiatives as licensed and approved under the Food and Drug Administration's good manufacturing practice (cGMP) standards.