Richie's Neighborhood was designed as an interactive tool that would result in a decrease in the incidence of child pedestrian trauma.
Richie's Neighborhood Features
Life-size intersections with flashing traffic signals
Stationary & mobile cars backing out of driveways
Bilingual
Includes injury prevention videogame console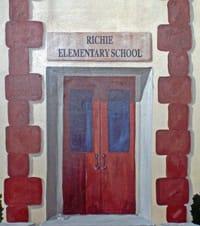 Uses/Applicability
Community health fairs and events
School assemblies
Classroom presentation
Safety and law enforcement events
Parent trainings
Site Requirements
Richie's Neighborhood is available for events at local school, parks, and community events.  The unit has limited generator capacity, so when you request a visit from Richie's Neighborhood, please have information on hand regarding power source for the unit.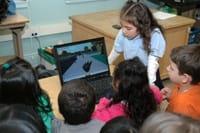 Set Design
LA Street Smarts set allows children to stop at each of several safety stations and experience hands-on learning opportunities about child pedestrian safety. 
The design is based on other successful safety street programs and University of California San Francisco's Ace's Adventures (a video game for children about best practices as a pedestrian). 
These two resources have been combined to give children ages 5-9 the most current and relevant information about being a safe pedestrian.