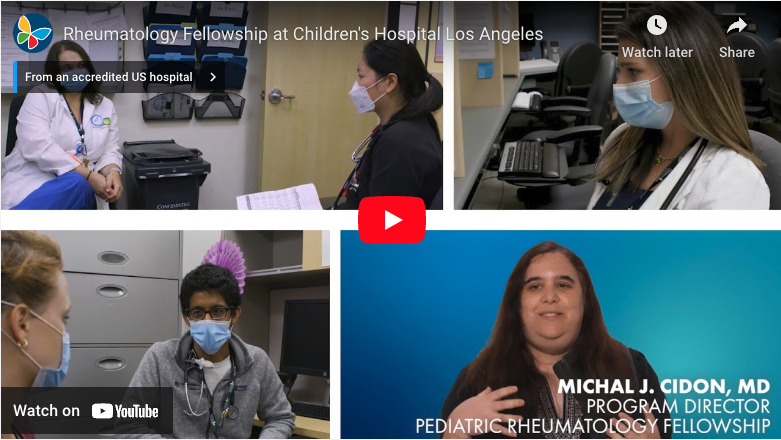 About the Fellowship
The Pediatric Rheumatology Fellowship at Children's Hospital Los Angeles is a three-year program combining clinical training with research experience. Our division is known for its vast experience in diagnosing and treating children with a spectrum of autoimmune, inflammatory rheumatic diseases and for the contributions our physicians make to better the understanding and therapies of pediatric rheumatic diseases. The Division of Rheumatology utilizes a team approach including four full-time pediatric rheumatology specialized physicians, a fellow in training, an RN coordinator, a social worker, a physical and occupational therapist, and a research coordinator.
We see about 5,000 children a year in our outpatient clinics, follow all rheumatology inpatients who have a proven or a suspected rheumatic disorder, consult to all other divisions in the hospital as well as to a broad base of outside referring physicians and follow children with rheumatic diseases who are admitted to the inpatient rehabilitation unit. Our physicians are also recognized for teaching and lecturing locally, nationally and internationally. The rheumatology research program is thriving with multiple projects involving new, cutting edge therapies and understanding the genetics of rheumatic illness in childhood. Our goal is to have one fellow at each year of training.
Our fellowship program includes the following:
Clinical: rounds on rheumatology inpatients, inpatient/ outpatient and ER consultations: 6 months in the first year, 4 months in the second year and 2 months in the third year.
Research experience: participation in the design stage, grant writing and actual hands-on guided participation: 6 months in the first year, 8 months in the second and 9 months in the third year.
Teaching: bed side teaching, lectures to fellows by physicians in the division as well as by outside physicians/researchers, teaching conferences such as journal club, presentations of interesting or difficult cases, radiology teaching rounds, rheumatology conferences, grand rounds.
Rotations to enrich rheumatology basis of knowledge: ophthalmology, adult rheumatology (1 month each).
Encouraged to attend other conferences deemed appropriate, such as Southern California Rheumatology Society (SCRS), Pediatric Rheumatology Symposium (PRSYM), and Childhood Arthritis and Rheumatology Research Alliance (CARRA).
All fellows are members of AAP, ACR, CARRA, and SCRS.
Superior Training Setting
Our hospital has become a global resource for pediatric clinical care, research and teaching. Based on national survey, US News & Work Report, CHLA has ranked number 1 in California and the Western US, as well as top 5 in the nation. An additional benefit is that being located in Hollywood, the hospital is only miles away from the beach with lots of other attractions such as hiking, biking and surfing!
Diverse Patient Population and Staff
How to Apply
The Children's Hospital Los Angeles Pediatric Fellowship Program accepts applications via the Electronic Residency Application System (ERAS).We are delighted to carefully review the application for all applicants so as to identify excellent candidates to train in our subspecialty. 
To find out more about our program, please contact us.
Program Fast Facts
ACGME Accredited: Yes 
Fellows per year: 2 
Application Deadline: August 
Duration: 3 years 
Postgraduate Training Required: 3 years 
U.S. Citizenship Required: No 
Salary Minimums: 
Post Graduate Year 4: $78,531 minimum
Post Graduate Year 5: $81,677 minimum
Post Graduate Year 6: $84,712 minimum
Post Graduate Year 7: $87,652 minimum
Post Graduate Year 8: $90,952 minimum
Post Graduate Year 9+: Please contact gme@chla.usc.edu 
Benefits Include: Health and dental insurance, 14 days paid vacation+ 6 protected sick days, yearly educational stipend, monthly meal stipend, and 401(k) matching up to 3%
Attendings

Fellowship Director
---

Assistant Fellowship Director
---

Division Chief
---

---

---

---

Ariel Ford, NP