Emergency Medicine Fellowship

The mission of our fellowship is to impact pediatric emergency care by education a diverse group of tomorrow's best PEM academic clinicians and leaders. We have robust training experiences and resources to support your growth as a clinician, educator, and researcher/scholar. Los Angeles has wonderful weather, outdoor and indoor recreation and culture, entertainment and food. We look forward to meeting you!
Learn More About the Training Program
As a fellow, you will be immersed in a busy, urban Pediatric Emergency Department providing tertiary care and Level 1 Pediatric Trauma care. We have now exceeded 100,000 patient visits / year.
You will gain clinical experience in managing severe trauma patients, medical resuscitations, as well as ED flow management and how to be an effective teacher. We average 8000 injuries and 200 to 300 trauma team activations per year.
One of our program's strengths is its clinical volume and high acuity, which allow for a rich and thorough learning experience. You will actively perform numerous ED procedures daily, as well as lead resuscitations, supervise residents, and function with increasing autonomy over time. In addition to clinical duties, you will be mentored and successfully pursue research pursuits to build up and customize your PEM career. There are a full cadre of mentors within PEM and other disciplines, as well as those outside of CHLA. Clinical shifts in your first two years will be day and evening shifts precepted by PEM attendings. Third year's are offered the opportunity to moonlight shifts in the ED as full attendings.
During the academic year, each fellow will attend full day didactic conferences and administrative meetings twice a month, as well lead various clinical case conferences, journal clubs, and research talks. Fellows also have their own 'Fellows' Conference' also twice a month, for didactic and workshop-style learning on basic PEM topics and procedures. Fellows will have ample opportunities to participate in resident and medical student education both in the ED as well as in lecture settings.
Over time, the leadership capacity of each fellow increases, with increasing autonomous patient care and quality improvement & scholarly projects resulting in publication and positive change for CHLA patients and staff.
Additional experiences:
Research: 3-year fellowships include multiple four-week blocks with shift reduction for Research months throughout 1st & 2nd year; the entire 3rd year is set aside as a Research Year.
Additional training experiences: Anesthesia, ICU, ultrasound, simulation, cadaver lab, and learning how-to-teach rotations/curricula are built into the schedule. Our novel "+1 Curriculum" also gives fellows protected time one day a block to self-assess and self-select additional elective experiences in a wide-range of inpatient and outpatient settings (i.e. sports medicine, orthopedics, ophthalmology, ENT, neurosurgery, dermatology, obstetrics, etc.). In the second year, there is a free elective block without any ED shifts which gives fellows an opportunity to explore a global health experience or other elective. In the third year fellows can also take a month to explore a global health elective.
Adult Training: The 4 months of adult medicine that are required are built with the PEM learner's goals in mind. Experiences include adult EM at UCLA and LAC+USC. In the first year, fellows also do rotation in Toxicology and in the Trauma unit of LAC+USC.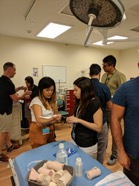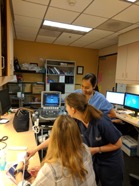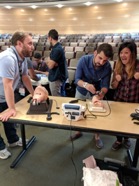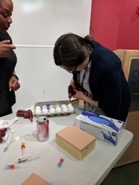 3-year PEM fellows are required to complete a scholarly research project—clinical, administrative, or educational—for dissemination to a national conference and submission to a peer review journal. 2-year fellows are encouraged to do the same.
To help assist in study design, grant writing, presentation and publications, fellows are paired with 2 research mentors in the division as well as receive support from a PEM Research Staff team (manager, coordinator, assistant and data analyst). The full-time Research staff assist in the administrative aspects of your study as well as planning. This helps get your feet off the ground quickly if you are novice researcher, and can amplify your academic productivity and grant-writing for those more seasoned. An average of 1 to 4 Research Assistants are present in the ED on a daily basis to assist with all Divisional research. These include undergraduate and medical students from USC.
Faculty have various content expertise including but not limited to: ultrasound, simulation, resuscitation, medical education, process improvement, communication, sepsis, health policy, advocacy, transport medicine, sedation and analgesia, dehydration, mental health, infectious diseases, trauma, and physician wellbeing.
Recent fellowship research projects have included: Serious Gaming and Medical Education, Inhaled Corticosteroid Prescription from ED, Hot Debriefing in Critical Incidents, Disaster Preparedness in patients with high medical needs, Simulation of Novel Communication Systems in disaster, and End-Tidal CO2 in Bronchiolitis.
Fellows are also eligible for free tuition for classes and degree programs in multiple disciplines at University of Southern California (USC). In addition to a wide variety of workshops and conferences hosted by CHLA, the Saban research institute, and USC.
How to Apply
The CHLA Emergency Medicine Fellowship Program is a part of the National Resident Matching Program (NRMP) and participates in the Pediatric Specialties Match. Our program takes applications via the Electronic Residency Application Service (ERAS). If you are interested in applying to our fellowship program, you will need to apply through ERAS application process.
Program Fast Facts
ACGME Accredited: Yes
Fellows Per Year: 3
Application Deadline: ERAS
Program Duration:
- 3 years (Pediatrics Residency)
- 2 or 3 years (Emergency Medicine Residency)
Application due date: August 1
Salary Minimums:
Post Graduate Year 4: $71,550 minimum
Post Graduate Year 5: $73,150 minimum
Post Graduate Year 6: $74,900 minimum
Post Graduate Year 7+: Compensation will be at the discretion of each division
Benefits Include: Health and dental insurance, 14 days paid vacation+ 6 protected sick days, yearly educational stipend, monthly meal stipend, and 401(k) matching up to 3%