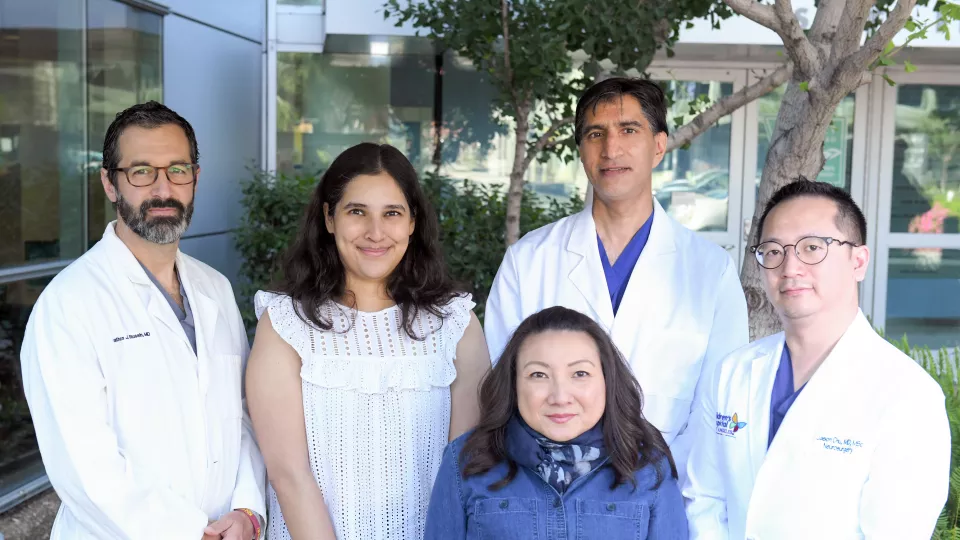 Care Innovation
Collaboration Delivers Innovative Care to Children With Cerebrovascular Disorders
A collaboration between Children's Hospital Los Angeles and USC is providing specialized care to pediatric patients—including a first-ever surgical approach for a giant cerebral aneurysm.
Last year, a multidisciplinary team from Children's Hospital Los Angeles and Keck Medicine of USC performed the first three-vessel bypass surgery in a pediatric patient—successfully treating the child's giant cerebral aneurysm.
The novel procedure is just one example of how a special CHLA-USC collaboration is bringing new and advanced treatment options to children with cerebrovascular disorders such as aneurysms, strokes and vascular malformations.
"We work together as a multidisciplinary group that includes experts from both the pediatric and adult sides," explains Jason Chu, MD, MSc, a pediatric neurosurgeon in the Neurological Institute at Children's Hospital Los Angeles. "That enables us to take on extremely complex cases that many other centers can't, while bringing the latest cerebrovascular treatment approaches to children with these disorders."
An innovative procedure
One of those complex cases took place last year, when a preteen with a giant cerebral aneurysm was referred to CHLA by another hospital. The patient's entire middle cerebral artery was a giant aneurysm—with not one, but two critical blood vessels connected to it.
This rare situation meant that endovascular approaches such as stenting would not work. Even a conventional cerebral bypass procedure—which connects a blood vessel from outside the brain to one inside the brain to reroute blood flow around a damaged artery—was not an option.
After reviewing the case, the CHLA-USC neurovascular team decided that a three-vessel extracranial-intracranial cerebral bypass would be the best approach. The novel technique was recently created by surgeons in the USC Neuro Revascularization Center for complex cases in adults but had never been performed in a pediatric patient.
In the procedure, the team harvested the saphenous vein from the patient's lower leg and sutured it into the common carotid artery. The team then blocked off the aneurysm and used the bypass graft to feed blood to both critical blood vessels that had been connected to the aneurysm.
The innovative surgery was a team effort involving Dr. Chu from CHLA and the USC Neuro Revascularization Center, including neurosurgeon Jonathan Russin, MD, and Joseph Carey, MD, from plastic/reconstructive surgery.
"It's a single-stage approach that combines side-to-side and end-to-side techniques and has several advantages over traditional revascularization," explains Dr. Russin, who helped to develop the technique at USC. "It requires only one craniotomy and one graft, and it does not involve lengthy dissection of the recipient artery."
The patient recovered and has done extremely well, returning to both school and sports.
"Instead of one pediatric neurosurgeon or one adult neurosurgeon handling cases like this, we come together as a team," Dr. Chu says. "Each specialist contributes unique expertise, and that enables us to provide patients with advanced and comprehensive care."
Creating a synergy
Cerebrovascular disorders such as brain aneurysms and strokes are much more common in adults than in children. At the same time, when these conditions do occur in children, they often present unique challenges and treatment needs—which require pediatric expertise.
"When a child has an aneurysm, for example, it is often caused by a developmental problem—such as a blood vessel that did not develop normally," Dr. Chu notes. "It's important to have pediatric expertise in these conditions and to have that deep experience in treating children and adolescents, including performing complex neurosurgeries."
That makes the team approach ideal. "On the adult side, we see a high volume of cases, but our colleagues at CHLA have crucial experience in pediatric neurosurgery and neurology," Dr. Russin says. "Working together creates a synergy that allows us to optimize care for these children and give them the best opportunity to live a full and healthy life."
The team's multidisciplinary nature is also key to its success. In addition to pediatric and adult neurosurgeons and endovascular surgeons, the team includes pediatric and adult neurologists and neurocritical care specialists, as well as interventional radiologists.
"These children are often critically ill and in the intensive care unit, and they require very specialized pediatric care," says Deepti Nagesh, MD, a pediatric neurologist and neurocritical care specialist at Children's Hospital Los Angeles. "It's really important to take a team approach when coordinating care to address all aspects of the child's condition, including seizures, increased intracranial pressures and cognitive impairments."
Additional key collaborators in the group include interventional radiologist Joseph Miller, MD, MS, and pediatric neurologist Eugenia Ho, MD, MPH, both of CHLA, as well as neurosurgeons William Mack, MD, and Arun Amar, MD, of USC.
Longitudinal care
Long-term follow-up is an essential component of the group's comprehensive care. At CHLA, pediatric neurologists follow patients regularly in clinic visits to manage any co-existing or related conditions, as well as to identify any potential genetic basis for a child's cerebrovascular disorder.
In addition, the CHLA-USC collaboration helps to ease the transition from pediatric to adult care for children with complex cerebrovascular disease. For example, one of the common vascular disorders the team treats is an arteriovenous malformation (AVM)—a tangle of blood vessels that form where an artery is abnormally connected to a vein.
Although AVMs are treated similarly in children and adults, studies have shown that children have a higher risk for this malformation to recur in adulthood.
"Because we discuss cases as a group, our colleagues at USC are familiar with our patients and the procedures we're doing. That helps make the eventual transition to adult care much more seamless for patients," says Dr. Chu. "We are all working together to ensure these children receive the best possible vascular care, not just now but throughout their lives."