Care Innovation
Children's Hospital Los Angeles Leads Nation in Liver Transplants
Living donation and significantly lower wait times helped the program to perform 35 liver transplants in 2022.
Children's Hospital Los Angeles leads the nation in liver transplants performed at a pediatric center, according to new data released from the Organ Procurement & Transplantation Network (OPTN), which oversees organ transplants in the U.S.
In 2022, CHLA was one of only two pediatric centers in the country to perform 35 liver transplants, the network's data reported. CHLA also was No. 1 in the nation in pediatric living donor liver transplants. Ten of its 35 liver transplants last year came from living donors—by far the most in the nation in pediatrics.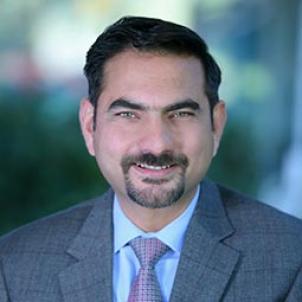 This high volume of transplants is paired with excellent outcomes, including one-year patient and graft survival rates of 100%.
"This success is a testament to the extensive experience and dedication of our entire liver transplant team," says Rohit Kohli, MBBS, MS, Chief of the Division of Gastroenterology, Hepatology and Nutrition and Associates Chair in Liver and Intestinal Research at Children's Hospital Los Angeles. "Countless people from across our hospital come together every day to ensure that patients receive lifesaving liver transplants, with best-in-class outcomes. It's an incredible team effort."
Living donor expertise
One of the keys to the team's success is its strength in living donation. Children's Hospital Los Angeles has long been among the largest programs in the country for pediatric living donor liver transplants.
Since it was founded in 1998, the Liver Transplant Program has performed 470 transplants—with roughly one third of them coming from living donors. That's a major reason why the median wait time for a new liver is just 3.6 months at CHLA—versus 10.6 months regionally and 7.9 months nationally.
"Living donation significantly reduces the wait time for an organ," says Yuri Genyk, MD, Chief of the Division of Abdominal Organ Transplantation and a pioneer of living donor liver transplant at CHLA. "Even more importantly, it enables children to receive a lifesaving new liver before they become critically ill, which contributes to better outcomes."
In 2021, the team published a global study of more than 8,000 patients showing that children who receive living donor organs have half the risk of dying—and half the rejection—compared with those who receive cadaveric livers. The team's studies have also shown that those who receive a liver from a maternal donor may be advantaged toward better outcomes.
To further speed new livers to children who need them, Children's Hospital Los Angeles has developed a fast-track living donor evaluation option through its partnership with the USC Transplant Institute at Keck Medical Center of USC. This program is for select patients with the most critical disease and most urgent need for liver transplant.
"This enables children needing urgent care to generally be scheduled for transplant within 72 to 96 hours of the donor's evaluation," explains Beth Carter, MD, Medical Director of the Liver Transplant Program.
Commitment to research
An important part of the team's efforts is a commitment to improving the future of liver transplant care, with the goal of helping each child's liver to last a lifetime.
For example, surgeon-scientists at CHLA are using imaging mass cytometry technology to investigate the mechanisms of liver transplant rejection and develop novel biomarkers to better diagnose, treat and predict rejection in children.
In addition, researchers are working to develop noninvasive predictors of fibrosis in children with Fontan-associated liver disease. CHLA scientists are also advancing the understanding of liver development and conditions such as nonalcoholic fatty liver disease and biliary atresia—the most common cause of liver transplantation in children.
"Caring for today's patients is one piece of our mission," Dr. Kohli says. "Through leading-edge research, we're also focused on laying the foundation for a future of new treatments that hopefully will prevent more children from needing a new liver. That is the ultimate goal."