Primary Immunodeficiencies Diagnostic and Research Program
Primary Immunodeficiencies
Immunodeficiencies comprise a group of natural, acquired or hereditary disorders that prevent the immune system from functioning normally. Children with immunodeficiencies can develop frequent, unusual or severe infections. Examples of immunodeficiencies include decreased immune resistance in premature infants (natural), HIV/AIDS (acquired) and severe combined immunodeficiency, also known as bubble boy syndrome (inherited).
Through our partnership with the Jeffrey Modell Foundation, the Children's Hospital Los Angeles Jeffrey Modell Diagnostic and Research Program for Primary Immunodeficiencies is constantly working to provide children and adolescents with leading-edge diagnosis and treatment options. Providing care for primary immunodeficiencies (PIs) is complex and requires a special set of expertise – all of which are offered at Children's Hospital Los Angeles.
Our doctors in Clinical Immunology and Allergy, Transplantation and Cellular Therapy, and Pathology and Laboratory Medicine have extensive experience in PIs and work together as a team to care for your child. All members of the care team, including nutritionists and social workers, are available onsite at our hospital.
Care Team
Division of Clinical Immunology and Allergy
The Division's board-certified specialists use a holistic approach to care for children, as the management of chronic disease requires much more than just treating medical complications. Coordinated treatment plans are tailored for each patient and the family's needs, taking into account culture, economic status and belief systems.
Our specialists also have more than 50 years of experience collectively in diagnosing and treating primary immunodeficiencies, and their 24/7 availability provides you with the comfort of knowing that your child's doctor is just a phone call away. Learn more.
Transplantation and Cellular Therapy
Children's Hospital Los Angeles doctors are on the forefront of the use of stem cell transplantation and offer the latest transplantation methods to treat immunodeficiencies. Learn more.
Department of Pathology and Laboratory Medicine
Our laboratory professionals have developed unique expertise in specialized clinical laboratory immunology techniques, essential to properly diagnosing immunodeficiency disorders. This expertise is beneficial in evaluating and understanding previously unrecognized immune system disorders. Learn more about the Department of Pathology and Laboratory Medicine
Social Work
Through support from the Dina LaVigna Fund and the Jeffrey Modell Foundation, the Division provides a bilingual social worker. Raising a child with a serious chronic disease can be very stressful for any family, especially with limited financial resources. Our social worker helps families find the support they need, ensures communication between the family, child and medical team, and facilitates referrals to other specialties and services.
Nutrition
Balance nutrition is a cornerstone of wellness, particularly for people with chronic medical conditions. A registered dietitian from the Department of Clinical Nutrition provides expert dietary consultation and follow-up, and closely monitors children with unusual dietary requirements.
Current Initiatives 
Expanding PI Awareness and Diagnosis in Southern California
A campaign promoting the earliest possible diagnosis for PIs is underway to improve awareness in the community, particularly with doctors likely to see PI complications, without realizing the underlying cause for such symptoms.
Our clinical laboratory provides extensive diagnostic services for PI. In addition, patients are provided access to 18 of the world's premier research laboratories that offer evaluation of PIs without a clear genetic cause.
Research Activities
The California Newborn Screening Program for Severe Combined Immunodeficiency (SCID)
In collaboration with the University of California, San Francisco, the Division provides expert consultative services to this program to help identify babies with SCID, and direct families to centers for treatment with bone marrow transplantation. Studies are being conducted to determine the effectiveness of the program, the spectrum of conditions identified and the genetic causes of PIs that have not been defined previously.
Immunoglobulin Replacement Therapies
Advances in the manufacturing of immunoglobulin for the treatment of PI have resulted in the availability of new products that need to be evaluated in clinical trials. The Division has been involved continuously in these trials for more than 20 years.
Piloting Software for Early Detection of PIs
The Jeffrey Modell Foundation has developed a software program that is capable of scanning large numbers of electronic medical records for evidence of PIs, such as repeated pneumonias, in individual patients. This information is then sent to the child's doctor, indicating that he or she is at risk for having a PI.
Program Support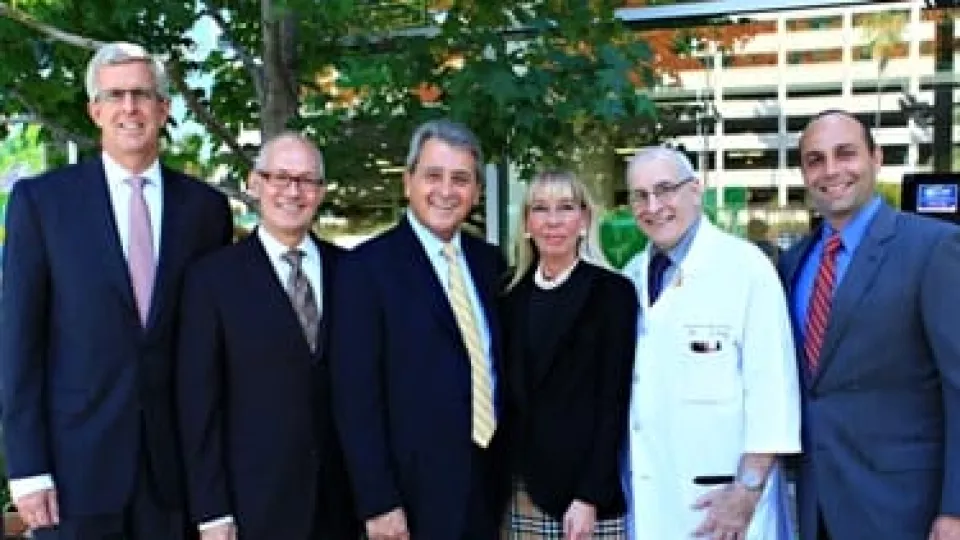 The Jeffrey Modell Foundation was established in 1987 by Vicki and Fred Modell in memory of their son, who died at age 15 from complications of primary immunodeficiency. The non-profit organization is dedicated to improving PI diagnosis and treatment, and finding cures through research. The Foundation is affiliated with a network of medical centers, including Children's Hospital Los Angeles, to achieve its mission.
Celebrating the establishment of the the Program are, from left to right:
Peter O'Malley, vice president, Market Access, Baxter Biosciences, Baxter Healthcare Corporation; Brent Polk, chair of the Department of Pediatrics and vice president of Academic Affairs at Children's Hospital Los Angeles; Fred and Vicki Modell, co-founders of the Jeffrey Modell Foundation; Joseph Church, MD, division head for Clinical Immunology and Allergy at Children's Hospital; Jacopo Leonardi, vice president of Sales and Marketing, Bio Therapeutics USA, Baxter Healthcare Corporation