Work That Matters
Growth is a Priority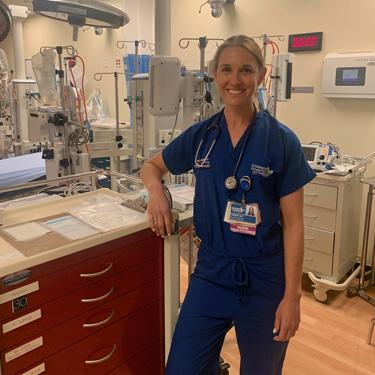 I love emergency medicine—it's a fast-paced environment that constantly requires using my critical-thinking skills. For the past year, I've been the Nurse Practitioner Lead in the Maurice Marciano Family Foundation Emergency Department and Trauma Center at Children's Hospital Los Angeles. I was fortunate to get involved in helping create and define the Emergency Department's current nurse practitioner program about five years ago. 
Children's Hospital as a whole appreciates and values NPs, and since I've been an NP here our numbers hospital-wide have continued to grow exponentially. In the Emergency Department, we manage a select group of patients autonomously, and care for them throughout their entire Emergency Department experience, which includes gathering patient histories, ordering and interpreting labs and diagnostics, diagnosing, prescribing meds and educating patients and families on the diagnosis and the course of illnesses they can expect. We make growth a priority, and our scope of practice continues to expand, including seeing higher-acuity patients and performing numerous procedures in collaboration with our Emergency Department attending physicians.
Everyone on the team plays a huge role in helping the patients we see, and I've never before worked in an area that is so dependent on each member of the team for success, whether that is Child Life, registration or our interpreters. It's a dance. When the system flows smoothly, communication and throughput is seamless. Patients and families feel it, too. Our goal is for them to leave our department feeling valued, heard and confident that they received great care.
The Emergency Department is a big, team-oriented atmosphere. To be part of this department, you need a strong work ethic, critical thinking skills and, most importantly, the drive to give it your all. You must be willing and able to deal with adversity and have a positive attitude while doing it. Our department thrives on collaboration and teamwork in order to make our patients experiences exceptional.
—  Lindsay Quirk, MSN, BSN, CPNP, CPN
Find your career at CHLA
Join a hospital where the work you do matters. Visit Jobs.CHLA.org and apply today!