Guest Services Team Supports Safe Patient Care at CHLA
During the COVID-19 pandemic, the team behind CHLA's front desk has helped implement safety and screening measures while remaining committed to excellent customer service.
By Julia Acheson
As patients and families arrive at Children's Hospital Los Angeles, one of the first team members they interact with is often a Guest Services representative. Stationed at the information desk in the main lobby, these team members greet visitors, verify appointments, and provide directions to point people toward their destination—whether that is visiting an inpatient floor or heading to an appointment with a physician.
"We are the first people our guests see as they arrive," says Emeli Chigua, Guest Services Representative. "Families remember who you are, and from time to time you become a significant part of their journey or process here at CHLA."
The front desk becomes the frontline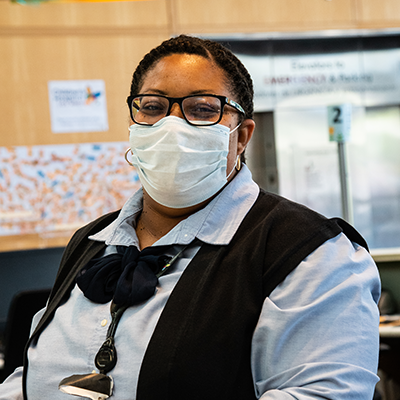 As CHLA responded to the COVID-19 pandemic, implementing many precautions and a standardized screening procedure early on, Guest Services played a critical role. This team embraced their increased responsibility as the frontline in keeping campus safe for all. They continue to interact with visitors and make them feel welcome, all while maintaining physical distancing, sanitizing and washing hands frequently. They screen parents as they come to see their children on inpatient units and help enforce updated visitation restrictions.

All visitors over 2 years of age receive a mask as they check in, in keeping with the hospital's universal masking policy. Daily updates and enhancements to safety measures have become the new norm, and Guest Services is key when it comes to ensuring that everyone complies.
"Safety is our priority," shares Mercedes Fugett, Guest Services Representative. "We were all in disbelief that this was happening in the world. We just know that we have to do whatever is needed to make this as smooth as can be for all. So many things change by the hour or by day. We adapt well and are fully committed to do whatever it takes to keep our patients and families safe."
Supporting each other
As these team members work every day to support safe patient care, they have found support in each other and in their leadership team.
"Something that has helped me and my team is the additional communication when it comes to new procedures we have to follow," shares Yovana Ortega, Guest Service Representative. "We appreciate the flexibility that our managers and supervisor have given us when we feel stressed out or overwhelmed. It also has helped me to maintain a calm and positive attitude, no matter how the day is going."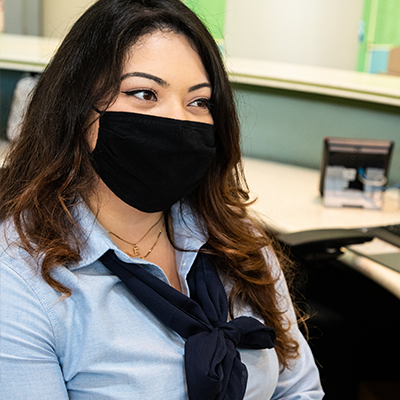 Chigua agrees, sharing that it has been positive watching her manager and team leads staying on top of the evolving guidance and guidelines and then reporting back to the team.
"Although it's been tough for all of us, it's working as a team that made it possible to make it this far," she says. "Thank you to all my coworkers that came to work all the days that we needed to support families and visitors. It's been great watching our patients come in with a warm smile, parents that show their gratitude, and being curious and patient as we adjust with all the changes."
Fugett echoes that sentiment and is thankful for leadership and for team members like the hospital's social workers who are there when others are in need. She also encourages everyone to remember kindness in all their interactions as we navigate changes.
"In a world where you can be anything—be kind; always choose to be kind!"