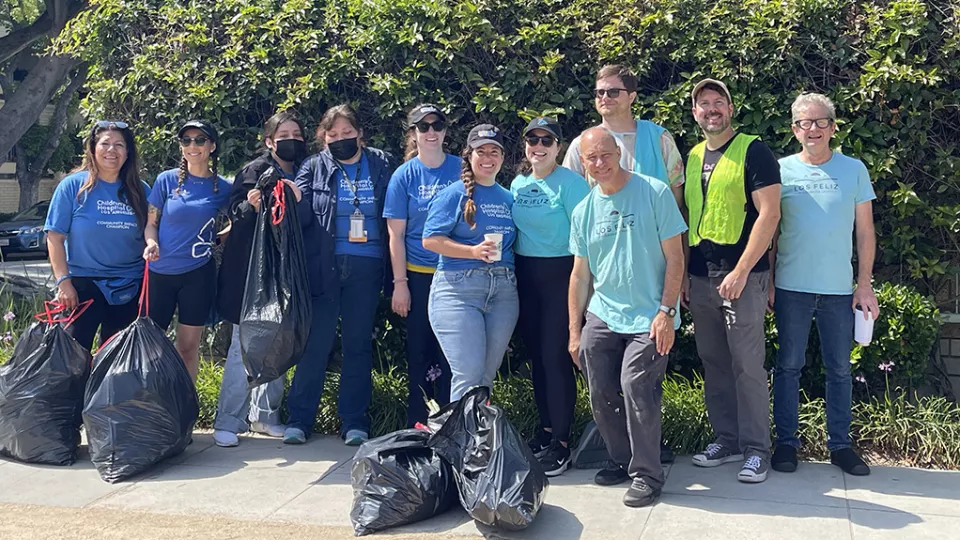 Serving the Community
Teaming Up to Keep Los Feliz Beautiful
Twice a month, CHLA's Community Impact Champions Network volunteers jump in to help with beautification projects in the Los Feliz neighborhood.
How do you define the word "community"—by ZIP code, a geographic boundary, or by where you lay your head at night? Or is it something less quantifiable, like a general sense of belonging or a commitment to making the world around you the best it can be?
For Children's Hospital Los Angeles team members who participate in neighborhood beautification projects with the Los Feliz Neighborhood Council, "community" carries the broadest possible meaning.
These passionate volunteers are members of CHLA's Community Impact Champions Network (CICN),  exemplifying the hospital's commitment to Good Neighbor Initiatives that promote healthy environments and community wellness. Since its official launch in 2020, the CICN has grown to include 774 registered team members (including employees, faculty members and contract workers) representing 238 departments, divisions and programs across the hospital.
Los Feliz, like Silverlake and East Hollywood, is one of the closest neighboring communities to the hospital's Sunset Campus.
"This is our collective neighborhood, no matter where we reside," says Olga Taylor, CICN Project Manager in CHLA's Office of Community Affairs. "As CHLA team members, we work, play, eat and shop here every day. It's important to make a difference."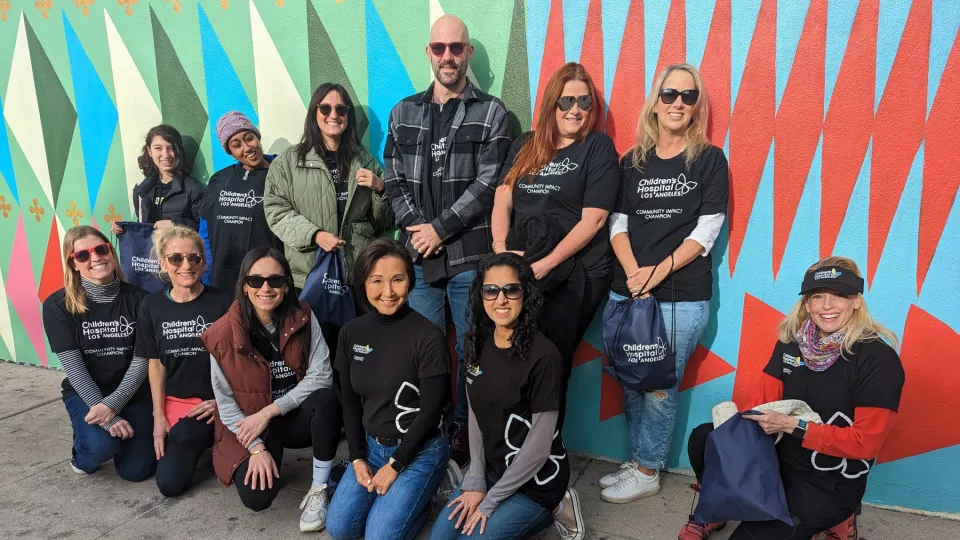 Dedicated partners
Making sure that Los Feliz is a clean, safe and healthy community is part of CHLA's longstanding partnership with the Los Feliz Neighborhood Council (LFNC), one of 99 neighborhood councils that serve as liaisons between neighborhood residents and L.A. City Hall.
The ongoing beautification efforts—which currently take place on the first Saturday and third Sunday of every month—started several years ago as the brainchild of Mike Hain, an LFNC Board Member and chair of its Public Health and Safety Committee.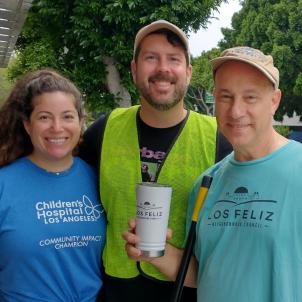 Hain's goal, he says, is "to empower people to do a good thing, then everybody wins. Be that somebody who does something."
When CHLA team members began volunteering with the LFNC in 2020, the COVID-19 pandemic was limiting even outdoor events. There were just eight beatification events that year, but that number has steadily increased. In 2 ½ years, as of June 2023, CICN members have pitched in at 45 events.
Armed with gloves, garbage bags, grabbers and sunscreen, volunteers beautify their way around Los Feliz, from busy intersections like Hollywood and Vermont or Hillhurst and Franklin, to local schools, popular commercial areas, historic Barnsdall Art Park and quiet tree-lined streets.
Rebecca Krane, RN, PHN, BSN, a 12-year resident of Los Feliz and LFNC committee member, met Taylor at one of the cleanup events before Krane joined CHLA. "I told Olga, 'One day I'm going to be able to come to these cleanups as an employee of Children's Hospital,'" she says. Her husband, Jasey Crowl, is an LFNC representative and committee chair. He suggested many of clean-up locations and designed flyers.
Krane left her career in marketing lifestyle and beauty brands and entered nursing school just as the pandemic was unfolding. In March 2023, her prediction came true, as she took part in her first beautification event as a diabetes educator in CHLA's Division of Endocrinology, Diabetes and Metabolism.
"We can't always save the world," says Krane when asked why she volunteers, "but we can make changes in our community that have an impact."
"Children's Hospital has been amazing!" says Hain. "More than half of our volunteers each time come from the hospital. Their partnership has been really uplifting for us."
Cleanups make a difference
In fact, cleanups work. Multiple studies show that cleanup efforts like those spearheaded by the Los Feliz Neighborhood Council make a difference by reducing the amount of litter that reaches the ocean, protecting wildlife, supporting local economies and raising public awareness about the environment.
"It's about community pride," says Judy Koempel, CRNA, MSN, a nurse anesthetist at CHLA and resident of Los Feliz. "If you come home and your house is a mess, it puts you in a negative mindset. Cleaning up the community tells people, 'This is an important place. We care about it.'"
Koempel initially joined the CICN by volunteering with Project Angel Food, a nonprofit that prepares and delivers meals for people impacted by serious illness. In January 2023, she and a group of nurse anesthetists decided to forego their annual team dinner during Certified Registered Nurse Anesthetists (CRNA) Week in January 2023—and instead volunteer their time as a group. Koempel reached out to Taylor, who suggested the LFNC cleanup. Together, 14 CHLA nurses took to the Los Feliz byways, accumulating dozens of bags of debris and trash.
Team volunteering has become a trend at CHLA, says Taylor. "We started out with individual team members taking part. Now we're seeing an increase in entire teams and departments looking for opportunities to give back to the community."
Hain says he has seen the same phenomenon. "These events go beyond a simple cleanup to become an occasion for community bonding and building," he says.
Koempel reports that the nurse anesthetists had such a positive experience that they will make sure volunteering takes center stage at their next CRNA celebration. She calls volunteering a mood elevator. "If you're feeling sorry for yourself, questioning what your life purpose is," she says, "you will feel more fulfilled after you help. It gives you faith in other people."
Andreina Buday, RN, BSN, a nurse in CHLA's Access Center, loves to volunteer "especially as a member of the CHLA family," she says. Her first event as a CICN volunteer was close to home: Los Feliz.
Since joining the CICN, Buday has volunteered with the LFNC, Project Angel Food, The City's Garden at Los Angeles City College, and food distribution events sponsored by the East Hollywood Neighborhood Council and CHLA.
"I'm proud that our hospital is helping our community be more beautiful and, as a result, healthier," says Buday. After she participates in a LFNC event, she adds, "I'm usually still in a cleanup mood, so I'll go down my street and clean it, too!"