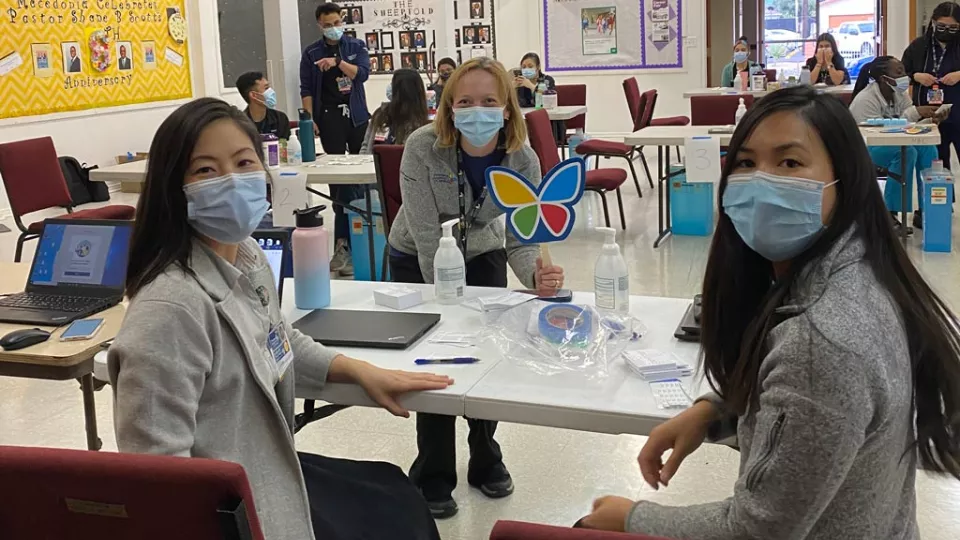 Serving the Community
Clinics Bring COVID-19 Vaccines to Underserved Communities
From South L.A. to Palmdale, Children's Hospital Los Angeles has provided over 9,700 shots and counting.
Jennifer Baird, PhD, MPH, MSW, RN, CPN, describes giving a COVID-19 vaccine as "like instant joy."
"Everyone who comes in for a shot, they have this sense of relief and excitement and hope," says Dr. Baird, Director of Clinical Services Education and Research at Children's Hospital Los Angeles. "If you're giving 250 doses, you're seeing that 250 times. It's very gratifying."
Since Feb. 13, nurses and health care providers at Children's Hospital Los Angeles have administered more than 9,700 COVID-19 vaccine doses to eligible community members. In addition to providing the vaccines at the hospital's Sunset Boulevard campus, the team has been taking the shots directly into underserved neighborhoods at special "pop-up" clinic locations.
"Health care workers were among the first Americans to receive the vaccine, and I strongly believe that it's our obligation to now help the broader community access that same safety and protection," Dr. Baird says. "To do that, we need to take the vaccines to where people are, in their own communities."
Beyond hospital walls
Like other hospitals around the country, Children's Hospital Los Angeles began its COVID-19 vaccination efforts in December by immunizing its nurses, doctors and health care workers. But that was just the first step.
"We wanted to branch out beyond our hospital walls," explains Susan Lam, MHA, Manager of Operational Excellence for Quality Improvement and Patient Safety. "It was particularly important to us to reach out to communities that are chronically underserved."
In February, Children's Hospital Los Angeles became an official county "point of dispensing" site for COVID-19 vaccines, setting up a regular Friday-Saturday-Sunday clinic in a hospital conference room. The clinic, which is ongoing, is by appointment only through California's My Turn website.
In addition, the hospital worked closely with Los Angeles County to identify neighborhoods and groups in need of better access to COVID-19 vaccines.
One of the first groups targeted: early childhood educators. While large school districts had developed their own plans to vaccinate teachers, providers in independent day care centers and preschools had largely been left to their own devices to find a shot—at a time in early spring when vaccine supplies were very limited.
"They didn't have a place to go," Lam says. "They were competing for appointments with everyone else at these mega vaccination sites."
Breaking down barriers
The hospital worked with both the county and the Child Care Alliance of Los Angeles to set up multiple pop-up vaccine clinics. For example, after learning that early childhood educators in Palmdale were having to drive all the way to Magic Mountain to get vaccinated, the team set up a one-day clinic for them at a Palmdale recreation center.
Children's Hospital also partnered with the Drew Child Development Corp. and Charles R. Drew University to organize four clinics at Macedonia Baptist Church in the Watts area of South Los Angeles. The events, which completed in April, also targeted early childhood educators, as well as local eligible residents struggling for access to a vaccine appointment.
The hospital is currently working with Los Angeles County to plan more clinics at community sites. The neighborhood events not only are more convenient for residents—especially those who do not have access to reliable transportation—but they also help break down another barrier: vaccine hesitancy.
At the Macedonia Baptist Church, for example, the church pastor attended the event, rolled up his sleeve for a shot, and encouraged others to do the same.
"There's this trust piece," Dr. Baird says. "If someone they know in their own community is saying, 'Yes, the vaccine is safe and effective, and we brought it to you here because we think it's important for you to get it,' people feel more comfortable. They feel safe. There's no better way to do it."
Tears, gratitude and hope
Dr. Baird and Lam have been leading the clinic efforts as part of the hospital's COVID-19 Vaccine Task Force. The group includes Chief Medical Officer James Stein, MD, MSc, and leaders from Information Services, Pharmacy, the Division of Infectious Diseases and more.
"Our Information Services team was amazing in getting us set up very quickly," Lam says. "And our Pharmacy team has been drawing up all of the doses and tracking and monitoring how many vials to thaw. It's been a tremendous collaboration."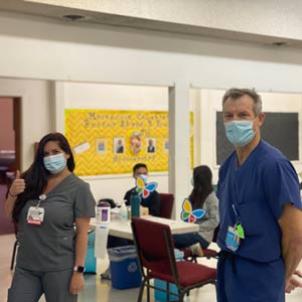 Another huge part of the effort: nurses. Senior nurses from Children's Hospital Los Angeles serve as clinic leads, but many of the vaccinators have been new graduate nurses from the hospital's Versant RN Residency in Pediatrics. The 18-week program prepares new nurses for working in an acute care environment in pediatrics.
From January through April, the RN residents supported the hospital's COVID-19-related efforts, including testing, screening and operating the community vaccination clinics. (The residents have since begun their official training on inpatient units, and the vaccine clinics are now staffed by CHLA nurses and nursing students.)
"This was a great leadership experience for the residents," says Flora Yuen, MSN, RN, CPN, Lead RN on 6 East at Children's Hospital who has also been serving as a lead nurse for the clinics. "They talked people through their questions, fears and anxieties, and they were so on point. It was pretty impressive."
RN Resident Akshara Roy, BSN, says the clinics have been a special way to start her pediatric nursing career. "It's a new vaccine, we're giving education and we're going out into the community, which is even better," Roy says. "It's been an awesome opportunity."
For RN Resident Catherine Koanja, MSN, RN, staffing the pop-up clinics was particularly rewarding.
"As an African American, going to a community like Watts that's been disinvested and where there are different opinions of the vaccines, you feel like you're really making an impact," Koanja says. "People are so grateful. It's an experience I'll take with me forever."
One community member, who received her shot at the CHLA campus site, was so appreciative she sent a thank-you card to the team—and delivered a free lunch to the clinic staff. Other vaccine recipients have cried—not from pain, but from joy.
"It's that reassurance that there's light at the end of this dark tunnel we've been going through for more than a year," Koanja says. "That's what makes this so powerful. It's more than just a vaccine clinic. It's hope—hope for a brighter future at the end."
In California, everyone age 16 or older is now eligible to receive a COVID-19 vaccine. The vaccine is free. To make an appointment near you—or at the Children's Hospital Los Angeles campus clinic—go to MyTurn.ca.gov.