Parents' Guide to Teens and Cell Phones

​
Smartphones: They drive our world these days, and for teenagers, they shape their world. Unfortunately, technology can come with a price. Cell phone problems arise with teens, often resulting in feuds between parents from overuse. They can also lead to cyber bullying, digital dating abuse and sexting, and have popularized cheating.
From time to time, my teenager will leave his phone at home; when he gets to school and realizes it, he calls me to bail him out. I have to smile because we've all had that anxious feeling when we've lost our phone or accidentally left it at home. Every time my teenagers feel that vibration in their pockets or hear their unique ringtone on their phones, they must check it right away. These days' teenagers no longer just use cell phones in case of emergencies or when no other forms of communication are available. They have become a constant convenience for most and a must-have for teens to fit in. If they don't have a cell phone like the rest of the kids, their social status is ruined.
Hyper-Texters
Facebook, Twitter, Instagram, Tumblr, iMessage, all of them can be accessed by smartphone. You might wonder, what's the similarity between all of these apps? One connection is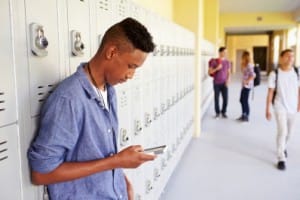 that so many teens are addicted to them. Researchers at Case Western University found that high school students who spend too much time texting or on social network sites are at higher risk for other issues including smoking, risky sex, depression, eating disorders, drug and alcohol abuse and absenteeism. This is a problem because some 75 percent of 12 -to 17-year-olds now own cell phones (up from 45 percent in 2004). Some 88 percent of adolescent cell phone users are text messagers. The study identified "hyper-texters" as teens that have sent over 120 text messages each day. Among adolescent texters, one in three teens sends more than 100 text messages a day, or 3,000 texts a month.
Cyber bullying
According to studies done by many major universities, more than 56 percent of teens have said that they have once been the target of a cyber bullying activity. Using a cell phone to degrade someone on Facebook or Twitter has the possibility of destroying the reputation and life of another person. People feel protected by their screens, incorrectly believing that whatever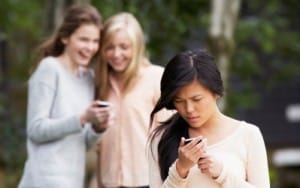 they say is "just words" on a display. Nasty or demeaning verbiage or photos is never acceptable and could have a devastating and life-threatening effect on the person being bullied.
Digital Dating Abuse
Parents might not be aware that these technologies are also being used as tools in dating abuse. In the 2007 Technology & Teen Dating Abuse Survey by Teenage Research Unlimited (TRU), teens reported that digital dating abuse "is a serious problem," in which abusers try to control their partners with tactics like constant text messaging and cell phone calls, usually not known to their parents. As many as 20 to 30 percent of teens who had been in relationships said their partner had harassed, insulted or made unwanted requests for sexual activity via cell phones or texts. One out of four reported hourly contact with a dating partner between midnight and 5 a.m.; in some cases, 30 times per hour. One out of 10 received physical threats electronically.
Sexting
It's called "sexting:" sending graphic images and pornographic videos via text message to friends. It's becoming such a problem that major cities such as San Diego have an entire team on their police department dedicated to sexting and Internet crimes, often working on 60 to 70 cases at a time. Although in this context sexting is generally done between school friends, it's important to note that no matter the circumstance, it is illegal to possess, distribute or manufacture pornography involving anyone less than 18 years of age. Therefore, students who are minors themselves and are found distributing or possessing such images can be found guilty of child pornography, and can face up to 10 years in prison.
Cell Phones and Cheating
Cell phones can also make cheating much easier. With today's technology, cell phones can now access the internet, take pictures and save notes containing information for tests and other school projects. In a recent study, it was found that up to 39 percent of parents who have boys are concerned about cheating on tests by text messaging or cell phone, compared with 31 percent of parents with girls.
What Can We Do as Parents?
Have your teenager go over the wireless bill with you when it comes in. Adolescents need to see things in order to know that they are "real." Make them a part of the cell phone bill process! This is a valuable learning tool for the future anyway.
Talk together as a family regarding overuse, cyber bullying, digital dating abuse, sexting and cell phone cheating. Make them aware that you know these issues are out there and you can help if your teen becomes a victim.
If your teenager insists on keeping his or her phone despite cell phone abuse, call the company and have blocks placed on the phone. This will protect teens from overuse and only allow them to place calls or text at certain times of the day.
Make your youngster responsible for helping out with the bill. This doesn't necessarily mean that they have to pay the entire bill, but make them responsible in some way (e.g., paying for the texting, paying for half, doing things around the house in exchange for the phone bill, etc.).
Talk together as a family about when it is, or isn't, appropriate to use the cell phone (e.g., no cell phone after 9 p.m.; no cell phone until your homework is completed; no cell phone during class time, etc.).
As a last resort to remedy cell phone abuse, take the phone away until your teen proves to be more responsible.
Parents today face many challenges staying abreast of their child's involvement in all things, legal and otherwise. However, something that appears as innocent as texting can in fact be a doorway to a world of many problems. If you have a teenager in your household who does have a cell phone and does engage in texting, I recommended that you talk with your teen and make sure that the content and photos that come to and from his or her cell are within legal boundaries.
Better yet, take charge of your child's phone. You may wish to regulate what numbers can be sent to and received from your child's phone. In this way, you at least hold your teenager accountable for their actions. When school is in session, teens have the responsibility of understanding that their purpose is to study and learn. Although friends are just down the hallway, with cell phones they are at the touch of the screen on their phones. Make them aware before pushing "send," they need to think, which is more important to their futures: life, social networking or schoolwork?