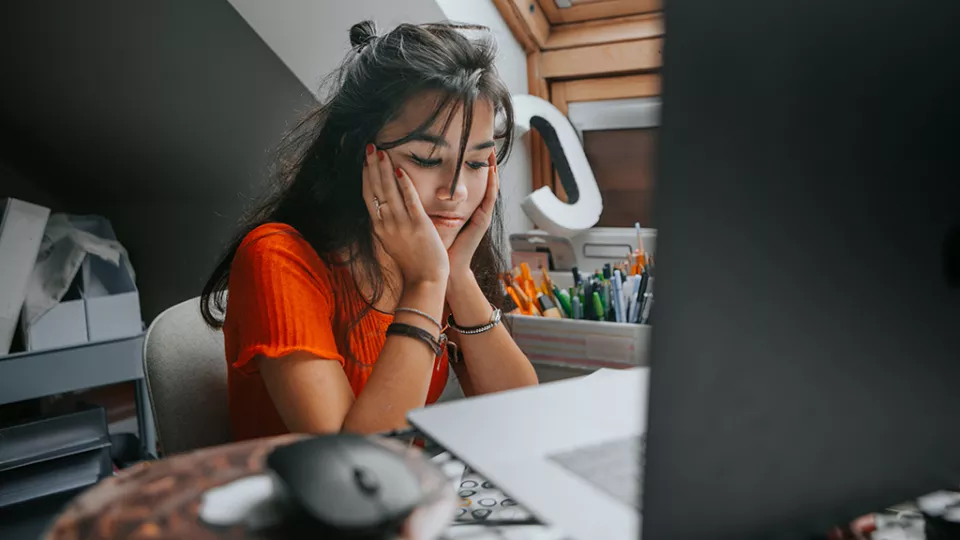 Advice From Our Experts
Teens and Social Media: What Parents Should Know
Adolescent and young adult medicine experts share tips for navigating your child's social media use, minimizing digital stress and maintaining their mental well-being.
Social media plays a significant role in everyday life for most teenagers. It helps them stay connected to friends, find community with others and feel a sense of belonging. But how much is too much, and is it more dangerous than beneficial?
"The most common question parents ask me is, 'Is social media safe for my kids,'" U.S. Surgeon General Dr. Vivek Murthy said in a May 2023 advisory. "The answer is that we don't have enough evidence to say it's safe, and in fact, there is growing evidence that social media use is associated with harm to young people's mental health."
Cyberbullying, cyberstalking, increased anxiety, exposure to inappropriate content and other social pressures, distraction from school and body image issues are just a few of the potential pitfalls.
But since social media is part of the world we live in, "We can't just take away our kids' phones or computers," says Mari Radzik, PhD, a clinical psychologist in the Division of Adolescent and Young Adult Medicine at Children's Hospital Los Angeles. "It's about figuring out how we can guide them in using and navigating these tools."
Here are five tips parents can use to help teens combat the negative impacts of social media.
1. Establish rules.
A federal law, the Children's Online Privacy Protection Act, makes it illegal for children under 13 to have social media accounts, and new legislation is being proposed to protect minors' information until they are 16 years old.
But even after 13, it's best to put off social media for as long as possible. When your child is ready to have their own social media accounts, parents should have a conversation with them, reviewing rules and privacy settings, says Jennifer Hartstein, MD, whose practice, Glendale Pediatrics, is part of the CHLA Care Network. If you're not familiar with the sites or apps they're using, take the time to get educated on what your kids are doing and seeing.
Just like you wouldn't give a car to your child without teaching them the rules of the road, parents also should provide parameters before a teen begins to use social media. Think about how often and where they should be using their phones or computers: Is the dining table off limits? What about in their rooms with the door closed?
2. 'Friend' or follow your children.
Some parents prioritize respecting their children's online privacy. But parenting is never about letting kids go through life without guardrails. When kids first open social media accounts, they're often motivated to accumulate followers. Take advantage of that window to "friend" your kids, especially since most won't be so transparent or eager to connect when they get older.
Monitoring your child's online activity doesn't mean spying on them, but they should know that parents are aware of—and care about—what they're up to. For example, teens shouldn't allow people whom they don't personally know into their social media networks, and they should never share account passwords with anyone.
It's important to remember that teenagers' brains are still in the process of developing, and social media exposes them to very real risks, says Bhavana Arora, MD, Chief Medical Officer of the CHLA Care Network. It's crucial for parents to be there to help them navigate this challenging area. If your child receives a text or other message containing inappropriate content, the best response is to delete the content and reply succinctly: "I did not request this."
3. Model the right behavior.
"As parents, ultimately, you only have control over yourself," says Sarah Voyer, LCSW, Lead Social Worker in the Division of Psychiatry at Children's Hospital Los Angeles. "So being conscientious of your own behaviors, whether that's with phone usage or diet and health, is a big part of parenting. If you do something hypocritical, they're going to see that."
"Be available, and create media-free spaces in your family life," adds Dr. Hartstein. "Teenagers can get plenty of content online, but they need parents to give them values."
4. Recognize any behavioral changes and offer to talk.
Has your teen's mood fluctuated? Are they eating differently? Sleeping more or less than usual? Are they isolating in their room? These are some signs parents should be aware of and be prepared to talk about. Dr. Radzik says parents can open a dialogue about their child's social media use. She stresses the importance of using "I" rather than "you" statements.
Instead of, "You're on Instagram way too much and that's bad for you," try, "I noticed this and I'm really worried. Can we talk about it?" If they're not willing to talk at that moment, let them know you'll be there when they feel ready.
According to a recent American Psychological Association health advisory, social media should be limited if it's interfering with teens' sleep and physical activity. If it's clear that it is affecting your child's physical and mental well-being, parents could recommend taking a break from social media to see how their child feels without it, or suggest deleting the account altogether.
"There are some kids who can break the cycle, and sometimes it takes the parent to help with that," says Dr. Radzik.
5. Check in regularly.
Talking to children and teens about social media isn't a one-time conversation. The key, according to experts, is checking in frequently and being attentive to and aware of your kids' media use.
Parents may want to ask their children how they use social media—is it to share updates with their friends, do they follow certain celebrities or influencers, are they seeking some kind of advice or help—and how they feel when they use it.
"Active, attentive parenting is crucial," Dr. Radzik says. "I know it can be exhausting, but it's our jobs as parents to be mindful of what our kids are doing and how we can help them feel confident, self-aware and resilient."