Fetal Cardiology Program Delivers Complex Care
Team provides detailed diagnosis and seamless coordination for prenatal and postnatal care, as well as fetal cardiac interventions and leading-edge research.
By Katie Sweeney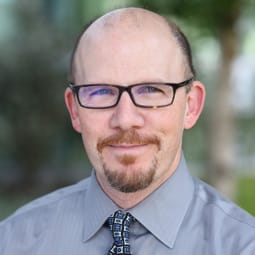 Jay Pruetz, MD
The Fetal Cardiology Program at Children's Hospital Los Angeles cares for patients with the most complex prenatal cardiac diagnoses. But making those diagnoses is just the start of the team's work.
"The right diagnosis is very important, but our whole program is also built around supporting the family and coordinating the care that goes forward after that diagnosis is made," says Jay Pruetz, MD, Director of the Fetal Cardiology Program.
Those efforts—a collaboration with the hospital's Fetal-Maternal Center—include extensive care coordination. A nurse care manager helps families navigate specialized prenatal care and meet the world-class Heart Institute surgeons and cardiologists who will treat their child after birth. In many instances, the team also coordinates the baby's delivery at a center equipped to handle high-risk births and arranges for emergency transport to Children's Hospital Los Angeles.
The program—one of the largest of its kind on the West Coast—sees approximately 1,000 patients a year. More than a third of those patients have involve significant congenital heart disease (CHD) diagnoses.
"It's especially important in these complex cases to have a seamless transition of care after a baby is born," says Jodie Votava-Smith, MD, Associate Director of the program. "We coordinate very closely with physicians and other centers in the community to make that happen."
Fetal cardiac interventions
In a few cases, treatment might even start before a baby is born. Children's Hospital Los Angeles is among only a handful of centers in the Western United States that perform fetal cardiac interventions—minimally invasive procedures to try to repair or mitigate a heart defect before a baby is born.
The Fetal Cardiology team works closely with Ramen Chmait, MD—the Director of Los Angeles Fetal Surgery at USC and Children's Hospital Los Angeles—on these interventions, which include:
Fetal aortic balloon valvuloplasty (FAV). This procedure is performed for severe obstruction of the aortic valve—a blockage that can lead to underdevelopment of the left side of the heart, resulting in hypoplastic left heart syndrome (HLHS).

The intervention involves inserting a needle through the mother's abdomen, directly into the fetal heart. A tiny catheter is threaded across the blocked valve, and a balloon is inflated to open the valve—potentially allowing the left side of the heart to continue to develop and grow.

Fetal atrial stenting of HLHS with restrictive atrial septum. A prenatal diagnosis of HLHS and a restrictive (too small) atrial septum can cause babies to be born not only with HLHS, but also with abnormally developed lungs and severe pulmonary hypertension.

In this procedure, a needle is inserted into the mother's abdomen and into the fetal heart. Using a tiny catheter and a balloon, the surgeon places a stent across the atrial septum to allow blood flow to exit the obstructed left heart and pass more easily through the lungs. The goal is to allow the lungs to develop more normally.
Innovative research
The Fetal Cardiology Program also offers families the opportunity to participate in novel clinical trials for patients with prenatal cardiac diagnoses. The studies include:
Brain development. A comprehensive clinical trial is evaluating fetal and postnatal brain MRI, placental MRI, cerebral blood flow and neurodevelopmental outcomes in children with congenital heart disease versus healthy children. For more information, contact babymri@chla.usc.edu.
Maternal stress. This year, Children's Hospital Los Angeles will become an enrolling site for a clinical trial studying the effect of a maternal psychological intervention after a fetus is diagnosed with a single-ventricle congenital heart defect. The trial aims to decrease maternal stress after such a diagnosis, with the hope of improving mental health and neurodevelopmental outcomes for the mother and child.
Hypoplastic left heart syndrome. Children's Hospital Los Angeles is part of the HLHS Consortium, a phase 1 clinical trial studying whether stem cell infusions from the infant's umbilical cord blood can strengthen the baby's single right ventricle in hypoplastic left heart syndrome (HLHS).
New expansions
The program recently added a seventh fetal cardiologist to its team: Shuo Wang, MD. Dr. Wang joined the team in 2020 after completing a fetal cardiology fellowship at Children's Hospital Los Angeles.
The program also has seven sonographers, with fetal clinics operating five days per week. Due to this growth, the program is expanding its footprint by creating a Fetal Diagnosis Clinic. This separate, dedicated space adjacent to Children's Hospital Los Angeles will be devoted to caring for families with a prenatal diagnosis of CHD.
In addition, the team offers virtual telehealth visits—with live-streaming, real-time fetal echocardiograms—in collaboration with the Los Angeles Fetal Surgery program and extends its expertise to five outreach sites around Southern California.
"Many of these parents are facing very difficult prenatal diagnoses," says Dr. Pruetz. "Our goal is to provide the care, support and education they need and ensure the best possible outcome for each baby and family."