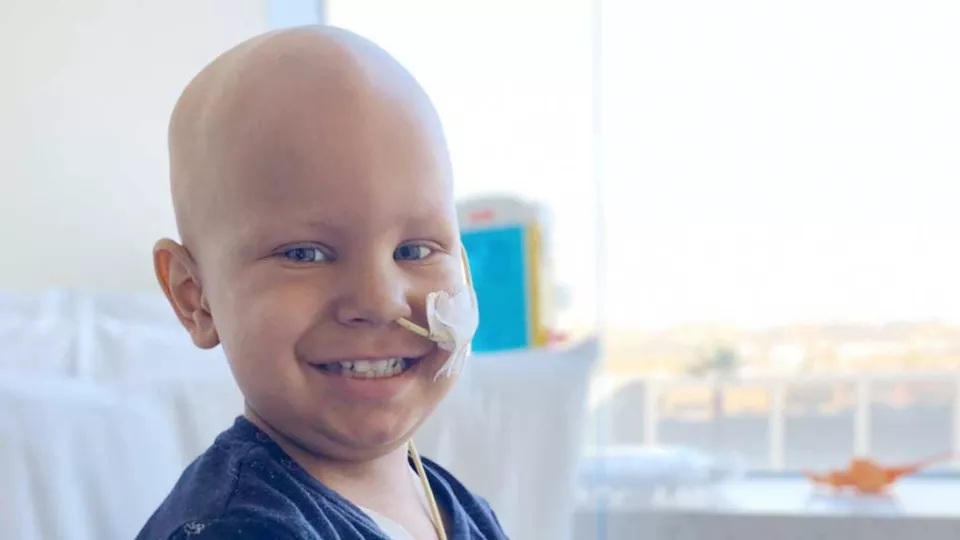 Our Patients
Spiritual Care Brings Peace and Prayer to Javier
A family far from home finds comfort and blessings from a Catholic priest at Children's Hospital Los Angeles.
Every time the Rev. Tim Meier, SJ, PhD, would walk into Javier's room at Children's Hospital Los Angeles, the little boy's mom, Belén, would let out a deep sigh of relief.
"I'd feel like, 'Ahhhhh,'" Belén says, letting out a long breath. "Like, 'I was waiting for you today!' It was like the food for my soul to continue."
Those regular visits from Meier—a Catholic priest and staff chaplain at Children's Hospital Los Angeles—were an important part of Javier's yearlong treatment at the hospital for a cancer called neuroblastoma. Javier, who was diagnosed when he was 15 months old, had to endure an intense treatment regimen, including chemotherapy, two autologous stem cell transplants, radiation therapy and six months of immunotherapy infusions.
"If we had not met Father Timothy, or there was no religious help like this, it would have been much harder for us," says Javier's dad, Enrique. "He helped us find peace in the middle of very difficult times."
'Should we pray, Javier?'
Meier is one of five staff chaplains and five chaplain residents in the Spiritual Care Program at Children's Hospital Los Angeles. During times of illness and crisis, the program offers support and comfort to patients, families and staff of all cultures, faiths or no spiritual tradition at all.
Meier had frequent interactions with Javier and his family during their entire year of treatment at the hospital. During a five-week inpatient stay for one of Javier's stem cell transplants, for example, he visited the family 17 times.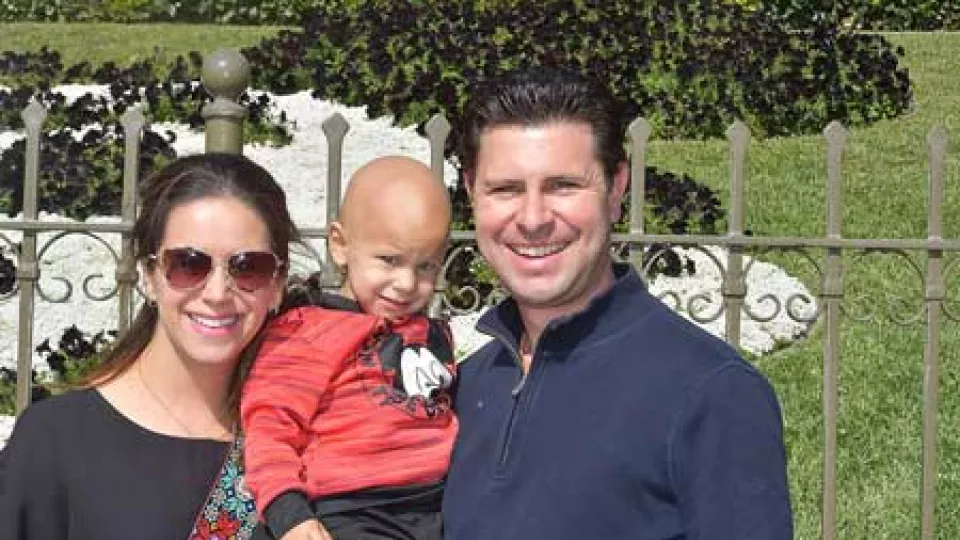 The visits varied from a few minutes to an hour. Sometimes, Belén and Enrique—who had traveled from Hermosillo, Mexico, for their son's treatment—would confide their fears about Javier's illness, and their sadness about being separated from their three other children.
"I try to help parents feel heard," Meier says. "It's important to hear not just what they are saying, but also what they may be trying to communicate non-verbally. Much of my job is simply to listen."
At the family's request, he frequently would bring Holy Communion (a Catholic sacrament) to Belén and Enrique. But his support was also directed at Javier himself.
"Javier loved to pray," Meier says. "I would ask him in Spanish, 'Hey Javier, should we pray?' And he would put his little hands together and bow his head. He was 2 years old! I don't ever remember him saying he didn't want to pray, even when he was having a difficult time."
On other occasions, Meier administered the anointing of the sick—a Catholic sacrament that involved placing blessed oil on Javier's forehead. And on each visit, he would bring a small card featuring a prayer and a picture of Jesus or a saint—and hand it to Javier.
"Anytime I would give him one of those, he would immediately kiss it," Meier remembers, laughing. "It was so sweet! I felt really blessed to interact with him and his parents."
The visits weren't all about religion, though—or always serious. Meier would often spend time playing with Javier, too, and the pair had a running joke that they had something special in common: bald heads.
"He would point to his head and say, 'Look, Javier, we are the same!" Enrique remembers, laughing. "And then they would high-five."
Comfort and strength
The family also found comfort in the hospital's Thomas and Dorothy Leavey Foundation Interfaith Center, which has five prayer and meditation alcoves—each devoted to a different faith. And prior to COVID-19, Belén and Enrique would attend Mass in the Leavey Interfaith Center whenever possible.
Once the pandemic began, the Center's group religious services were placed on hold. But a masked Meier—and the other interfaith chaplains at Children's Hospital Los Angeles—have kept up their one-on-one visits in the hospital and connected with families via phone calls.
On some days, Meier finds his way to every floor and virtually every unit in the hospital. Not all the families he sees are Catholic or even religious. Sometimes, he shares simple, stress-reducing breathing techniques. Other times, a parent or child just needs someone to listen.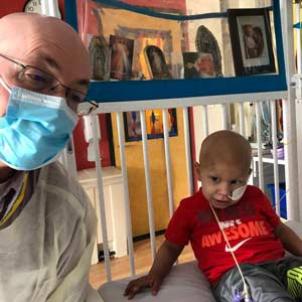 "I feel honored to have the opportunity to journey with people who are going through unimaginably difficult times," he says. "That they would trust me with their pain and sadness and their love of their child—it's a great honor and a blessing."
A chain of love
Today, Javier is doing great, and his hair has grown back. He finished his treatment in September, and the family is now back home in Mexico, with Javier running around the house with his siblings at full-blast, 3-year-old speed.
His parents credit Meier and their faith for helping them through an extremely tough time in their lives. They are also grateful for the countless friends, relatives and neighbors who prayed for Javier during his treatment.
"The only thing the other people in our town could do was pray for us," Belén says. "I think it was like a chain of love. It gave us a lot of peace."