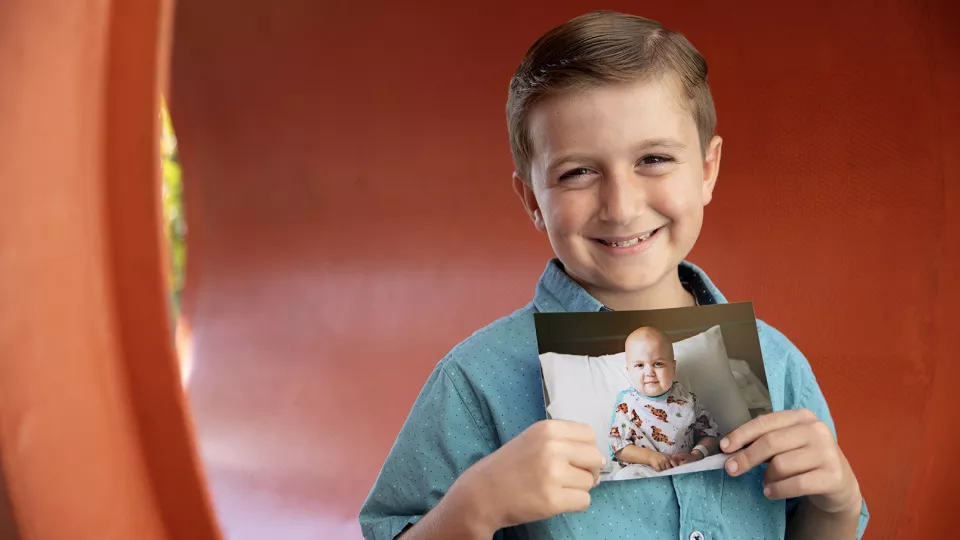 Our Patients
Pierce Takes the Cake—Twice!
Beating cancer at age 2 earned him the nickname Fierce Pierce—and the privilege of celebrating two birthdays. Now 8, the third grader enjoys soccer, baseball and French cuisine!
This is an update from Fall 2023 on Pierce's journey. Read his original story from 2017.
The smile on Pierce's face every summer is one of beauty and pure joy—and that's in large part because he gets to celebrate two birthdays.
"He was born in June, 2015," explains Pierce's mom, Aubrey. "But he's in the 'club' of individuals who gets to celebrate a transplant birthday as well. In his case, he had a bone marrow transplant in July, 2017. We consider that his blood birthday."
His biological birthday is celebrated with cake, but his blood birthday is a seven-course French-inspired meal akin to a Thanksgiving feast.
"Admittedly, his sisters are incredibly jealous he gets to celebrate two birthdays," Aubrey says, laughing. "But they are honored as we all are to mark this day of gratitude and acknowledge the journey he's been on, the journey of patients before him, and the community around us that has helped him get to where he is today."
Diagnosed with acute myeloid leukemia at age 2, Pierce needed a bone marrow transplant, but none of his family members were a match. Children's Hospital Los Angeles worked through Be The Match, the U.S. bone marrow transplant registry, which expanded outreach to registries around the globe to find a compatible donor.
"Pierce's donor was a 31-year-old female from France. This angel donated her marrow. It was shipped over to us and within 48 hours it was in him," Aubrey says, noting that while they have never met in person, they have corresponded anonymously. "On the day of his transplant, we wrote a thank-you card in French to let this complete stranger know she saved our son's life. Six months later, we were blessed to receive a letter back from her. We have it framed in our home."
When Pierce was discharged from CHLA in 2017, he was on 14 oral medications twice daily. Now he's on zero medications and goes to CHLA's LIFE Cancer Survivorship and Transition Service annually for checkups.
"He plays soccer in the fall and baseball in the springtime," Aubrey says. "He's a normal third grader and it's such a blessing to be on this side of his journey."
At back-to-school night, Pierce's parents joined the other third grade parents in a game of 'mystery person.' Based on a series of clues, parents had to guess which image was their child's.
Pierce's parents perused all the of the students' images until they came upon the one they knew was their son's.
Aubrey laughs as she recalls the pivotal piece of information included in the written clues. "He wrote 'I have 5 people in my family and a fun fact about me is I'm a little bit French.' I knew that one was Pierce!"