The Healing Power of Music: Diobeth's Story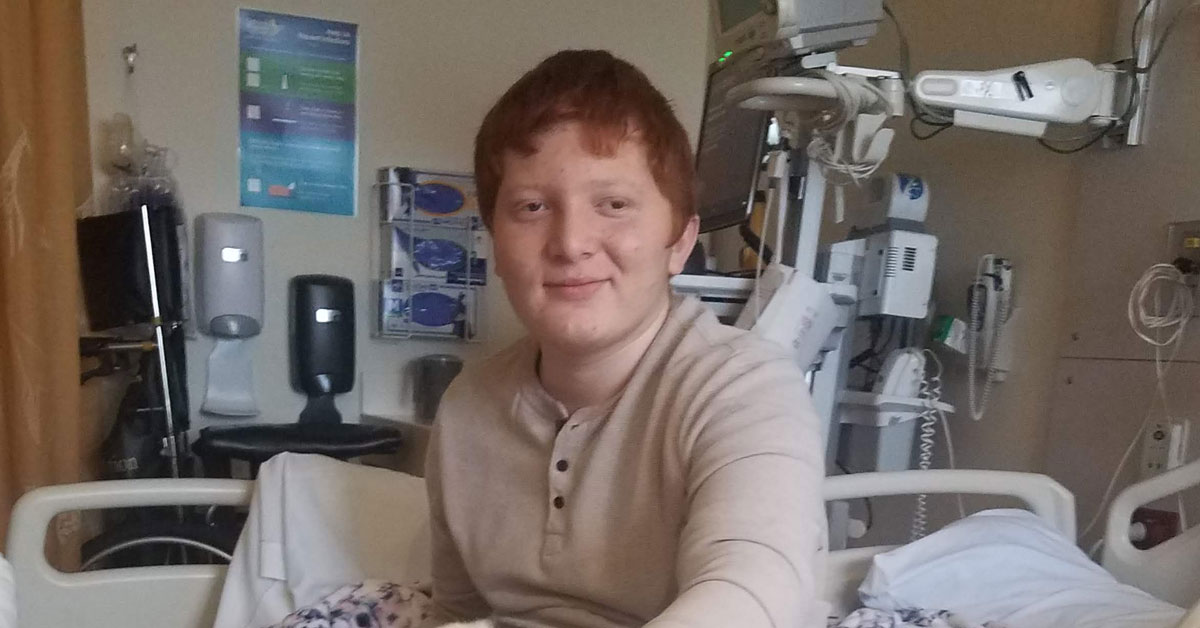 By Cara Martinez ​​​​​​

Diobeth, aka "Dio," is a 15-year old self-professed Seattle Seahawks fan, video game enthusiast and music aficionado. His captivating red hair is unmatched, and he's known for his easy going, upbeat personality. And like many other high school sophomores, Dio spends much of his time on schoolwork, household chores and hanging out with his friends.
However, unlike many others his age, Dio has faced—and conquered—unthinkable health hurdles over the past year.
But today, Dio is healthy, strong, communicative and committed to his promising future. It's hard to believe he couldn't speak or walk less than a year ago.
A sudden problem
Seemingly out of nowhere, Dio, then a freshman in high school, went from daily football practices and weekly games to being unable to open his right hand.
"His right hand became weak and shaky," says Dio's mother, Yuridia. "I first chalked it up to a football-related injury, but as it got worse over the next couple of days, I got increasingly worried."
Yuridia took her son to Children's Hospital Los Angeles. It was there that they received a shocking and frightening diagnosis: Dio had a mass on his brain. Within three days, he underwent brain surgery.
"It sounds weird, but I was kind of excited for the surgery," says Dio. "Excited because I didn't want to be sick. I thought removing the tumor would be my biggest struggle, the surgeons would take it out, and I could get on with my life."
An Unexpected, Life-changing Complication
Dio's 13-hour brain surgery went smoothly with no complications. But as he recovered in CHLA's Ahmanson Foundation Pediatric Intensive Care Unit, his body began having unforeseen difficulties.
"His heart rate and blood pressure began to rise, and he had an unbearable pain in his feet," says Yuridia. "Dio had a stroke, and that's where things got really difficult for him."
The stroke left Dio unable to feel or use the right side of his body, where he also experienced severe sensitivity to even the lightest touch.
"He went from being totally active to having to use a wheelchair to get around," says Yuridia.
At a Loss for Words
The stroke also left Dio unable to communicate, a frustrating and overwhelming condition for a once lively and talkative teenager.
"I woke up from the stroke like a baby," remembers Dio. "The words and phrases I once knew came out only as mumbles. No one understood what I was trying to say."
Dio was suffering from two stroke-related conditions: aphasia and apraxia of speech.
Aphasia is a communication disorder that interrupts a person's ability to use or understand words. It's common in children and adults following a stroke or brain injury. Apraxia of speech is a similar condition making it difficult or sometimes impossible to move your mouth and tongue to speak.
"The stroke forced me to start over with everything—physically and mentally," shared Dio. "I was faced with a really big mountain to climb, but I was determined to make it through."
First Step: Rehabilitation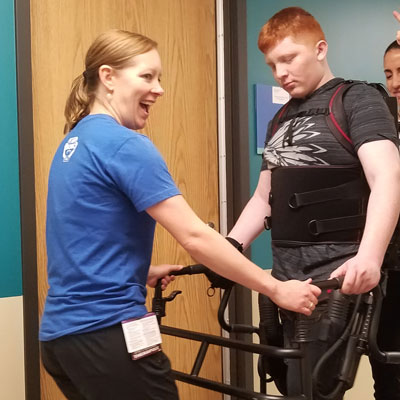 Dio would spend the next few months admitted to the hospital in an acute care setting, since he was too sick to return home. His first steps toward recovery were rehabilitation—including physical therapy and speech and language therapy – through CHLA's Division of Rehabilitation Medicine.
Dio spent a minimum of one hour a day, six days a week, in the Margie and Robert E. Petersen Foundation Rehabilitation Center working with speech and language pathologists like Blake French, MS, CCC-SLP, CBIS. French vividly remembers the cognitive and speech difficulties Dio was up against when she first met him.
"He struggled understanding what people were saying and had a challenging time answering yes or no questions," says French, who worked with Dio throughout the duration of his therapy. "Even if he knew the word to say, he couldn't get his mouth to say it. This made him very difficult to understand, because he was using gestures and often unrecognizable or made-up words."
But French also remembers his undeniable presence and determination.
"There were two things I quickly learned about Dio," she shared. "He wanted to work really hard so he could go back to school, and he was very interested in music."
The Ed Sheeran of CHLA
Before his stroke, Dio had taught himself to play both the piano and guitar and listened to music any chance he could.
"Music was so important to Dio before the stroke," shared Yuridia, who says she often heard him listening to songs like "Red, Red, Wine" by UB40 and "Take Me Home, Country Roads" by John Denver.
There have been countless research studies on the benefits of music for patients with aphasia. So, once Blake learned that singing and music were areas of strength for Dio, she regularly incorporated his love of music into their sessions.
"Many patients with aphasia can sing more than they can speak," said Blake. "That's because music is one of the few things that crosses both hemispheres of the brain, helping to create new neural pathways for language."
Together, Dio and Blake sang familiar songs—like "Sweet Home Alabama," one of Dio's favorites—and worked on producing lyrics, one word at a time. Shortly after beginning inpatient therapy, Dio became known as the "Ed Sheeran of CHLA," an adoring tribute to the famous red-haired musician.
"It was like he was famous," says Yuridia. "Music helped him communicate so much better, but it also restored his confidence, something he had lost after the stroke."
By the end of his initial six weeks of inpatient speech and language therapy, not only was Dio more secure in himself, but he had made tremendous leaps communicating, now speaking more fluently and connecting several words and phrases together.
"We finally got to see the real Dio—the funny, social and wonderful guy he is," says French. "He was communicating in conversations and telling jokes; it was incredible to witness."
Looking Toward His Bright Future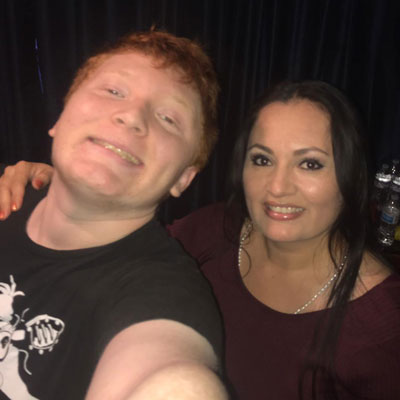 Dio completed inpatient speech and physical therapy, and was discharged from CHLA 2 months after being admitted for brain surgery. He continued outpatient physical and speech therapy for an additional 28 weeks and finally, this past September, met his goal of going back to high school.
Although he cannot play sports anymore, he still roots for his high school team and the Seattle Seahawks, and plays the guitar and piano, though his right side remains weak.
Dio's sights are set on becoming an architect and continuing to strengthen his body and mind. Music remains his friendly sidekick, regardless of the activity or task at-hand.
"Music made me be able to talk normal again," shares Dio. "It got me over that monstrous mountain I had to climb. And now that I'm past it, I'm even more positive, confident and passionate about life and all that's ahead for me."
How you can help
To help teens just like Dio, consider making a donation to Children's Hospital Los Angeles. Visit CHLA.org/Donate.
---
Related Content