Still Going Strong
Six years after receiving a living donor liver transplant at Children's Hospital Los Angeles, a young boy thrives

By Matt Villano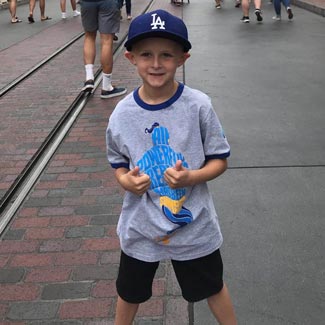 Seven-year-old Joshua seems just like any other first grader. In some ways, however, the Riverside, Calif., child is a living example of the best of humanity.
First, he survived a rare liver disease that made a living-donor liver transplant necessary at just 7 months old.
Second, the boy is the lucky recipient of an act of selfless love; the woman who donated part of her liver was his mother's friend who put herself at risk to give the boy a chance to survive. She celebrates Joshua's birthday with him every year and has been a welcome part of Joshua's family ever since the transplant.
Little Joshua is also an example of how the right doctors with the right kinds of medicine can change lives. Since his surgery, he's had zero unscheduled or unexpected liver-related hospital stays.
Put differently, after a start to life fraught with uncertainty, Joshua has been completely healthy.
"I know every mom says this, but he really is the greatest kid in the world," says his mother, Michelle. "To think that without the right donor and transplant [Joshua] might not have had a chance—it's almost impossible to imagine."
Friend to the rescue
The early months of Joshua's life were scary to say the least. He was born in January 2013 with jaundice, a condition that causes the skin to appear yellow due to heightened levels of bile. Later, in April, doctors diagnosed Joshua with biliary atresia, a blockage of the bile ducts that carry waste out of the body. They performed surgery to fix the blockage, but the condition had damaged his tiny liver beyond repair. The only option, they said, was a new liver.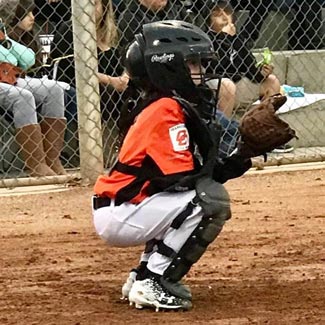 Because Joshua was so tiny, potential donors had to meet several very specific requirements to even be considered. Over the course of four months, roughly 30 people were evaluated as potential donors. None was a good enough match.
By August, the situation was dire. Joshua wasn't getting any better, and Michelle was beginning to get frustrated. She posted to Facebook seeking more donors. That's when a woman named Trinity stepped in.
Trinity was a new mother herself—she and Michelle had been friends for a while and the two gave birth to their babies within five weeks of each other. When Trinity found out about Joshua's health crisis, she says she imagined what it would be like if her child were battling a life-threatening disease and how she'd hope her friends would do everything they could to help.
"I just felt that life is precious, and everyone deserves a chance," she says, looking back.
Trinity filled out an application and underwent tests to see if she was a viable candidate. It turned out she was a perfect match. Initially, she vacillated over the decision. She had never had surgery before. She was totally healthy. Was she ready to put that all at risk? The answer, of course, was yes.
On the day of the surgery—August 27, 2013—the patients were admitted at two separate hospitals: Joshua at CHLA and Trinity at Keck Medicine of USC. It took four hours for a surgeon to remove a quarter of Trinity's liver, which was packed on ice and transported seven miles by officials from the United Network for Organ Sharing.
Once the organ arrived at CHLA, Yuri Genyk, MD, Surgical Director of Liver and Intestinal Transplant, performed the surgery to transfer it to Joshua. The surgery lasted six hours.
Staying close
Recovery was lengthy but relatively straightforward for both patients. Joshua was in the hospital for about a month, while Trinity was in for eight days. Almost immediately after the procedure, Michelle eagerly observed how much better her son looked—most noticeably the color of his skin. He no longer looked jaundiced, but instead like a healthy pink baby.
Trinity got to see Joshua for herself about two weeks after the surgery.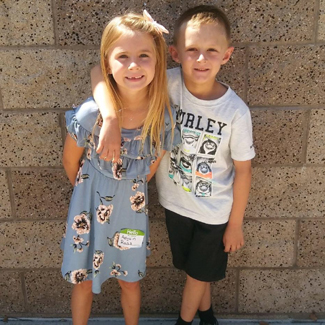 Joshua and Adysin, August 2019
"It was overwhelming," remembers Trinity.
Michelle agrees, noting that when Trinity walked into the room, "I was at a loss for words."
Eventually, through the tears and hugs, Michelle was able to ask her friend: "What did I do to deserve such an angel for my baby?" Trinity insists she was just doing her part as a friend and a good human.
Because liver cells regenerate, Joshua's transplanted organ has grown with him, and Trinity's has grown back to its original size. The procedure was first attempted in children, and when research indicated that it was safe and effective, the procedure began to be used in adult cases as well.
The two families have remained connected, too. Joshua and Adysin, Trinity's daughter, attended the same preschool and have grown up to become friends. Their moms have joked that maybe someday the two will be boyfriend and girlfriend.
As for Joshua, he lives a pretty normal life. He giggles. He wiggles. He loves baseball and is crazy about hockey. Except for avoiding contact sports and taking daily medication to support his transplanted organ, he can look forward to an ordinary childhood and beyond, something that seemed impossible just a few years ago.
If you didn't know he nearly died due to a rare liver disease, you'd never guess that there had been anything wrong. The only outward sign of Joshua's experience is an upside-down T-shaped scar on his abdomen.
Trinity has a scar, too. When the two get together, usually to celebrate the anniversary of their surgeries, they bond over their matching scars. Joshua still is too young to understand exactly what they share, but Michelle says he knows that a part of Trinity is inside of him, and that she helped him get better when he was sick.
"Thank you is not enough," says Michelle. "I will always be grateful—not only for Trinity but for everyone who made this transplant possible. They saved my son's life."