A New Heart Gives Jasmine a Fresh Start

After being born with a rare congenital heart condition called hypoplastic left heart syndrome, the toddler underwent a lifesaving heart transplant at Children's Hospital Los Angeles.

By Candace Pearson
You might say that 3-year-old Jasmine was waiting for a heart her whole life.
On Nov. 20, 2020, Jasmine—who was born with a serious congenital heart defect—got a brand new one, thanks to the combined efforts of a dedicated transplant team of surgeons, nurses, cardiologists and more in the Heart Institute at Children's Hospital Los Angeles.
Just past 10 a.m. on that fateful day, Transplant Coordinator Debbie Dechant, RN, called Jasmine's mom, Amy. "Debbie said, 'This is the call,'" Amy recalls, "and I started bawling."
By then, Jasmine had spent nearly seven months at Children's Hospital Los Angeles fighting to stay strong enough for the transplant that she needed to live.
Before Jasmine was born in 2017, she was diagnosed through the hospital's Fetal Cardiology Program with a life-threatening condition called hypoplastic left heart syndrome (HLHS), in which the lower left chamber of the heart is severely underdeveloped. As a result, the heart can't effectively pump oxygen-rich blood from the lungs to the body, forcing the right side of the heart to try to do double duty of pumping blood to the lungs and the rest of the body.
HLHS is fatal without surgical intervention. Children with this condition usually undergo a series of three surgeries in their first three years of life to make the right ventricle the main pumping chamber and send blood flow from the upper body to the lungs, bypassing the heart.
Stem cell trial
Jasmine had her first open-heart surgery at just 5 days old. Her second took place when she was about 6 months old, and she helped Children's Hospital make history by participating in the first-ever clinical trial to test whether stem cells from umbilical cord blood could delay or prevent heart failure in children with HLHS.
For a while, "she was doing really great," says her mom. But a few months after she turned 2 years old, Jasmine developed a respiratory virus and was soon sliding into heart failure, evidenced by her low energy and difficulty tolerating food.
"Other children in our HLHS study have benefitted from receiving an infusion of their own stem cells. But some children respond to certain therapies and some don't," says Cardiothoracic Surgeon Ram Kumar Subramanyan, MD, PhD, who leads the HLHS stem cell study in the Heart Institute. "Our focus is always on doing what is appropriate for each patient, and we knew Jasmine needed a different course of care."
'Jazzy Jasmine' charms the team
In April 2020, Jasmine was admitted to the Thomas and Dorothy Leavey Foundation Cardiothoracic Intensive Care Unit (CTICU) at Children's Hospital Los Angeles. No one knew it then, but she wouldn't be discharged for another 252 days.
Over the many months while she was hospitalized, Jasmine charmed everyone she met. "For those of us who know her, she is 'Jazzy Jasmine,' the girl with spunk," says Dr. Subramanyan.
The 2-year-old gleefully took rides through the corridors in one of the hospital's famous red wagons, waving and calling out to each doctor, nurse and therapist she knew. On Dr. Subramanyan's visits to Jasmine, he'd ask her, "Happy day?" She'd invariably answer, "Happy day!"
But Jasmine couldn't eat solid food. Even purees and liquid food drained her energy. She went on total parenteral nutrition, feeding through an intravenous tube. Medication helped her failing heart squeeze harder. Yet her oxygen levels kept dipping.
The transplant team considered implanting a ventricular assist device, a mechanical pump, to push blood from the lower chambers of her heart.
"When we have a child as sick as Jasmine, it's important to take a team approach," says Cardiologist Jennifer Su, MD, whose specialties include heart failure and transplantation. "We have very robust discussions, and every member brings unique knowledge and expertise. That's our strength."
Ultimately, the team decided against the pump, but continued to evaluate Jasmine's condition day by day.
The waiting list
On May 22, Jasmine went on the nationwide transplant list maintained by the United Network for Organ Sharing (UNOS). Her status for a heart: 1A, the highest priority. But finding one to fit a toddler wouldn't be easy since there are very few organs available for young children.
While the family waited, Dechant, the transplant coordinator, focused on counseling and communicating with Jasmine's mom and dad, Ray, to support them through that difficult time. She also did everything she could to ensure Jasmine was "the best possible heart transplant candidate."
Nurses, Child Life specialists and art and music therapists all visited Jasmine; they played games, painted pictures, sang songs and read stories with their young charge. Jasmine also started a program of "pre-habilitation," including pull-up exercises and walking, "so she could build strength and not fall too far behind," says Dr. Su.
"Children's Hospital is an amazing place," says Amy. "They treated my daughter as their own."
Dechant fielded calls about donor hearts, but the first candidates were the wrong size or not functioning well enough. Then on Nov. 20, Dechant heard from UNOS about a heart that seemed to meet all the criteria.
An hour later, Dechant called Jasmine's mom. Amy rushed to organize a babysitter for her two older daughters and to reach Jasmine's bedside in the CTICU.
The donor heart was miles away in another part of California. In order to confirm that the heart was suitable for Jasmine's transplant, John David Cleveland, MD, a cardiothoracic surgeon at Children's Hospital Los Angeles, volunteered to collect it. When a rainstorm blew in, his plane couldn't land at its designated airport and touched down 40 miles from the heart's location. He drove the rest of the way.
Finally able to observe the donor heart's condition in person, Dr. Cleveland reported back to his colleagues, "It's a go!"
The big event
That evening, at Jasmine's request, nurses wheeled her to the operating room in a red wagon. By 9 p.m., the operation was underway, with Cardiothoracic Surgeon Luke Wiggins, MD, taking the lead, and Dr. Subramanyan assisting.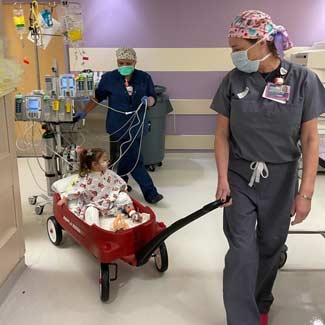 Jasmine's prior surgeries and her heart's anatomy complicated the surgery, but the team worked meticulously through the night to implant the donor heart, finishing their task early the next morning.
"We knew the transplant operation would be a challenge," says Dr. Wiggins, "but we were always confident that Jasmine was a tough kid and would do well with her new heart."
For the first few days, Jasmine was groggy and quiet, not her usual spunky self. Then her breathing tube was removed and she could breathe normally. Her oxygen levels shot up to 100% for the first time. "Jazzy Jasmine was back," says Dr. Subramanyan.
Jasmine spent another 46 days at Children's Hospital, working with therapists on her feeding, language development and other skills, her new heart happily pumping away.
On Jan. 5, 2021, Jasmine went home, holding a gift from the medical team—a copy of Dr. Seuss's "Oh, the Places You'll Go!"
"My family's back together," says Amy. "I told everyone, 'Jasmine is going to make it.' And she did."
Click here to help more kids like Jasmine.
---
Related Content