A 'Life-Changing' Spine Surgery for Jackson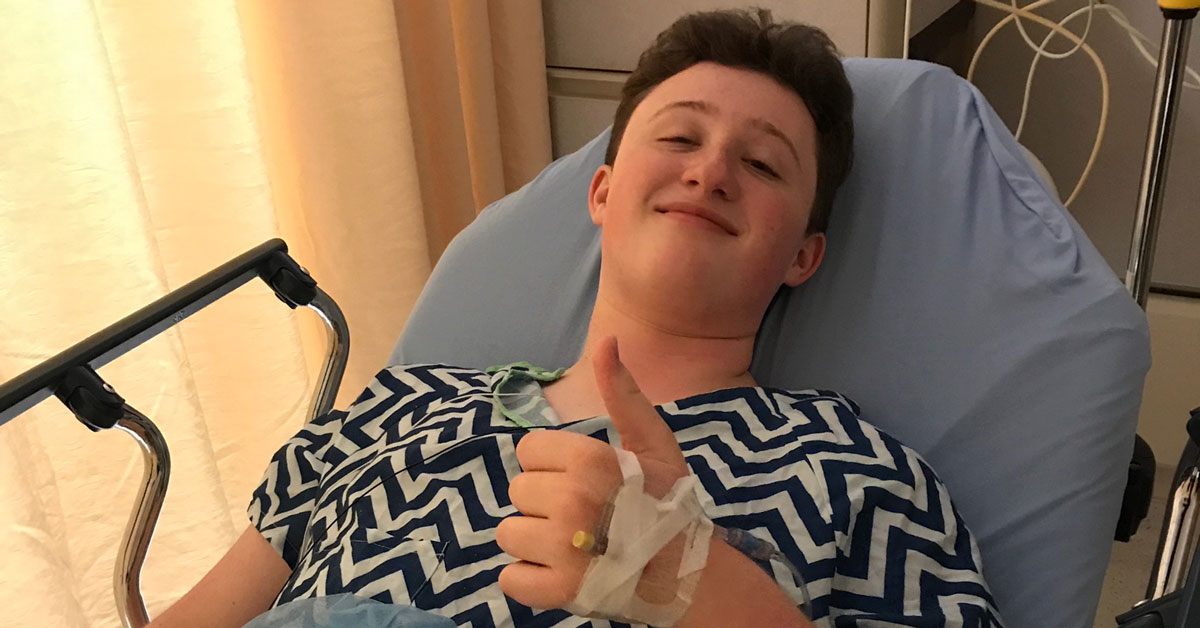 After years of suffering from crippling back pain, the high school senior underwent a procedure at Children's Hospital Los Angeles that fixed his scoliosis and finally provided relief.
By Eunice Oh

Inspiring—that's the word 17-year-old Jackson uses to describe Children's Hospital Los Angeles. For nearly five years, the high school senior suffered from back pain, which at its worst was so debilitating even walking was difficult.
Then he came to the Children's Orthopaedic Center, where he was diagnosed with scoliosis and underwent spinal fusion surgery with the Center's Chief, David L. Skaggs, MD, MMM. Today, Jackson is finally pain free and heading off to film school this fall as a television writing and production major.
Here in his own words, Jackson describes his health journey and why he's compelled to give back to the hospital.

It started when I was in sixth grade. I was having pain in my lower back, so I went to my pediatrician's office and was told it was probably muscular due to my heavy backpack. Even after eventually switching to a rolling one, the pain never fully went away. By ninth grade, we went to see a physical therapist who, also believing it was muscular, suggested that with specific exercises it would hopefully get better. But it didn't.
By the time of my 16th birthday, and my annual checkup, a sizable hump had become visible down my back when I bent over. My doctor was concerned because it was a sign this was anatomical scoliosis and immediately referred us to Dr. Skaggs. We knew we were in good hands because our family friend was a patient of Dr. Skaggs, but it wasn't until the first appointment that we realized truly what a perfect match he was.
The moment we got in, Dr. Skaggs confirmed it was scoliosis and was upfront that I would need surgery. The curvature of my spine was so significant a brace wouldn't help. He really educated me and my parents and made us realize, yes, this is a big deal, but he's got everything under control. He made us feel safe; the environment he and his team created was so positive.
Two months later, I underwent surgery. Recovery was challenging mainly because I had a hard time with the effects of anesthesia, was anxious and I wasn't sleeping at all. The nurses were so patient and calm, always there when I needed them, and that made it such a wonderful experience because I know not every hospital is like that.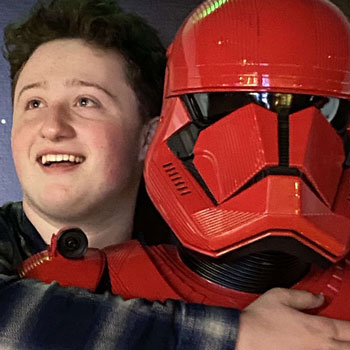 This was a life-changing surgery. Before, the back pain would impact nearly every part of my day. I couldn't run or go to the gym. There would be shooting pain that would linger. I wasn't able to sit without proper support. I'd sometimes have to lie down because the pain was just too much. Theater is my main extracurricular activity and I remember for one musical in particular, the whole cast jumped off the stage every night. Everyone else would be fine and run backstage, but when I hopped off, I felt this excruciating pain through my legs and all the way up my back.
About six weeks after surgery, I was back to normal—actually even better —and taller. Today I can do more than I could before the surgery because the pain is finally gone. To me, Children's Hospital Los Angeles is inspiring. It's such a selfless place where everyone works as a team to do one thing: help children. I wanted to give back and help the hospital that helped me, which is why I became a CHLA Junior Ambassador. This hospital takes so many extra steps so that patients and families are comfortable. Plus, we are lucky to have one of the best spinal surgeons in the world in our backyard!
I will forever be grateful to everybody at Children's L.A. who cared for me.

How you can help
To help kids just like Jackson, consider making a donation to Children's Hospital Los Angeles. Visit CHLA.org/Donate.