Honoring Her Daughter's Cancer Battle, Eugenia Races for a Cure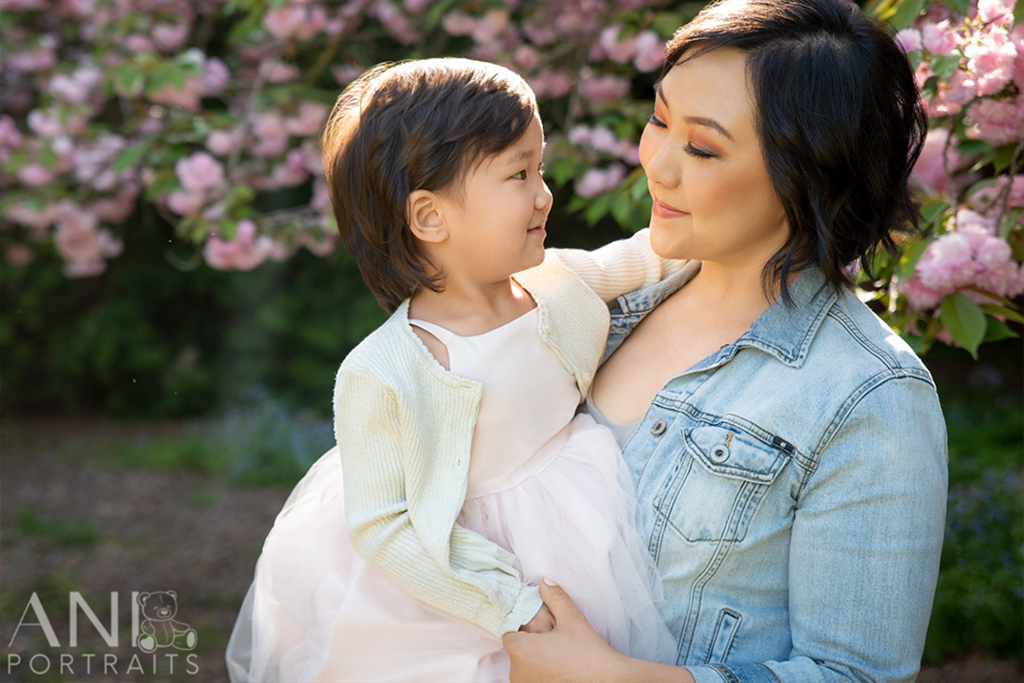 "I'm now inspired to participate every year in some shape or form," she says about the 2XU Malibu Triathlon, which raises funds for pediatric cancer research at Children's Hospital Los Angeles.

By Eunice Oh
Last year on a whim, Eugenia made a bold decision. She dusted off a rusty mountain bike in her garage, registered for the 2XU Malibu Triathlon and started training—three weeks before the race.
"It was very last minute," she recalls, "and I wasn't quite ready, but I felt so compelled to do it."
Eugenia had been scrolling through Facebook when she stumbled on a post about the triathlon. The race—which consists of a half-mile ocean swim, followed by a 17-mile bike ride and concluding with a 4-mile run—raises funds for pediatric cancer research at Children's Hospital Los Angeles. To date, more than $16 million has been donated to the institution.
It didn't matter to Eugenia that the last time she did something this physical was a 10K almost a decade ago. Once she learned about the triathlon's connection to the hospital where her daughter, Florence, had been treated for cancer, she quickly recruited two friends as her relay teammates.
"It was a breath of fresh air to be in Malibu, especially after spending so much time indoors during the pandemic and for Flo's treatment," says Eugenia, a clinical nurse specialist. "The fact that the event supports the lifesaving mission of CHLA was the cherry on top."
A new chapter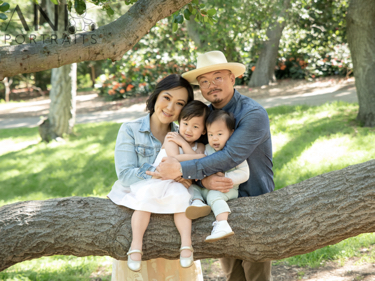 "Today, she is thriving," Eugenia says of Florence, pictured here with her younger brother, Truman, and dad, Rich.
Five months before the race, Florence completed treatment for medulloblastoma. Six rounds of chemotherapy and a stem cell transplant knocked out the aggressive tumor that had been growing in the then 22-month-old's brain. But being in and out of the hospital for nearly eight months took a toll on the entire family.
Eugenia saw the triathlon as a way for her and her husband, Rich, to hit the reset button.
"The timing of the event was perfect. We were ready to close this chapter of our lives after being in recovery mode and tending to the emotional wounds from cancer treatment," she says.
With her family and friends cheering her on—and sporting gold ribbons, the awareness symbol for childhood cancer—Eugenia completed the biking leg of the race while her two friends tackled the swim and running portions.
"There's such a great energy and buzz at the race, and you see people of all ages and from all walks of life," says Eugenia. "I'm now inspired to participate every year in some shape or form."
Honoring CHLA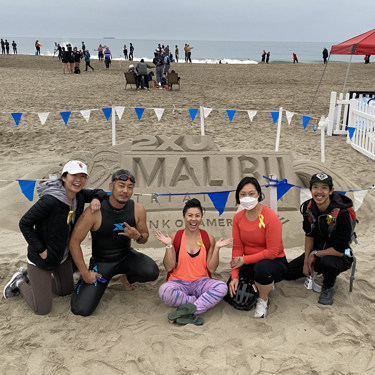 Eugenia (second from right) at the 2021 2XU Malibu Triathlon. Her friends Michael (second from left) and Bonnie (middle) were her teammates for the race, while Yishan (far left) and John (far right) came out to cheer on the group.
Eugenia is following through on that pledge. She's registered for the 2022 2XU Malibu Triathlon, which will take place the third weekend of September and coincides with two big family milestones this year: her 40th birthday and Florence turning 4. Eugenia hopes others will join her in raising funds for pediatric cancer research and racing to find a cure.
"Anyone considering doing it should dive in and go for it," says Eugenia. "It felt so good being with people outside and doing something positive for yourself and, even better, for a great cause."
Eugenia will have a special cheerleader at this year's triathlon. It was too early in the morning last year for Florence to come out to Malibu, but the plan is for the preschooler to watch her mom in person this year.
"We endured a lot of heartache during Flo's treatment. The suffering was tremendous," says Eugenia. "But we were able to have a happy ending and today she is thriving. We'll honor our lives, our journey and CHLA by participating in the Malibu Triathlon again this year, and hopefully every year."
Click here to register for the 2XU Malibu Triathlon and support pediatric cancer research at Children's Hospital Los Angeles.
---
Related Content