Can't Keep Isaiah Off the Ice for Long
By Matt Villano
Not even a rare marrow disorder can keep Isaiah off the ice for long
Watching 11-year-old Isaiah play hockey, one might think he had the sport in his blood.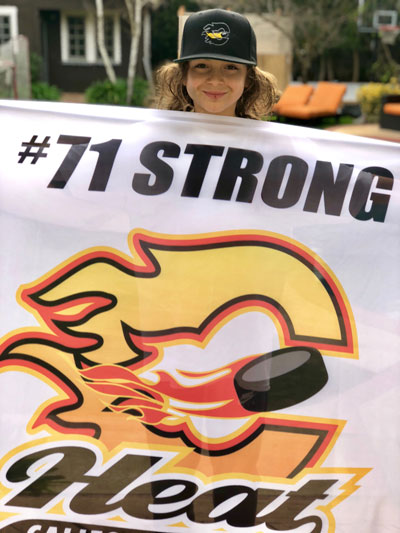 No. 71 is always the fastest kid on the ice, chasing down the puck with seemingly effortless speed. His has a natural slapshot—strong and quick, with perfect precision. When all the other young men and women seem to tire, Isaiah has almost boundless energy, darting here, zipping there, practically skating circles around opponents and teammates alike.
Everyone associated with his club team in Los Angeles considered the young man originally from London, England, to be a flat-out natural. Which is precisely why it was such a shock to everyone—and Isaiah himself—when his career was nearly derailed by a severe blood disorder last year.
The blood disorder, severe aplastic anemia (SAA), kicked off an unexpected journey that led Isaiah and his family to Children's Hospital Los Angeles, where the boy was able to receive critical treatment.
"It's remarkable to me how quickly this all developed, really," says Jane, his mom. "Thankfully we were in good hands from the beginning."
Unexpected discovery
Isaiah had spent most of his young life in perfect health—he was that kid who never got sick, ever. So when he told his mother he was feeling ill one morning in February 2018, she knew something wasn't right. Later that week, following hockey practice, he had a nosebleed and looked pale. When he came home sick from school the next day, Jane took him to his doctor immediately.
A standard blood test raised suspicions of leukemia and Isaiah's doctor sent him to CHLA. There, another blood test seemed to confirm this diagnosis. Jane and her husband, David, prepared for the worst.
"It definitely was a nightmare moment for all of us," David says, looking back. "We were wrecked."
All hope was not lost. Jacqueline Baskin, MD, attending physician in the Division of Hematology, Oncology and Blood and Marrow Transplantation, and Thomas Coates, MD, head of the Hematology section in CHLA's Children's Center for Cancer and Blood Diseases, weren't convinced the diagnosis was entirely accurate. So they ran more tests, and screened the boy's blood for malignant cells—a telltale sign of cancer of the blood. After nearly two days of evaluation, the diagnosis was changed to severe aplastic anemia—an extremely rare autoimmune disease that occurs when bone marrow stops working and the body stops producing enough new blood cells.
"While we see one in 10,000 kids with some form of leukemia, the general incidence of aplastic anemia is six cases per 1 million people," said Dr. Coates. "With those kinds of numbers, you can understand how, with similar presentation, we might need some extra time to confirm a diagnosis."
Isaiah didn't understand what was happening, but knew it meant he couldn't play hockey for a while.
"I was more mad than scared at first," he says, remembering that fateful time. "I just wanted to keep doing what I loved."
Treatment path
There were two options to treat Isaiah's aplastic anemia: Find a sibling-match donor for a bone marrow transplant, or immunosuppression therapy.
A bone marrow transplant was the better of the two options, but only if the donor had identical DNA markers in his or her marrow. Dr. Coates tested Isaiah's brother, Jude, but the match wasn't close enough. This meant Isaiah had no choice but to go with immunosuppression.
His treatment path became part of a clinical study organized by Michael Pulsipher, MD, section head of blood and marrow transplantation. Through the study, patients are randomized between allogeneic transplant and immune therapy in order to learn more about treatment for aplastic anemia. The purpose of the trial is to assess whether, in some cases, it is better to go straight to transplant even if the marrow donor is unrelated.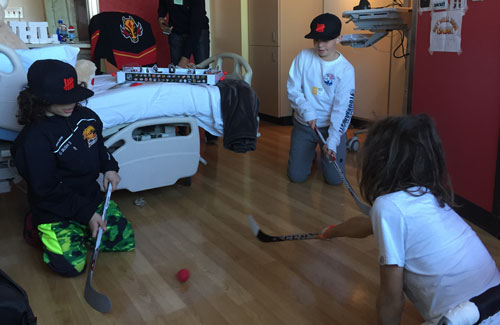 As part of his immune therapy, Isaiah had to endure months of blood transfusions and four consecutive days of anti-thymocyte globulin (ATG). While on the ATG he had to stay in the hospital, because the medication can have serious side effects. Isaiah was also on cyclosporine, which he will continue to take for about another year.
Isaiah doesn't like talking about this stretch of treatment. One of the standout memories: Playing knee-hockey with his brother and teammates on the floor of the family lounge. Another positive recollection: Watching the movie "Daddy's Home" with his brother Jude, again and again and again.
After a few weeks, Isaiah was released from CHLA and continued convalescing at home. This was a different kind of slog—the surroundings were familiar, but he still felt lousy. Dr. Coates had warned Isaiah's family that it could take up to three months before they saw any sign of Isaiah's marrow working again. It took more than four.
"At first he took a long time to respond and we had to remind him this was a marathon, not a sprint," Jane says. "He went from being a really active kid to not being able to do anything at all."
Jude, on the other hand, continued playing hockey. Boys from the club team wanted to do something to show support for Isaiah, and one of his teammates designed a hoodie and T-shirt with the "#71strong" logo and Isaiah's name. Later, the team made stickers that Isaiah and Jude's teams wore on their helmets for a tournament in Colorado that Isaiah had to skip. At that tournament, Jude affixed a piece of tape to the back of his helmet and offered his own message. On the tape he wrote: "Get well soon, Bro. #71."
Back in the swing
The hockey kept Isaiah going. He lived vicariously through Jude, and vowed to return stronger than ever.
Isaiah's efforts during this part of the process were buoyed by one of his idols: former hockey player and current LA Kings radio announcer Daryl Evans. Evans found out about Isaiah as a result of CHLA's close relationship with the Kings and first visited Isaiah when he was recovering in the hospital. After Isaiah was released, Evans became a regular visitor back at the house, often just swinging by to shoot pucks or shoot the breeze.
"The attention from [Evans] and the support of the Kings was tremendous," says David, who notes that this past spring, Evans invited Isaiah and his teammates to be guests at a Kings game. "You could see how good it made Isaiah feel, which of course was wonderful for all of us."
Recognizing the positive impact of these interactions, Dr. Coates presented Isaiah with a challenge: If Isaiah could get his platelet count over 100,000, he'd get a green-light to play hockey with his teammates again. Suddenly everything became tied to platelet numbers—a digestible way for Isaiah to track his own recovery. At 50,000 platelets, Isaiah returned to school. At 80,000 platelets, Dr. Coates cleared Isaiah to return to the rink.
Jane and David didn't want him to go back when the entire team was there—they were worried it might be too much—so the family waited for ice time that was quieter and more private. It ended up being midnight on a weeknight. The schedule didn't matter at all—Isaiah was just happy to be back.
A few weeks later, with his platelet count in the six figures, Isaiah joined his teammates for an emotional reunion.
"To see him back on the ice, doing what he loves, it was pretty awesome," says Jude, age 14. "Being out there with him made it feel like everything was all better. It was like, 'Yes! My brother is back.' I know the other kids on the team felt the same way."
Moving forward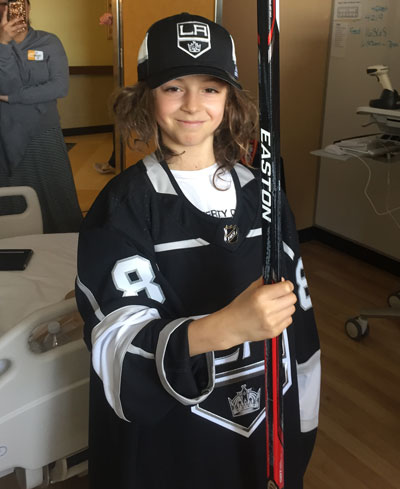 Since then, Isaiah's condition has continued to improve. Medically, his marrow is doing what it's supposed to do, and he feels stronger than ever. Psychologically, he's whole again, too, back to playing hockey with his teammates almost every day of the week. Isaiah might have tough days every now and then but for the most part, he is living life like a normal 11-year-old.
"He's responded quite well to therapy," says Dr. Coates, who noted that his health care team will follow Isaiah's blood counts three or four times annually for the next 10 years. "The way you deal with your disease makes a difference, and this young man really faced this head-on to get past it."
Throughout Isaiah's journey, his family has given back to CHLA in big ways: by donating, by raising money, and by launching a trio of blood drives to raise awareness of the unique challenges of aplastic anemia. According to Jane, additional blood drives are in the works.
The fundraisers have been spread out; the first, in March 2018—just after Isaiah was diagnosed—was an effort co-sponsored by Isaiah's hockey team and the L.A. Kings. As part of that event, a portion of all ticket sales went to support CHLA. The organizations also held a raffle to benefit the hospital.
Other fundraisers have sought donations in other venues; the family will participate in Walk and Play L.A. on June 22 to raise more money for Dr. Coates' research.
"Anything we can do to help, that's why we're focused on this," says the Hollywood producer. "The truth is we had never heard of aplastic anemia before our son came down with it. You just never know. The more we can educate people by telling stories like Isaiah's, the better everyone will be at some point."