A Brighter Future for Livie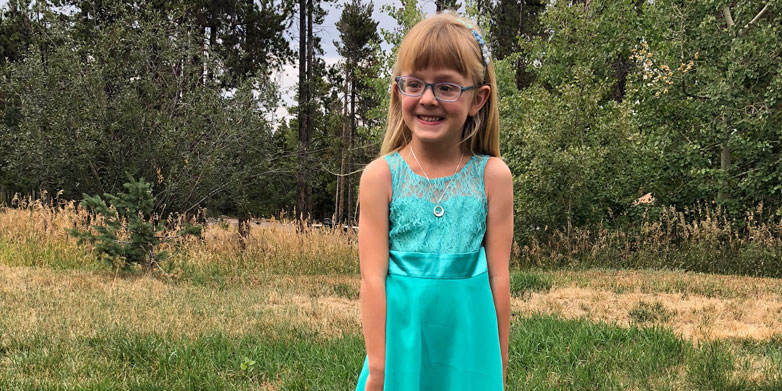 Thanks to a groundbreaking treatment, children who once faced inevitable blindness now have a chance to regain—and retain—their sight.
By Eunice Oh
Like many 7-year-olds, Olivia is a burst of energy. She loves riding her bicycle, ice skating, traversing obstacle courses, learning martial arts and blocking shots as her soccer team's goalie. And she has an infectious giggle that lets you know how much fun she's having.
You'd never guess she was once nearly legally blind.
Livie, as her family calls her, was diagnosed with a rare inherited eye disease called Leber's congenital amaurosis (LCA) before her first birthday. The condition affects 2 to 3 out of every 100,000 newborns in the country and is caused by a mutation of the gene responsible for producing a protein necessary for healthy vision. Because the disorder disrupts the retina's capacity to respond to light, patients are unable to see in the dark or even in soft light. Over time, their eyesight deteriorates completely.
Though Livie hasn't let LCA slow her down, there have been daily challenges, especially at night. After the sun sets, Livie has been virtually relegated to a world of darkness.
For her parents, Darren and Jeannine, the most daunting part wasn't just that simple everyday moments became complicated. It was looking ahead to the future and accepting the fact that LCA was degenerative. It was only a matter of time before Livie would go completely blind.
A prayer answered
Last summer, the family vacationed in Germany where they stayed in an old medieval-style castle. When they checked into their room, Livie and her sister pointed to a piece of furniture that looked like a short chair and asked their parents what it was.
The girls' parents explained it was a prayer kneeler, a special piece of furniture some people use when they pray. A few minutes later, as Darren was unpacking, he noticed Livie was on the kneeler, her hands clasped together.
"She was saying a prayer: 'Dear Jesus, please let there be something that helps me see,'" Darren recalls tearfully. "It was really painful to hear that."
The next day, he woke up to an email that would change Livie's life.
Sight-saving treatment
In December 2017, the U.S. Food and Drug Administration approved a drug now being hailed as a miracle treatment for patients with LCA. Luxturna works by carrying a functioning copy of the necessary gene in liquid form that is injected below the patient's retina. The medicine essentially replaces the defective gene and triggers retinal cells to begin producing the vital protein. Patients have reported significantly improved vision just days after undergoing surgery.
"This gene therapy is changing the course of the disease in a way that we've never seen before and never thought possible," says Aaron Nagiel, MD, PhD, Attending Ophthalmologist in The Vision Center at Children's Hospital Los Angeles. "While patients won't have completely normal vision, we can improve it to a degree that they can do activities they couldn't do before, whether playing outside at night or seeing clouds in the sky."
Children's Hospital Los Angeles is on the front line of performing the procedure and is one of only 10 institutions in the country approved to administer Luxturna. To date, 16 patients with LCA have been treated with the groundbreaking therapy at Children's L.A., the most of any hospital. One of those patients was Livie.
Back in Germany, the email Livie's dad received was from Spark Therapeutics, the pharmaceutical company that produces Luxturna, informing him that Livie's specific type of mutation made her eligible to receive the experimental treatment. When the family returned home to Colorado, Darren and Jeannine researched all of the centers offering the gene therapy before selecting Children's Hospital Los Angeles. A few months later, Livie's family traveled to L.A. for the surgery.
'Exponentially better' eyesight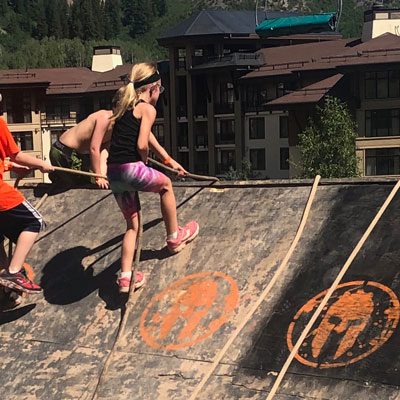 The results from the procedure have been nothing short of amazing. "Some of them are extremely dramatic," says Darren.
At school, Livie's teacher used to take photos of the blackboard with an iPad, and then hand it to Livie so she could read it up close. Since the surgery, they don't have to do this anymore—Livie can read the board. Her acuity has sharpened so much that her teacher's jaw dropped when Livie was able to pick up a pea-sized gemstone that had fallen off her bedazzled shirt. Seeing something that small with such clarity was unimaginable before.
Life at home has also changed. Livie doesn't need a "dinner light" anymore—a lamp that her parents used to hover over her plate so that she could pick up her food; she adeptly dodges trash cans and light posts when chasing her sister down the street in the evening; and her overall functioning in lower light "is exponentially better," says Darren.
Looking back on Livie's journey—and imagining a bright future and all the possibilities that now lie ahead—her parents couldn't be more grateful.
"Thank you to everyone at Children's Hospital Los Angeles," says Darren. "You have really changed our daughter's life for the better. You have our deepest appreciation."
Learn more