Alex Doesn't Let Diabetes Slow Him Down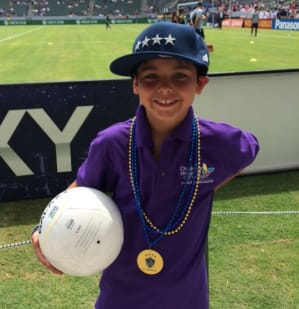 Alex Idolor is an energetic 10-year-old who has loved sports ever since he could walk. But five years ago, he started feeling uncharacteristically weak. Constantly hungry and extremely tired, Alex began to fall asleep at swim practice and had trouble chasing a soccer ball.
More clues that something is wrong
His mom, Arpi, wasn't too alarmed until one Saturday afternoon when they were running errands together. In the span of an hour, Alex went to the restroom four times. Later that night, Alex stayed over at his grandparents' house and accidentally urinated on the bathroom floor.
The next morning, when his grandfather stepped in the urine and noticed it was sticky, he immediately called Arpi: "I think your son is a diabetic."
As a self-described "non-panicking parent," Arpi didn't think much of her father's warning. But an appointment with Alex's pediatrician confirmed that he had type 1 diabetes—and a dangerously high level of blood glucose. Normal blood glucose is between 70 and 130; Alex's was 646. "Surprisingly, maybe by a miracle, my son was not in a coma or sick," says Arpi.
Adjusting to a new way of life
The following day, Alex and his parents went to Children's Hospital Los Angeles to see specialists in the Center for Endocrinology, Diabetes and Metabolism, and "our life forever changed," says Arpi. For the next few weeks, they met with a team that provided comprehensive care and education on nutrition and diabetes management, helping them adjust to Alex's diagnosis.
"As a family, we are smarter because of all the information Children's Hospital has given us," says Arpi. "We also met Kailee Roeser, [a nurse] who is a diabetic. Seeing someone with type 1 diabetes happy, thriving and having gone through college—all the stuff you worry about as a parent—was the best comfort any new family diagnosed with this disease could ever want."
Thanks to guidance from Jamie Wood, MD, as well as the nutritionists and nursing staff at the Center, Alex's diabetes is under control and he is doing well. He visits CHLA every three months, which is the standard of care for diabetes patients, and since receiving an insulin pump, he no longer needs multiple insulin shots per day.
Back on the field
Today, Alex is back to doing what he loves most: playing soccer and baseball on his local club teams. His coaches make sure to have a healthy snack on hand for Alex during practice, and if anyone asks, he confidently answers questions about the diabetes routine he knows is keeping him alive.
Off the field, Alex recently received the Student of the Month Award for Responsibility, which his mom attributes to his learning at such a young age to be responsible for his own health.
A comforting role model
Arpi proudly recalls attending a pump class where Alex—who was once terrified of needles—supported a young girl who appeared anxious. He bravely got his pump first, then held her hand and said, "We can do this together."
Alex and his family are forever grateful for the expert care they receive at Children's Hospital Los Angeles. As his mom sees it, "If we lived in New York, we wouldn't transfer his doctor. We would fly back just to see Dr. Wood and the staff. Once you have it right, you don't need to change. I feel like Children's Hospital is home."
How you can help
Help local kids like Alex fight their chronic conditions. Give today at CHLA.org/GiveLA.