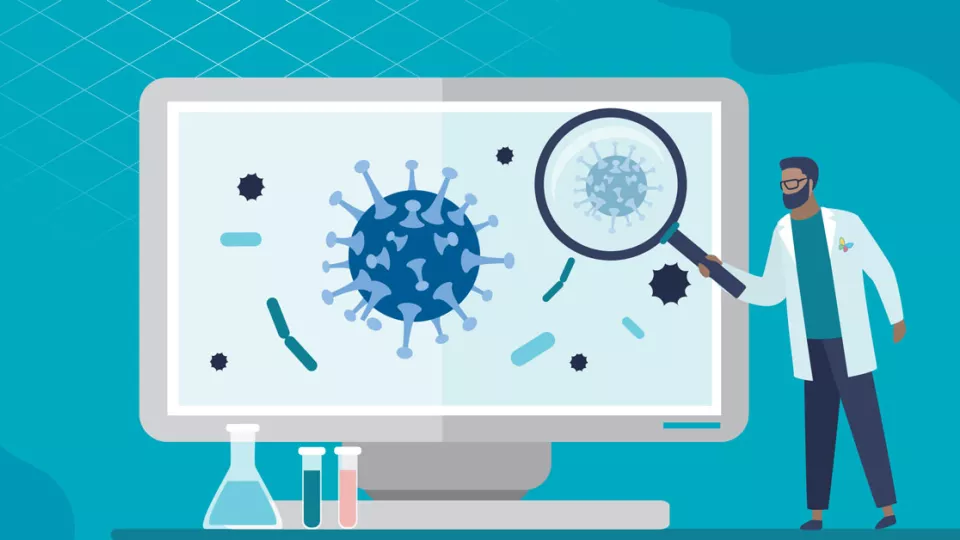 News and Innovation
The Many Faces of Coronavirus and COVID-19 Research
From basic research to epidemiological data, investigators in The Saban Research Institute of Children's Hospital Los Angeles are taking on COVID-19 research from multiple directions. 
In response to the COVID-19 pandemic, The Saban Research Institute enlisted CHLA investigators interested in conducting novel research to better understand, treat and prevent COVID-19. Multiple researchers responded, and were awarded seed funding to advance their COVID-19-related research projects.   
Wei Shi: Blocking the coronavirus infection in the lung 
COVID-19 is caused by the novel coronavirus, SARS-CoV-2, infecting the respiratory system and binding to a specific protein called ACE2 on lung cells. This interaction is a key step for the virus entering and continuing its lifecycle in the lungs. Wei Shi, MD, PhD, has received funding for pre-clinical experiments aimed at blocking critical steps in coronavirus infection. The idea behind his work is to introduce pairs of proteins—called fusion proteins—that will sit on the surface of the lung cells and block the coronavirus from interacting with ACE2 to cause infection. 
Michael Neely: Getting data on potential treatments 
Early reports suggested that hydroxychloroquine (HCQ), a drug used to prevent malaria and treat children with certain rheumatologic conditions like lupus, might relieve inflammation associated with moderate or severe COVID-19. However, recent reports have indicated that HCQ is likely not a viable treatment. Michael Neely, MD, MSc, was lead investigator on a study to determine the safety and efficacy of treating children with HCQ. He is now gathering data about other medications that may be effective in the fight against COVID-19. Most notably, he aims to find out how drugs behave (called pharmacokinetics) in children specifically, as medications often affect children differently than adults. His goal is to give doctors information about a drug's pharmacokinetics, dosing, safety and anti-inflammatory effects so that clinicians have greater knowledge about how to best treat children diagnosed with COVID-19. 
Jennifer Dien Bard and Xiaowu Gai: Using Genomics to Better Understand Coronavirus and Predict Risk 
In addition to her early efforts in setting up in-house testing, Jennifer Dien Bard, PhD, Director of the Clinical Microbiology and Virology Laboratory, is studying the epidemiology of COVID-19. She is co-leading studies with Xiaowu Gai, PhD, Director of Bioinformatics in the Center for Personalized Medicine, to better understand the coronavirus on a genomic level. Patients across a wide range of ages, ethnicities and geographic locations have experienced varying degrees of severity associated with COVID-19. For example, adults can show a different response to the coronavirus compared with children. While children were initially thought to have less severe symptoms than parents, they can recover from initial infection only to suffer later from symptoms of inflammation knowns as , with symptoms often similar to Kawasaki disease. There is also a higher risk of infection and death in some countries (e.g., Italy and Spain) compared to others (such as South Korea and China). Multiple reports have documented frequent mutations in the coronavirus, which could contribute to this variability. The Center for Personalized Medicine and the Clinical Virology Laboratory within the Department of Pathology and Laboratory Medicine at CHLA recently developed viral whole-genome sequencing and bioinformatics tools to study the coronavirus on a genetic level. These teams also have developed tools to analyze different virus strains and determine how it evolved. The goal of this work is to track the virus and determine relationships across various communities.  
The investigators aim to study how viral mutations correlate with age, gender, ethnicity, genetic factors, disease severity and clinical outcomes. They also plan to examine how mutations affect the immune response of infected individuals. Finally, Dr. Dien Bard and Dr. Gai aim to develop clinical tests to genetically diagnose patients with subtypes of coronavirus infection, and give clinicians better insight into risk based on a patient's genetic factors. 
Dr. Gai has also been awarded research funding to investigate other aspects of interaction between the coronavirus and those who become infected. Some individuals continue to test positive for the virus despite full recovery. Dr. Gai will explore possible reasons for this, which include one or more of the following: 
Fragments of viral genetic material, rather than active infection 
New viral strains that have led to persistent infections 
Genes that predispose individuals, putting them at higher risk of getting infected or having immune deficiencies 
Using genome sequencing to examine the genetics of both the virus and patients, Dr. Gai aims to decipher the interactions between the virus and individuals who become infected, and examine immune factors that may prolong infection.  
Todd P. Chang: Changing Resuscitation Management to Minimize Viral Spread 
In the face of the COVID-19 pandemic, changes must be made to how patients are resuscitated. Normal procedures such as intubation and CPR can allow viruses to spread by exposing health care workers to airborne droplets.  The American Heart Association has provided changes to prior guidelines to reduce or eliminate the amount of virus that is expelled into the air (aerosolized) during resuscitation. Adding layers of protective barriers between clinical staff and patients, while necessary, make patient resuscitation more challenging. 
Todd P Chang, MD, MAcM, is currently designing an exploratory, randomized-control simulation-based study to examine the effects of patient barrier use on resuscitation performance and on virus aerosolization using high-fidelity simulations through the Las Madrinas Simulation Center at CHLA. Studies like these will lead to a better understanding of the challenges health care professionals face in resuscitating patients under protective barriers. Outcomes will provide evidence for the effects of current AHA guidelines and could inform decisions as to whether or not these guidelines warrant modification. 
Linda Szymanski: Using Forensic Analysis to Track COVID-19 Spread 
Since the onset of the COVID-19 pandemic, scientists and clinicians have sought to better understand the virus and how it spreads. Analysis of antibodies developed by individuals against the coronavirus can offer insight into timing and extent of illness. Linda Szymanski, DO, Neuropathologist and Director of Autopsy and Perinatal Pathology at Children's Hospital Los Angeles, and Julie Huss-Bawab, MD, of the Los Angeles County Department of Medical Examiner-Coroner, are working to analyze post mortem blood samples associated with COVID-19-related deaths from November 2019 through May 2020 to identify the earliest presence of disease. This will allow the investigators to establish a timeline of the extent of infection in Los Angeles County. This information could assist in prediction of future disease spread.  
Visit our COVID-19 research page for a comprehensive list of all COVID-19 research studies at CHLA.