What Is Kawasaki Disease?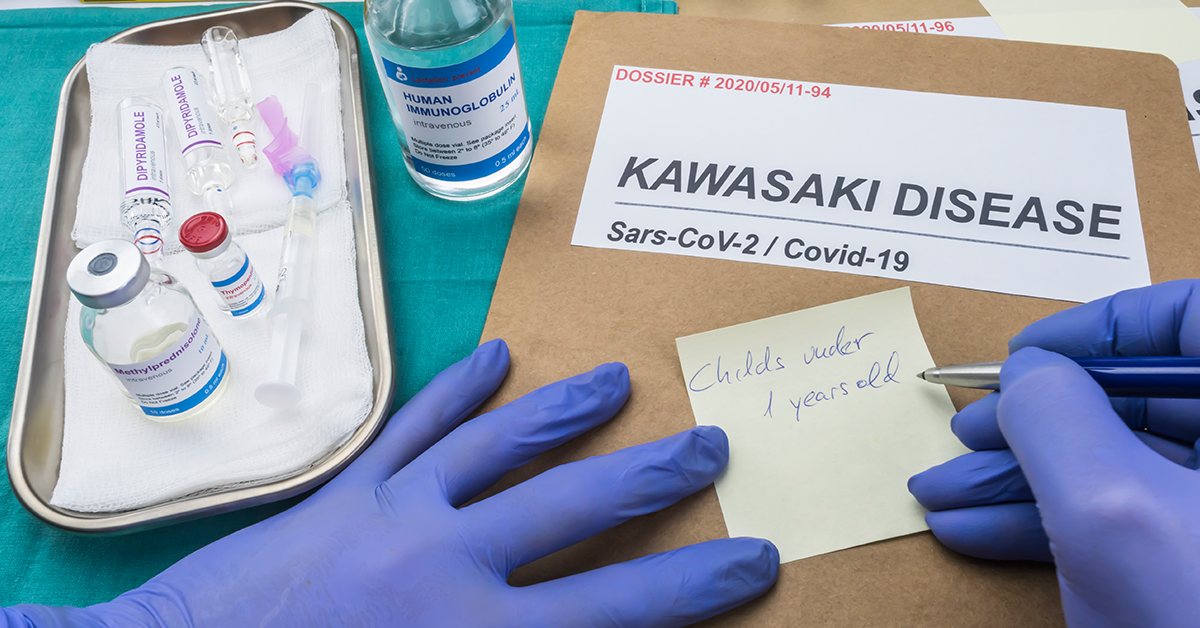 Kawasaki disease: the basics, its symptoms and treatment.
By Melinda Smith

Kawasaki disease, sometimes called Kawasaki syndrome, is a serious inflammation of the blood vessels which affects young children, often under 5 years of age. Marked by fever, swelling and other symptoms, it can lead to coronary artery aneurysms in approximately 25% of cases if untreated. It is only diagnosable based on clinical signs and symptoms, unlike many other diseases that are diagnosed with laboratory results such as blood test or culture from a swab, and is the leading cause of acquired heart disease in children in developed countries.
A COVID-19 connection
Symptoms used to diagnose Kawasaki disease
Children with many or all of the following symptoms may have Kawasaki disease:
Persistent fever (5 days or more)
Rash
Redness in whites of they eyes
Redness in lips or tongue
Redness/swelling in hands or feet
Swollen lymph nodes of the neck
You may have heard about a relationship between Kawasaki disease and the COVID-19 pandemic. In some cases, patients with Kawasaki disease-like symptoms have tested positive for having had a previous coronavirus infection. When a child has a confirmed case of past novel coronavirus infection (as diagnosed by a serology test for antibodies or a previous COVID-19 positive test), he or she may receive a diagnosis of multisystem inflammatory syndrome in children, or MIS-C (previously referred to as pediatric inflammatory multisystem syndrome or PIMS). MIS-C and Kawasaki disease share many similarities, but MIS-C can range from symptoms Kawasaki disease-like to even more severe conditions, like toxic shock syndrome.
What is Kawasaki disease?
Kawasaki disease is a rare condition affecting less than 0.02% of children in the United States. The disease is marked by signs of inflammation such as fever, rash, swelling and redness. There is no known cause for Kawasaki disease. Timely treatment of the disorder greatly reduces the incidence of coronary artery aneurysm, from 25% to around 4%. Some of the vessels around the heart may dilate or get larger. Your pediatrician will treat suspected Kawasaki disease immediately to decrease the severity of these complications. Without treatment, the dilated blood vessels may form aneurysms, which could lead to blood clots and blocked blood flow to the heart (heart attack). In many cases, blood vessels will return to normal size in time, following proper treatment.
Is Kawasaki disease contagious?
No, Kawasaki disease is not contagious. The cause of the disease is unknown. If a child has been infected with the coronavirus and later shows symptoms consistent with Kawasaki disease, he or she will likely be given a serology test, which looks for antibodies demonstrating a past COVID-19 infection. If positive, patients may be diagnosed with the related condition of multisystem inflammatory syndrome in children, or MIS-C.
What are the symptoms of Kawasaki disease?
If your child's doctor suspects Kawasaki disease, he or she will assess your child's symptoms to make a diagnosis. Most or all of the following symptoms must be present for a child to be diagnosed:
Persistent fever (5 days or more)
Rash
Redness in whites of the eyes
Redness in lips or tongue
Redness/swelling in hands and or feet
Swollen lymph nodes of the neck
If only a few of the symptoms are present without other explanation, your child's care team may order laboratory tests to aid in diagnosis.
What should I do if I think my child has Kawasaki disease?
If you think that your child has Kawasaki disease or MIS-C, you should contact your child's doctor or pediatrician immediately. Specialty hospitals like Children's Hospital Los Angeles are sharing their findings with pediatricians in the community so they know what to look for when screening patients. Families are likely to be able to obtain an initial screening quickly by contacting their pediatrician. At Children's Hospital Los Angeles (CHLA), a clinical team is devoted to finding out more information about MIS-C and is working to develop and release timely information to pediatricians who are members of the CHLA Health Network.
Families with a child experiencing serious illness should not delay in getting care and should immediately seek attention from their nearest emergency room.
How is Kawasaki disease treated?
Children's Hospital Los Angeles has been a leader in the treatment of Kawasaki disease and continues to offer the expertise and care of a dedicated team that specializes in the disorder. Specialists will work together to ensure your child is given the best available treatment. At CHLA, experts from the Divisions of Cardiology and Infectious Diseases will form a clinical care team for your child to devise a care plan. One of the treatments for Kawasaki disease is an intravenous infusion of immunoglobulin (also called IVIG). This mix of antibodies will support your child's immune system and decrease inflammation. Often, this treatment is effective in Kawasaki disease. Other treatments include anticoagulants, anti-inflammatory medication, or other medications that affect the immune system.
What happens when my child is discharged after treatment for Kawasaki disease?
After your child is discharged from the hospital, your care team will want to see your child for a two-week follow up. Another appointment will be scheduled several weeks after the initial follow-up. Though rare, a child can experience return of symptoms such as fever or rash in the weeks after discharge. It is important to follow the instructions given to your family by your care team.