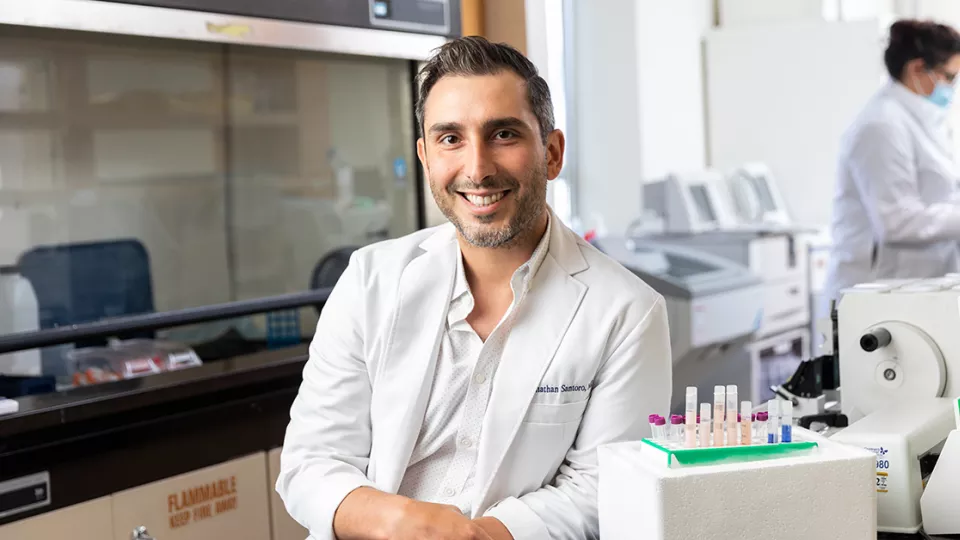 News and Innovation
A First Clinical Trial for Down Syndrome Regression Disorder
Children's Hospital Los Angeles is leading a pioneering study to find new treatments for a devastating condition in Down syndrome.
Children's Hospital Los Angeles has launched the first clinical trial for Down syndrome regression disorder (DSRD), a rare and debilitating condition that affects adolescents and young adults with Down syndrome.
The study—a collaboration with the University of Colorado and Children's Hospital Colorado—is funded by a five-year, $5.3 million grant from the National Institutes of Health (NIH) Eunice Kennedy Shriver National Institute for Child Health and Human Development. The randomized controlled trial, which is taking place at CHLA and Children's Hospital Colorado, will investigate the safety and effectiveness of three different treatments. It will also examine the role of the immune system in the disorder.
"Until recently, there had been no research on this condition since it was first described in 1946," says Jonathan Santoro, MD, Director of the Neuroimmunology Program at Children's Hospital Los Angeles and Co-Principal Investigator for the study. "We're excited to launch this first trial to advance our understanding of this disorder and how to best treat it."
An inflammatory condition?
Down syndrome regression disorder (formerly known as Down syndrome disintegrative disorder) is a mysterious condition that causes previously high-functioning young people with Down syndrome to suddenly lose their ability to communicate, dress or feed themselves, use the bathroom or even sleep.
"Over a period of a few weeks, these individuals lose their developmental milestones and withdraw into their own world," says Dr. Santoro. "I have had families tell me that it is like living with a ghost. The person is there, but they are not really there."
DSRD has long been assumed to be a psychiatric condition or misdiagnosed as early-onset Alzheimer's disease or late-onset autism. But there is now growing evidence that Down syndrome regression may be an inflammatory condition that could potentially be treated.
Since 2019, Dr. Santoro has been developing an experimental treatment protocol that includes high-dose steroids and an immunotherapy called intravenous immunoglobulin (IVIg). His first patient was a young man who had not spoken or moved for two years. Three weeks after his first IVIg infusion, he was talking and running down the hallway.
The Children's Hospital Los Angeles team has now treated more than 200 patients—the most in the country. The group's research has found that roughly 20% of patients with DSRD have inflammatory markers in their cerebrospinal fluid, with 85% of those patients responding to IVIg. Even those without classic inflammatory markers respond to the treatment at a rate of 70% to 75%.
Individuals with Down syndrome are already known to be at higher risk for autoimmune conditions. Still, more study is needed to determine if DSRD is an inflammatory disorder. And responses to immune therapy aren't always dramatic.
"The spectrum is wide, just like with any disease treatment," Dr. Santoro says. "That's why a clinical trial is so important. We need to advance the science to identify which therapies will be the best for which patients."
Testing new treatments
The new trial will enroll a total of 60 patients between the two centers, with all patients randomized to receive one of three therapeutic options:
Lorazepam, an anti-anxiety medication that treats catatonia and other symptoms
IVIg, an immune-regulating therapy
Tofacitinib, a type of drug called a JAK inhibitor that suppresses the immune system
Tofacitinib was chosen because it previously has been used to successfully treat people with Down syndrome who have other autoimmune diseases. "The JAK pathway that the drug targets is known to be dysregulated in Down syndrome," he notes. "Our hope is that this could be a more specific therapy option for DSRD."
The trial is a multidisciplinary effort between Dr. Santoro—who brings expertise in pediatric neuroimmunology and in treating the most DSRD patients in the country—and Co-Principal Investigators Joaquin Espinosa, PhD, a biologist and Executive Director of the Linda Crnic Institute for Down Syndrome at the University of Colorado, and Elise Sannar, MD, a child psychiatrist at Children's Hospital Colorado.
"It's been a fantastic collaboration," Dr. Santoro says. "One of the most exciting aspects is that we've put this study together relatively quickly. It can take 10 years to get an NIH-funded clinical trial like this rolling. We've done it in two."
He adds that individuals with Down syndrome have historically been underrepresented in research studies.
"For so long, families have been told, 'There's nothing we can do,'" he says. "And that's unacceptable. We need to be very scientific in our approach, but we also need to move as quickly as possible to find new treatments for these patients."