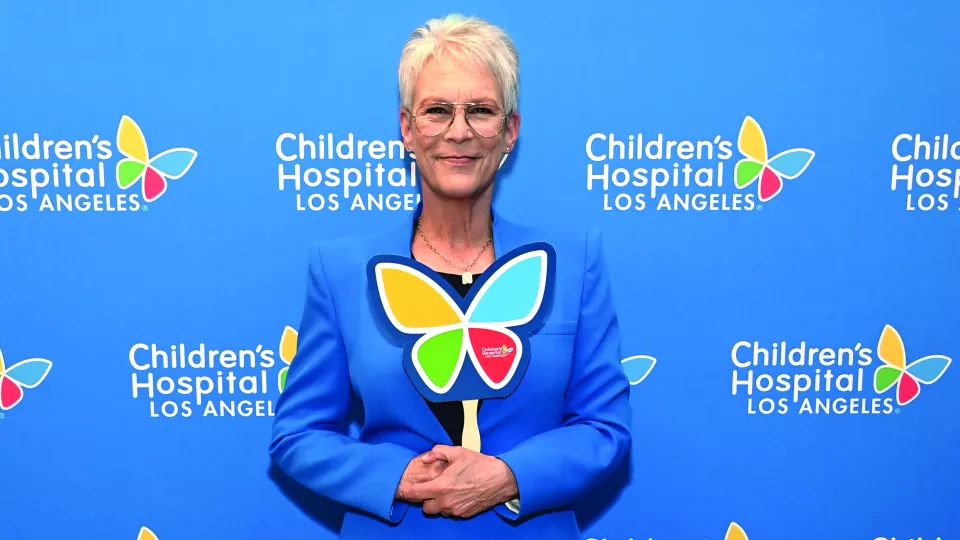 Hospital News
Jamie Lee Curtis: Supporting Children's Hospital Los Angeles in a Million Ways
How a heartfelt sign-off, 100 tiny sculptures, a global pandemic and the internet helped the movie star and longtime supporter raise more than $1 million for Children's Hospital Los Angeles through her company, My Hand In Yours.
Jamie Lee Curtis is a force. From her debut as the world's hardest working babysitter in the 1978 horror classic "Halloween," to appearances in more than 80 films and TV shows during her decades-long career—including "A Fish Called Wanda," "True Lies," "Freaky Friday" and "Knives Out"—she has managed a rare longevity and impressive range as an actress. And her career keeps getting better: This year, Curtis received a Screen Actors Guild Award and her first Academy Award—for best supporting actress—for her role in the acclaimed film "Everything Everywhere All at Once."
Even with all the accolades, however, one of Curtis' proudest accomplishments is her role as an advocate and philanthropist for pediatric health care.
For nearly three decades, Curtis has been a steadfast champion of Children's Hospital Los Angeles and children's health care causes. And while her Oscar is a career high, she has also reached new heights as a philanthropist: She has raised an astounding $1 million for CHLA through her company, My Hand In Yours, by selling specially designed comfort items.
"When you have a sick child, it is one day at a time, one treatment at a time, one procedure at a time. It brings it all into a very focused point," says Curtis. "The care and treatment of critically ill and injured children is the focal point of My Hand In Yours, with 100% of the proceeds going to Children's Hospital Los Angeles."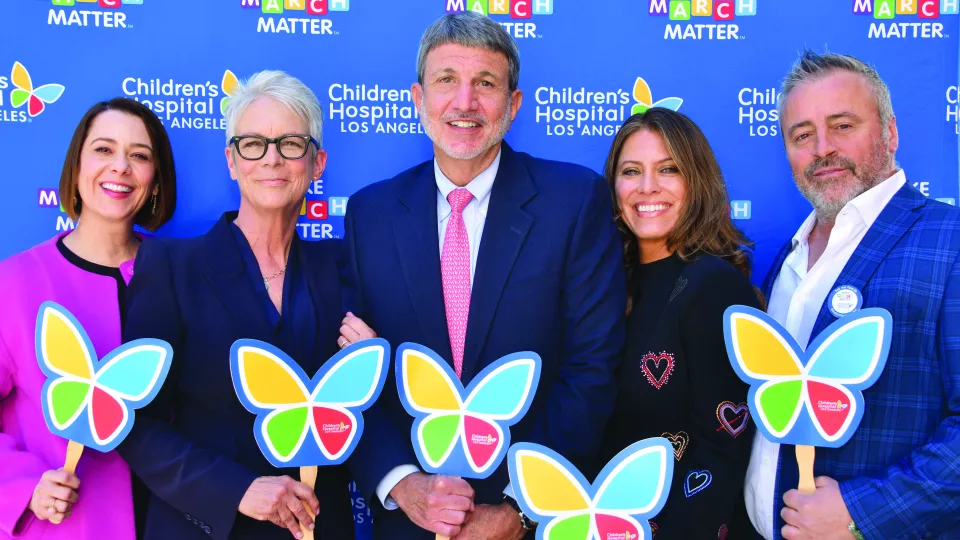 'This is my children's hospital'
Curtis first got involved with Children's Hospital Los Angeles in 2004. "I cold-called the hospital and said, 'Hey, I would like to help you,'" she recalls. And help she did. One of her first efforts was voicing ads in support of the Children's Hospital bond initiative, which supported state funding for pediatric hospitals in California. She has been an unwavering advocate ever since.
For the last 20 years, Curtis has leveraged her recognition and donated countless hours to support CHLA. In honor of her commitment to the institution, the hospital recognized her at its 2009 CHLA Gala with the Courage to Care Award. Never one to miss an opportunity to make a difference, when she took the stage to accept the award, she encouraged the event's guests: "We have to work on behalf of these children. They deserve it."
In 2011, she participated in Turn on the Lights, an event to celebrate the opening of the Marion and John E. Anderson Pavilion, a milestone in the hospital's history. A year later, she joined the CHLA Board of Trustees and served as a member until June 2015. Today, she is an Honorary Foundation Trustee at CHLA.
Throughout the years, she has regularly shown up on behalf of the hospital for speaking engagements, fundraising initiatives, interviews, advertising campaigns and high-profile events such as the annual Make March Matter® campaign, the Children's Hospital Los Angeles Gala and the Malibu Triathlon.
Why has she devoted so much energy to CHLA? Her answer is simple. "These are my people and this is the city I was born and raised in. This is my children's hospital."
In addition to public appearances, Curtis comes to the hospital nearly every year during Nurses Week to speak at events and provide thank-you gifts. "I am in awe of nurses and their dedication to their patients," she says. "I want them to know how special they are and how much the institution and the people who support the institution appreciate them."
At this point in her career, Curtis says she's not the most recognizable celebrity to visit the hospital. "Most of the patients don't know me," she says with a laugh. "But when they have a patient who's a teenage girl and loved 'Freaky Friday,' I will show up happily.'"
And Curtis' talents go beyond the big screen. She is also a prolific children's book author, having written a dozen books that deal with subjects related to childhood. Last year, Curtis did a virtual reading of her latest work, "What Do You See? A Conversation in Pictures," with co-author Barney Saltzberg, for hospitalized patients at CHLA.
Curtis' tireless commitment to Children's Hospital Los Angeles does not go unnoticed.
"Every time CHLA needs Jamie Lee Curtis, without fail, she is there to support us," says Paul S. Viviano, President and Chief Executive Officer of Children's Hospital Los Angeles. "She's our hero, and we are all incredibly fortunate to count her as a dedicated advocate for pediatric health and for Children's Hospital Los Angeles."
A little idea becomes a big accomplishment
During the early days of the coronavirus pandemic, while medical professionals were risking their lives to care for patients, and a good number of the rest of us were learning to knit or nursing a sourdough starter, Curtis added another accomplishment to her long list: philanthropic business owner. (Don't worry, her godson, actor Jake Gyllenhaal, kept her supplied with sourdough bread.)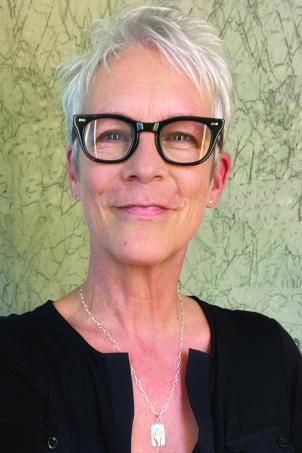 Curtis' journey to launching My Hand In Yours started when she commissioned 100 tiny sculptures from Anne Ricketts, an artist whose work she'd collected for years. "I called her and asked her to make a sculpture of two hands holding."
The inspiration for the sculpture—and the concept behind the company—came from Curtis' own saying. "I write the words, 'My hand in yours' to comfort someone in a crisis moment; as a way of saying, although I'm not with you right now, imagine what it would feel like with my hand in yours," she says. "It's how I sign letters: My Hand In Yours, Jamie."
Curtis thought she might sell the sculptures and make some money to donate to Children's Hospital Los Angeles. She also thought if they didn't sell, she would be "giving them away as Christmas presents for the rest of my life," she says, laughing. But she underestimated the power of the internet—and how much the message would resonate with people, particularly during the isolation of the pandemic.
She had intended to sell the sculptures on Instagram but ended up expanding to a website and adding several additional artisan-made items for sale. Curtis promoted the site to her more than 5.3 million Instagram followers and was pleasantly surprised when people actually bought things. Then she started visiting daytime talk shows to promote "Halloween Kills." After one appearance on "The Talk," things took off.
"I brought the My Hand In Yours sculpture and a few of my other items," she says. The daytime TV audience loved it. "I think we had a $65,000 day at the company," Curtis recalls.
She was shocked by the success and made sure to talk about My Hand In Yours on every talk show she visited. The orders were rolling in— but things were about to go nuclear.
"Then, a miracle happened," says Curtis. She shared the My Hand In Yours products at a luncheon with her longtime friend, "Halloween" and "Halloween Kills" costar Kyle Richards, in an episode of "The Real Housewives of Beverly Hills." Castmate Dorit Kemsley's enthusiastic response to the merchandise went viral after the show aired, and the orders went off the charts.
A community of giving
My Hand In Yours has done so well that by January 2023, less than three years after the company was founded, it passed the $1 million mark in donations to CHLA. Curtis, who underwrites the business and runs it with two employees, credits much of that success to friends and collaborators who helped source and supply items to sell.
"I wanted to create something that would make me part of a community of giving," says Curtis. She's surprised and delighted by how successful it has been. "It's just been this beautiful expansion of friends and colleagues coming together to support My Hand In Yours."
"Through her amazing creativity and persistence, Jamie has accomplished something truly remarkable," says Alexandra Carter, Senior Vice President and Chief Development Officer at CHLA.
"She has harnessed the goodwill of her fans, admirers and those who simply want to join her in helping—and she has made a significant philanthropic impact. We are grateful to be the beneficiary of this outstanding endeavor."
Giving back is something Curtis feels strongly about. She remembers a Greek proverb she once heard that felt especially poignant: A civilization flourishes when people plant trees under which they will never sit. "Without that, it's anarchy and selfishness," says Curtis.
As for the future of her company? It may not continue forever, though she's sure her support for CHLA will. "My husband and I have, are and will continue to be financial supporters of Children's Hospital," she vows, referring to actor/writer/director Christopher Guest, whom Curtis married in 1984.
And she'll keep My Hand In Yours going as long as she can find products to sell and people who want to buy them. "What started organically as a way to connect people," says Curtis, "has turned into this beautiful representation of team support."