President and Chief Executive Officer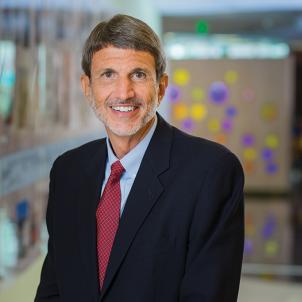 Paul S. Viviano is a health care leader and a prominent national children's health care advocate. For more than three decades, he has led academic health care systems, nonprofit community health care organizations and for-profit health care services providers that have delivered excellence in clinical care, research and medical education.
Viviano joined Children's Hospital Los Angeles in late 2015 as President and Chief Executive Officer as well as a member of the Board of Directors and the Foundation Board of Trustees. Founded in 1901, Children's Hospital Los Angeles is the highest-ranked children's hospital in California and eighth in the nation, according to U.S. News & World Report. CHLA also operates one of the largest pediatric residency training programs in the country. The Saban Research Institute of CHLA is consistently ranked among the top children's hospitals for National Institutes of Health funding and is home to more than 350 funded scientists and physician scientists.
Prior to joining CHLA, Viviano served as the Chief Executive Officer of UC San Diego Health System and Associate Vice Chancellor of UC San Diego Health Sciences. There he oversaw the entire $1.7 billion UC San Diego health care enterprise, which included leading-edge medical care; training of medical students, residents and fellows, responsibility for the faculty practice plan and all patient care delivery.
Prior to his work at UCSD, Viviano served as Chair of the Board and CEO of Alliance HealthCare Services—a for-profit, publicly traded organization that is the nation's largest provider of outpatient diagnostic imaging services and a national leader in delivery of radiation oncology services. Paul continues to serve as a Director for Alliance, chairing the Compensation Committee and the company's Special Committee.
Viviano also previously served as President and Chief Executive Officer of University of Southern California University Hospital and USC/Norris Cancer Hospital. Additionally, Viviano held various hospital and regional chief executive positions for the St. Joseph Health System in Orange, California, including Health System President and Chief Operating Officer.
As part of his efforts in support of child health care, Viviano is actively involved with several state and national organizations committed to protecting and preserving preventative, acute and specialty health care for children. He is the immediate past Board Chair of the California Children's Hospital Association (CCHA) and continues to serve on the Association's Board of Directors. He represents the CCHA on the California Hospital Association Board and also serves on the CHA Board Executive Committee.
Viviano also chairs the Public Policy Committee of the national Children's Hospital Association and is a Board member of Solutions for Patient Safety, the national consortium that sets clinical standards for U.S. children's hospitals.
In addition, he is the Chair of the Board of Trustees of Loyola Marymount University, the Catholic Jesuit University in Los Angeles, and is President of the UCLA Health Policy and Management Alumni Association.
Viviano is a California native and earned his bachelor's degrees at the University of California, Santa Barbara, as well as a master's degree in public administration-public health at the University of California, Los Angeles. He and his wife, Carole, have two daughters and four grandchildren, and reside in Huntington Beach, CA.
Connect with Paul
Connect with Paul on LinkedIn, where you can read articles he's written on issues related to child health.