CHLA Patients Go To "The North Pole"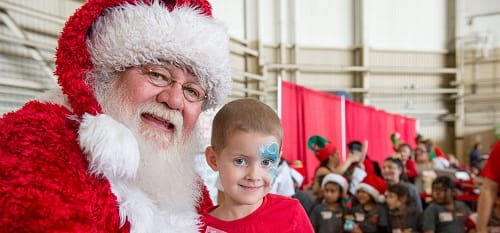 For the fifth consecutive year, Delta Air Lines invited Children's Hospital Los Angeles patients on a fun-filled trip to the "North Pole." Delta pilots and flight attendants greeted CHLA patients, siblings and parents at CHLA where the group boarded buses for LAX. Upon arrival at LAX, patient families were greeted by dozens of Delta employees dressed as elves cheering and welcoming them to the ticketing counter where they received boarding passes for the magical trip to the North Pole. When patients arrived at the gate they were greeted by the TSA choir, which led the group through a series of carols before boarding the flight.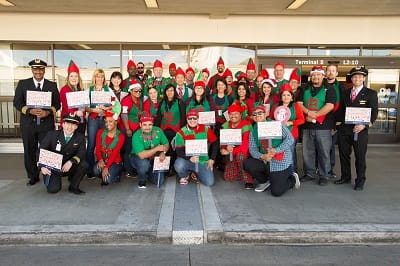 Once on board, flight attendants served holiday treats to 100 excited passengers during the 30-minute "flight" to the North Pole. At the North Pole, which also doubles as Delta's hangar, patients were greeted by DreamWorks Animation characters from Kung Fu Panda, LA Lakers alum AC Green and the Los Angeles Laker Girls, LA Kings alum Derek Armstrong, Bailey and the LA Kings Ice Crew, the Coca-Cola bear and dozens of Delta employees. The crowd erupted into applause as each child departed the airplane and walked down the steps to "snow" and plenty of high fives. Patient families then enjoyed an afternoon full of fun activities and snacks provided by the Los Angeles Lakers and Los Angeles Kings, GRAMMYs, GRAMMY Museum, Yogurtland and Delta Air Lines.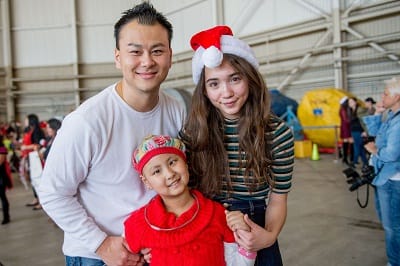 The sound of the jingle bells ringing through the loud speaker could only mean one thing, the special guests had entered the hangar—Santa Claus and actresses Shay Mitchell and Rowan Blanchard arrived with presents in tow. Each child was able to tell Santa their holiday wish and pose for a photo with Shay and Rowan. The day culminated with gifts for each child generously donated by TTPM, Alex Toys, Spin Master and Mattel.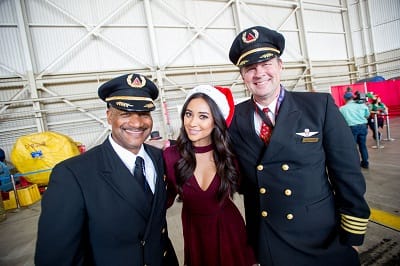 Many thanks to our friends at Delta Air Lines for taking our patients on a magical trip to the North Pole!